Close
UHV alumna brings fundraising experience back to university
For Courtney Middleton-Sides, the University of Houston-Victoria is a family tradition.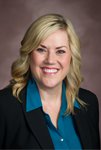 Courtney Middleton-Sides
Her father earned his master's degree from UHV in the 1970s. Then she earned her Bachelor of Science in social and behavioral science in 1993, and now her 20-year-old son is attending the university as a junior. Her 13-year-old son even earned a scholarship to UHV in 2013 as part of the university's annual Black History Month poster contest.
"My family has a lot of history at UHV, so it just seems like a natural progression for me to become part of UHV's staff," Middleton-Sides said.
Middleton-Sides is UHV's new senior director for corporate and foundation relations. She will be working with Jesse Pisors, UHV vice president for advancement and external relations, in the University Advancement Office. Her main responsibilities will be to seek major funding for UHV from corporations and private foundations in the Coastal Bend region.
UHV has developed relationships with and received donations and grants from some of the region's major corporations and foundations. These include Alcoa Foundation, INVISTA and the M.G. and Lillie A. Johnson Foundation. But as state and federal funding for higher education becomes harder to come by, Pisors said the university must draw from a broader spectrum of resources and potential donors: alumni, other private individuals, companies, corporations, and public and private foundations.
Jesse Pisors
"Our community and regional corporations and private foundations have always played an important role in supporting UHV, and as we grow and become a destination university, our need for such support will only increase," Pisors said. "It's critical that we steward the relationships we have and cultivate new relationships."
Making connections and maintaining relationships is one of Middleton-Sides' strengths. She's worked in fundraising since 1999, when she started at Making the Grade-Victoria as the executive director. During that time, she helped raise more than $2.1 million for the public education foundation by writing grants, fundraising, securing in-kind donations, and working with private donors and different foundations.
Part of what she did when working with Making the Grade was to promote and encourage people to get a college education, Middleton-Sides said. She made connections at Victoria College and UHV as she worked to secure scholarships and encourage students to get a higher education.
"I've already worked with UHV in several capacities," Middleton-Sides said. "I am looking forward to promoting the university in the community. I'm excited to work with people and begin building that base of support for UHV."
She also has worked for or with other Victoria businesses and organizations such as Citizens Medical Center, Warm Springs Rehabilitation Hospital, Victoria Public Health Department, Victoria ISD, O'Connor & Hewitt Foundation and Woodhouse Day Spa.
In addition, she has been a part of several community organizations including Relay For Life, the Children's Discovery Museum, Corporate Cup, the Victoria Chamber of Commerce and Victoria Crime Stoppers.
"I think my biggest advantage is my connections with the Victoria community," she said. "I've worked with a lot of community groups in the past doing volunteer work. I already have those relationships established, which I think is key."
Middleton-Sides will be the direct point of contact for corporations and foundations, and she will be able to assist these groups by finding which areas of UHV would best benefit from their donations.
"I am really excited to bring Courtney to the team," Pisors said. "I like the fact that we're bringing on someone who has the connections and contacts she does with the positive energy, personality and experience she has doing this kind of work. She's going to bring a lot to our office and UHV."
Middleton-Sides' first day working at UHV was Tuesday, and she already is looking forward to making a positive change at the university and in the surrounding area.
"I believe in this university, so this was a natural step for me," Middleton-Sides said. "I love this community, and I'm really excited to see this university grow. I'm looking forward to this, especially to working with this team to promote UHV and help it grow."
The University of Houston-Victoria, located in the heart of the Coastal Bend region since 1973 in Victoria, Texas, offers courses leading to more than 80 academic programs in the schools of Arts & Sciences; Business Administration; and Education, Health Professions & Human Development. UHV provides face-to-face classes at its Victoria campus, as well as an instructional site in Katy, Texas, and online classes that students can take from anywhere. UHV supports the American Association of State Colleges and Universities Opportunities for All initiative to increase awareness about state colleges and universities and the important role they have in providing a high-quality and accessible education to an increasingly diverse student population, as well as contributing to regional and state economic development.