Close
Comics editor to share love of art during reading series
When Bill Kartalopoulos talks about comics, he usually isn't thinking about what most of society sees.

Bill Kartalopoulos
While popular culture is focused on stories about superheroes, aliens and zombies, Kartalopoulos spends his time exploring the lesser-known side of comics, especially when it comes to comics as an art form.
Kartalopoulos is series editor of the "Best American Comics." He is the next speaker in the University of Houston-Victoria/American Book Review Fall Reading Series and will give a presentation at noon Sept. 24 in the University West Alcorn Auditorium, 3007 N. Ben Wilson St. The event is free and open to the public.
"I'm interested in everything that comics can do, and particularly in work that pushes the boundaries of the form," Kartalopoulos said. "Experimental work reveals the ways comics can express themselves differently than conventional literature can."
His work with "Best American Comics," part of a series of annual Best American publications by Houghton Mifflin Harcourt, gives him access to a plethora of smaller, lesser-known publications. During any given year, Kartalopoulos sorts through hundreds of comics from many sources, including big presses, smaller presses and even self-published comic artists who post their material on the Internet. He then works with a guest editor who determines the final annual selection. Jonathan Lethem is the guest editor for the "2015 Best American Comics" coming out on Oct. 6.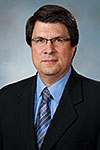 Jeffrey Di Leo
"Bill Kartalopoulos' work editing the 'Best American Comics' series is similar to the American Book Review's efforts to recognize excellent work created by lesser-known artists and writers," said Jeffrey Di Leo, dean of the UHV School of Arts & Sciences, and ABR editor and publisher. "He recently edited an issue of ABR on comics, and it was a pleasure to work with him. His input taught me a lot about comics, and I look forward to learning more during his presentation."
In addition to talking about his work on the Best American Comics series, Kartalopoulos also plans to discuss comics as an art form and what distinguishes them from other forms of art, as well as the cultural status of comics and how that has changed through time.
One of the major contributors to today's comics culture was Art Spiegelman, who published "Maus," a two-volume graphic novel that told the story of Spiegelman's father and his experiences as a Jew during the Holocaust using the comparison of Jews as mice and Nazis as cats. Spiegelman became the first cartoonist to win a Pulitzer prize for comics outside of editorial cartoons.
"When 'Maus' first appeared, it was seen as an anomaly, as if Spiegelman had somehow appropriated, superseded or transcended the comic form to create something worthy of artistic and literary interest and worthy of a sophisticated audience," said Kartalopoulos, who worked as an assistant to Spiegelman for several years. "But to Spiegelman, he was just using a medium he was familiar with and understood to address something very meaningful and complicated."
Another change that has shaped today's comics culture was the acceptance of comics, especially graphic novels, by major publishers. While this made comics more widespread, Kartalopoulos said it also normalized the kinds of comics people had easy access to in favor of longer and more popular stories or those that fit into certain categories or genres. That's why his work for "Best American Comics" is so important, he said.
"The work that makes it through mainstream filters is only the tip of the iceberg," he said. "Comics can be just as diverse, interesting and innovative as any other field. Sometimes it comes with corporate backing, and sometimes it comes from a very under-the-radar area."
In addition to "Best American Comics," Kartalopoulos teaches classes about comics at Parsons and the School of Visual Arts in New York and is working on a book examining the history of comics. He also has worked with comics festivals, including SPX: The Small Press Expo, the Museum of Comic and Cartoon Art arts festival, and the International Comic Arts Forum.
Other writers scheduled for the fall 2015 UHV/ABR Reading Series are:
Cyrus Cassells, Oct. 15 – Cassells is the author of five acclaimed books of poetry: "The Mud Actor," "Soul Make a Path through Shouting," "Beautiful Signor," "More Than Peace and Cypresses" and "The Crossed-Out Swastika." His sixth book, "The Gospel According to Wild Indigo," is forthcoming. Cassells is a professor of English at Texas State University. Among his honors are a Lannan Literary Award, a William Carlos Williams Award and a Lambda Literary Award.
Carole Maso, Nov. 5 – Maso is the author of 10 books, including the novels "The Art Lover," "Ava," "Defiance" and "Mother & Child." Her poems in prose include the 1969 book "Aureole Beauty" and the 2011 book "Beauty is Convulsive." She also is the author of an essays book, "Break Every Rule," and a journal of pregnancy and birth, "The Room Lit By Roses." Maso is a professor of literary arts at Brown University in Providence, R.I.
David Marion Wilkinson, Dec. 3 – Wilkinson is an award-winning author and screenwriter. He has written five books, including "Not Between Brothers: an Epic Novel of Texas" and "One Ranger: a Memoir." Much of his published work has been optioned for film or TV projects. In 2015, Wilkinson appeared in the History Channel documentary "Avenging the Alamo: The Road to Texas Rising." Wilkinson divides his time between Austin and Los Angeles. He is a member of the Texas Institute of Letters and Western Writers of America.
ABR is a nonprofit, internationally distributed literary journal published six times a year. It began in 1977, moved to UHV in 2007 and has a circulation of about 8,000. The journal specializes in reviews of works published by small presses.
For more information about the UHV/ABR Reading Series, call the ABR office at 361-570-4101 or go to www.americanbookreview.org.
The University of Houston-Victoria, located in the heart of the Coastal Bend region since 1973 in Victoria, Texas, offers courses leading to more than 80 academic programs in the schools of Arts & Sciences; Business Administration; and Education, Health Professions & Human Development. UHV provides face-to-face classes at its Victoria campus, as well as an instructional site in Katy, Texas, and online classes that students can take from anywhere. UHV supports the American Association of State Colleges and Universities Opportunities for All initiative to increase awareness about state colleges and universities and the important role they have in providing a high-quality and accessible education to an increasingly diverse student population, as well as contributing to regional and state economic development.