Close
UHV sees continued growth in student retention, housing
University of Houston-Victoria's transition to a residential university is on target thanks to more students living on campus this school year than ever before.
UHV also saw gains in student retention and undergraduate enrollment in two schools, according to preliminary fall enrollment figures released Wednesday.
A record number of students are living in UHV residence halls this school year. A total of 586 beds are occupied, up from 545 during the 2014-2015 school year. The university has an occupancy rate of 92 percent in the residence halls, 6 percent higher than a year ago.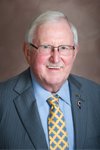 Vic Morgan
"We are becoming a more residential campus," UHV Interim President Vic Morgan said. "The influx of students living on campus has meant a more vibrant campus setting and additional school spirit."
Morgan said the opening of UHV's fourth residence hall in 2017 will be necessary as residential numbers continue to soar. Plans are underway to build a 380-bed residence hall on a vacant 2-acre lot on the east side of Ben Wilson Street between Arlington Apartments and the building housing Petroleum College International and UHV Athletics.
Preliminary enrollment figures show that 4,204 students are attending UHV this fall compared with the final fall 2014 enrollment of 4,407. However, UHV had 188 nursing students taking classes in fall 2014 that it doesn't have this year because the school became part of UH in August.
Nursing students who started their program at UHV will graduate with a UH degree. UHV will start its own Registered Nurse to Bachelor of Science in Nursing program in fall 2016.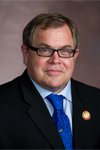 Jeffrey Cass
"We knew the loss of nursing would hurt our overall enrollment numbers initially," said Jeffrey Cass, UHV provost and vice president for academic affairs. "However, with the addition of our new nursing program, as well as the development of several other new academic programs, it's a good bet that we'll make up that loss quickly in future years."
UHV also is experiencing greater success in student retention. A total of 207 freshmen from 2014-2015 returned to UHV this fall. This was 61 percent of the overall class. The freshman retention rate two years ago was 48 percent.
"Student retention and degree completion have been a point of emphasis for the UHV administration, faculty and staff," Morgan said. "I'm delighted to see we've made gains in keeping students on their path to a degree."
There were many factors that contributed to the increased retention, said Jay Lambert, UHV vice president for enrollment management and student affairs.

Jay Lambert
The 2014-2015 Student Government Association was the most active it has been since freshmen and sophomores were added in 2010, Lambert said. The SGA took a leadership role in planning and educating students on a vote to fund construction of a Student Center, which also is scheduled to open during the fall 2017 semester.
UHV also added a full-time health educator and multiple services in Student Life, such as a leadership conference and Alternative Spring Break, where students went to New Orleans to help restore the homes of two elderly veterans. In all, the number of student activities offered more than doubled from 73 in 2013-2014 to 152 in 2014-2015.
Another way UHV is aiming to increase its graduates is through Living & Learning Communities. The program consists of groups of 20 to 25 freshmen who spend portions of their first year at UHV together. These programs have been so successful that UHV now has 10 groups of Living & Learning Communities.
Participation in Jaguar Journey, UHV's new student orientation, also was at an all-time high this year. A total of 296 students attended Jaguar Journey Aug. 21 to 23. Most new student attended every event held that weekend, Lambert said.
In an effort to increase services, UHV has entered into a partnership with Community Health Centers of South Central Texas to provide basic medical care to Victoria area students.
"We also are excited about a new mentoring program aimed to help young minority male students succeed in college," Lambert said. "And to meet the growing needs of the Victoria campus, we have added another psychologist to our Counseling Center staff. All these efforts are aimed at continually improving the student experience at UHV."
In addition, the number of undergraduate total semester credit hours increased 14 percent in the UHV School of Education, Health Professions & Human Development. The school recently began health studies and kinesiology bachelor's degrees.
The number of undergraduate students and undergraduate semester credit hours are both up 4 percent in the UHV School of Business Administration. The UHV School of Arts & Sciences also saw a 3 percent jump in its number of undergraduates.
UHV opened in 1973 with about 350 students. The university first exceeded 3,000 students in fall 2008 and then crossed over the 4,000-student mark in fall 2010. The growth has been especially strong since fall 2007. Enrollment has grown about 51 percent during the past eight years.
Final fall enrollment figures will be released later in the semester after certification from the Texas Higher Education Coordinating Board.
The University of Houston-Victoria, located in the heart of the Coastal Bend region since 1973 in Victoria, Texas, offers courses leading to more than 80 academic programs in the schools of Arts & Sciences; Business Administration; and Education, Health Professions & Human Development. UHV provides face-to-face classes at its Victoria campus, as well as an instructional site in Katy, Texas, and online classes that students can take from anywhere. UHV supports the American Association of State Colleges and Universities Opportunities for All initiative to increase awareness about state colleges and universities and the important role they have in providing a high-quality and accessible education to an increasingly diverse student population, as well as contributing to regional and state economic development.