Close
Job challenges UHV School of Arts & Sciences director of services every day
Classes at the University of Houston-Victoria may be three weeks in, but that doesn't mean Tracey Fox's work is done.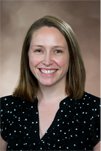 Tracey Fox
The fall semester still is in its early stages, but Fox already is working with others in the UHV School of Arts & Sciences to plan the spring class schedule.
As director of services, Fox oversees staff members who work on recruiting and advising for the school. Most importantly, she works on scheduling classes. Her busiest time of the year is the weeks leading up to class registration.
When Fox begins planning schedules, she uses a whiteboard to understand which professors are teaching what courses, which rooms are available and what time blocks fit best.
Does the professor have to drive from out of town? Will the classroom be big enough to fit the students wanting to register? These are the kinds of questions Fox deals with on a daily basis. Though it can be stressful, she enjoys the work.
"Everyone works so hard to get students enrolled in classes," Fox said.
Fox has seen much growth since first starting at UHV eight years ago. Initially, the mother of twin boys and two girls started off as a senior recruitment coordinator for the School of Arts & Sciences. She was the first point of contact for students interested in a degree. At that time, recruitment and advising were separate, unlike today, when sometimes a student's recruiter may also be his advisor.
Fox grew up in Cuero and attended Texas A&M University, where she earned her bachelor's degree in sociology. She then moved to Houston to work at Rice University's career center helping recruit students. When the opportunity to move back to the Victoria area presented itself, Fox felt at ease, she said.
"Victoria is home to me, and UHV is a good fit," Fox said.
Every day, Fox finds herself challenged, especially with the growth of the university. Fox only needs to look back 10 years to see a striking example of how much the School of Arts & Sciences has grown.
In fall 2005, the school had 740 students. This fall, the amount more than doubled to 1,720 students, according to preliminary figures.
"It's amazing," Fox said about the enrollment numbers. "I'm happy that the university is continuing to grow, and our plans for how we're going to handle that growth are exciting."
Life can get stressful at times with a challenging job and four children. That's when Fox turns to running. When she was younger, she used to run more, and it's something she's slowly been trying to get back into.
"When I have a free minute, I enjoy running," she said.
Staff Feature is an online profile highlighting staff members at the University of Houston-Victoria. To nominate a staff member, contact Jeremy Shapiro, UHV communications manager, or call 361-570-4296.
The University of Houston-Victoria, located in the heart of the Coastal Bend region since 1973 in Victoria, Texas, offers courses leading to more than 80 academic programs in the schools of Arts & Sciences; Business Administration; and Education, Health Professions & Human Development. UHV provides face-to-face classes at its Victoria campus, as well as an instructional site in Katy, Texas, and online classes that students can take from anywhere. UHV supports the American Association of State Colleges and Universities Opportunities for All initiative to increase awareness about state colleges and universities and the important role they have in providing a high-quality and accessible education to an increasingly diverse student population, as well as contributing to regional and state economic development.