Close
Community leaders explore UHV's new academic building at ribbon cutting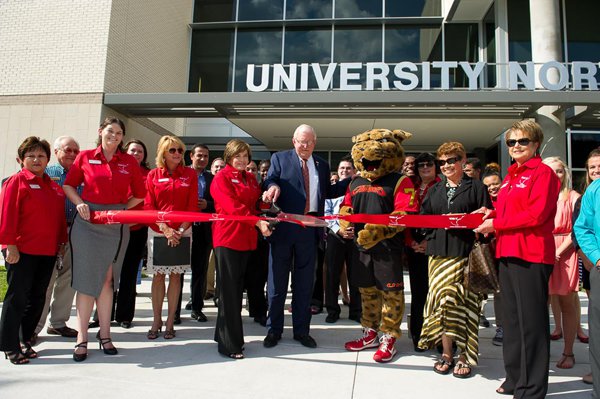 Karoyn Scogin, chair of the Victoria Chamber of Commerce Ambassadors, and UHV Interim President Vic Morgan cut the ribbon to commemorate the opening of UHV University North. About 150 people attended the event to celebrate the university's first new academic building in more than a decade.
University of Houston-Victoria's newest building left quite a first impression on UHV junior Joel Leon.
"When I came inside for the first time, I was blown away by how nice it is," he said. "It's great to have a new, modern building to attend class in and hold events. It certainly adds to UHV's curb appeal."
Leon was one of several students showing off University North, the university's new academic and economic development building Monday at the Victoria Chamber of Commerce's ribbon-cutting ceremony. Area business and community leaders joined UHV faculty, staff and students to celebrate the new facility and bury UHV's 40th anniversary time capsule. UH System regents Roger Welder and Paula Mendoza also were in attendance.
UHV Interim President Vic Morgan welcomed guests and thanked those who had a hand in planning and constructing the three-story, 63,000-square-foot facility.
"This building represents our university's growth, and we couldn't be more excited about sharing that success with our friends in the community," he said. "I'm elated we had such a large turnout and that community members got a firsthand look at this beautiful structure."
Construction began on the building in November 2013. The facility cost about $16 million. UHV received a little more than half the money – $8.5 million – from the Texas Legislature.
"I want to especially thank Rep. Geanie Morrison for her help in making arrangements to get this building off the ground," Morgan said.
University North is the new home of the UHV School of Business Administration, UHV Career Services, UHV Disability Services, UHV Small Business Development Center and the new Regional Center for Economic Development.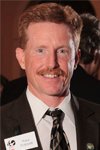 Paul Polasek
The regional center's goal is to partner with entities in Aransas, Bee, Calhoun, DeWitt, Goliad, Gonzales, Jackson, Karnes, Lavaca, Refugio and Victoria counties to create rural jobs, increase community awareness and involvement in regional economic development, and better prepare the region for economic stability during cyclical downturns. The center opened on Sept. 1.
Victoria Mayor Paul Polasek, a UHV alumnus, said the building was a great addition to the university and the community.
"This new building creates more opportunities for students, and it impacts economic development in Victoria," Polasek said. "Having a good, strong student body eventually means a more educated workforce, which creates ripple benefits to Victoria businesses."
The building also has a 60-seat tiered classroom, study areas and faculty offices. Space has been set aside for a finance lab and digital gaming lab. Also inside are the Kay and Ron Walker Auditorium, Donna and Roger Welder Executive Conference Room, the Cloyde and Ethel Lee Tracy Foundation Conference Room and the Dr. Josie Rivera Testing Room.
Public events will take place in the building's Multi-Purpose Room and the Kay and Ron Walker Auditorium. The Multi-Purpose Room can hold up to 400 people, about twice as many as the UHV University Center Multi-Purpose Room. The new auditorium seats 200 people, providing ample room for many university functions. The auditorium will be home to the UHV/American Book Review Reading Series starting in the spring.
The general contractor for University North was Drymalla Construction Co. of Columbus. Perkins+Will of Houston was the architect, and Rawley McCoy & Associates of Victoria was the associate architect. UH Facilities, Planning & Consulting was the project manager. UHV's Facilities Department provided the landscaping around the building.
Earl Pitchford, president of Drymalla Construction Co. of Columbus, said there are a lot of special features in the building, including interior and exterior glass walls, special flooring and wooden walls.
The third floor of the building will be completed as soon as the UHV Facility & Space Planning Committee determines the best use for the space, and UHV receives its capital construction fund allocation granted during the last Legislative session.
Christo Varghese, vice president of the UHV Student Government Association, has a class in the new building. He said the tiered seating makes it easy to hear his professor, and the available technology enhances lectures and class discussions.
"As Dr. Morgan mentioned in his speech, this building shows how fast the university is growing," Varghese said. "It's a great symbol for our growth."
Just to the right of the front entrance is where the 40th-anniversary time capsule was buried.
The capsule contains items collected during 2013, the university's 40th anniversary. It will be opened during UHV's 80th anniversary in 2053. Monuments of Victoria, owned by Joe Lee Evans and Mark and Kim Phillips, all of Victoria, donated the marker placed on top of where the time capsule is buried.
Among the items placed in the capsule were a graduation stole, a 2013 penny, a jaX the jaguar stuffed animal, a 40th anniversary magazine that was inserted in the Victoria Advocate and a 2012-2013 President's Annual Report & Excellence Awards Yearbook signed by event attendees. About 30 items total were placed in the capsule, including some donated by area residents.
The University of Houston-Victoria, located in the heart of the Coastal Bend region since 1973 in Victoria, Texas, offers courses leading to more than 80 academic programs in the schools of Arts & Sciences; Business Administration; and Education, Health Professions & Human Development. UHV provides face-to-face classes at its Victoria campus, as well as an instructional site in Katy, Texas, and online classes that students can take from anywhere. UHV supports the American Association of State Colleges and Universities Opportunities for All initiative to increase awareness about state colleges and universities and the important role they have in providing a high-quality and accessible education to an increasingly diverse student population, as well as contributing to regional and state economic development.