Close
Victoria libraries team up for Banned Books Week events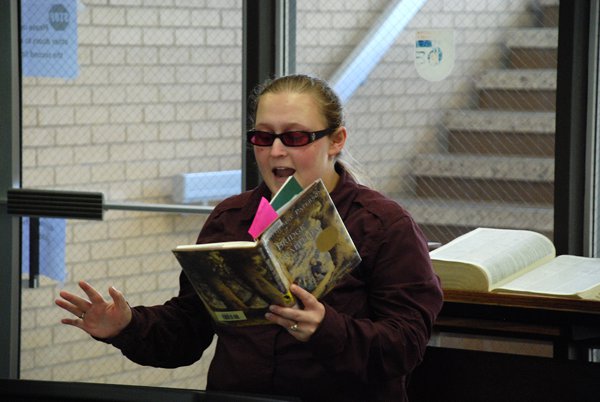 University of Houston-Victoria student Caitlin Bartosh reads from "Bridge to Terabithia" as part of a Read Out event at the Victoria College/UHV Library during Banned Book Week in 2014. This year, the library will partner with the Victoria Public Library to host five events focused on books that have been banned or challenged.
Books are an important part of the world, and everyone should have the ability to read the thoughts and ideas in each.
The Victoria College/University of Houston-Victoria Library and the Victoria Public Library hope to share that viewpoint with the community during Banned Books Week Sunday to Oct. 3. Banned Books Week was created by the American Library Association and is observed by libraries, journalists, publishers, avid readers and others.
"It's a week when we bring awareness about censorship and the importance of the freedom to read," said Amanda Breu, UHV instruction and outreach librarian. "We make sure people are aware that there are still individuals and organizations that want to restrict and limit people's freedom to read different viewpoints."
Books may be challenged or banned for different reasons. Some common reasons include unorthodox or unpopular views, language, sexual content, depictions of abuse or violence, or inappropriateness for certain age groups.
"In many cases, particularly when dealing with schools, some parents might not want their children to read something, so they think no child should read it," said Amanda Place, youth services librarian for the Victoria Public Library. "This is important because it helps remind us that even in this country, where we have the right to read what we want, there are people who try to take away that right, especially when it comes to children."
A book is considered challenged when an attempt is made to remove or restrict material based on an objection by a person or a group, Breu said. Usually, a person will approach a library or school and file a formal complaint that will then be reviewed by a committee or school board. Sometimes a book is completely banned from a library, but there are other times when it remains in the library but is removed from a school's curriculum or summer reading list.
The Victoria Public Library and the VC/UHV Library have partnered to observe Banned Books Week for several years. This year, the two libraries will host five events – all of which are free and open to the public.
4:30 p.m. Tuesday – Banned books skits featuring the Theatre Victoria Junior Co., Victoria Public Library Bronte Room, 302 N. Main St.
5:30 p.m. Tuesday – "The Hunger Games: Mockingjay Part 1" film screening, Victoria Public Library Bronte Room
10 a.m. Thursday – Banned Books Read-Out featuring VC and UHV students, faculty and staff, VC/UHV Library second floor, 2602 N. Ben Jordan St.
4:30 p.m. Thursday – Banned Books Read-Out featuring area students and residents, Victoria Public Library Bronte Room
5:30 p.m. Thursday – "Fahrenheit 451" film screening, Victoria Public Library Bronte Room
The skits performed by the Theatre Victoria Junior Co. will focus on young adult novels with dystopian themes, Place said. The skits will take place before a screening of the film "Mockingjay: Part 1." The Hunger Games series has been challenged since the publication of the first book, and the final movie will be released in November.
The second movie screening will be "Fahrenheit 451," which tells the story of a dystopian future where all books are banned. Screening this film also is an opportunity to tie the events of Banned Book Week into the UHV Community of Readers series, which features the novel this year.
"It's a good idea to highlight what could happen," Place said. "There are places in the world where this sort of extreme censorship does happen, and we need to keep it from happening to us."
The libraries also will host Read Outs featuring administrators from UHV and VC, students, officials from the City of Victoria and other community leaders reading from some of their favorite banned books. UHV Interim President Vic Morgan will read from "The Kite Runner," and Jeffrey Cass, UHV provost and vice president for academic affairs, will read from "The Immortal Life of Henrietta Lacks." VC President David Hinds will read from "1984," and Patricia Vandervoort, VC vice president of instruction, will read from "Of Mice and Men" and the "Harry Potter" series. Diana López, UHV assistant professor of creative writing, will be the keynote speaker for the Read Out at the VC/UHV Library.
In addition to these events, the Victoria Public Library will have a special display. In the front area of the library, several banned books will be in a glass case surrounded by orange and yellow fabric placed over a fan and flashlight to simulate flames. Nearby, there will be a cart full of the same books that people can check out.
During all the events, Place hopes people keep an open mind.
"Every year, when Banned Book Week comes around, there are always those who argue that some books are banned for a reason," she said. "But the point is that there are all kinds of books, just like there are all kinds of people, and just because one person doesn't want to read something doesn't mean that it should be denied to everyone."
To learn more about local Banned Book Week activities, contact Breu at 361-570-4169 or breua@uhv.edu, or Place at 361-485-3310 or aplace@victoriatx.org.
The University of Houston-Victoria, located in the heart of the Coastal Bend region since 1973 in Victoria, Texas, offers courses leading to more than 80 academic programs in the schools of Arts & Sciences; Business Administration; and Education, Health Professions & Human Development. UHV provides face-to-face classes at its Victoria campus, as well as an instructional site in Katy, Texas, and online classes that students can take from anywhere. UHV supports the American Association of State Colleges and Universities Opportunities for All initiative to increase awareness about state colleges and universities and the important role they have in providing a high-quality and accessible education to an increasingly diverse student population, as well as contributing to regional and state economic development.