Close
Greater Victoria Toastmasters moves meetings to new UHV building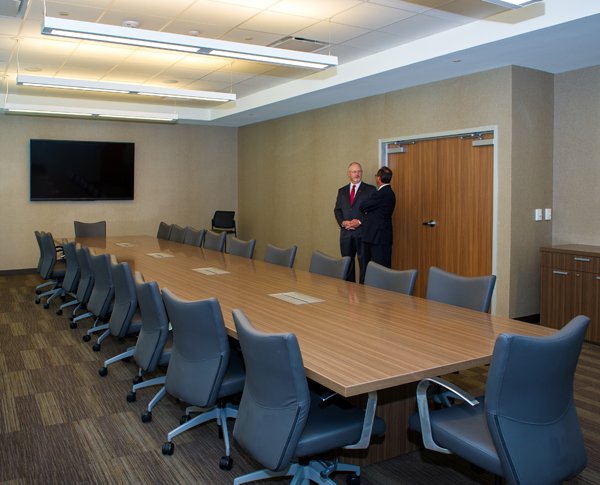 Joe Humphreys, University of Houston-Victoria Small Business Development Center director, and UH System Regent Roger Welder talk in the Donna and Roger Welder Executive Conference Room inside UHV University North. Greater Victoria Toastmasters will hold its meetings in the conference room beginning Monday.
A regional group helping develop the communication and leadership skills of area residents is moving its twice monthly meetings to the University of Houston-Victoria.
Greater Victoria Toastmasters President Donald Jirkovsky said University North, UHV's new academic and regional economic development building, is an ideal setting for the club because of its central location and emphasis on education and business.
"An educational environment is perfect for our professional meetings," Jirkovsky said. "We see a lot of recruiting and networking advantages to having our meetings at UHV."
The Greater Victoria Toastmasters will meet from 6:30 to 7:30 p.m. on the second and fourth Monday of every month in the Donna and Roger Welder Executive Conference Room, 110A inside UHV University North.
The idea behind Toastmasters is to build stronger leaders by enhancing public speaking skills. In club meetings, members practice by giving prepared speeches.
Jirkovsky, a UHV alumnus, said the Greater Victoria Toastmasters has 10 full-time members. In the past, the meeting location has bounced around, so he was looking for a more permanent setting. By having meetings at his alma mater, Jirkovsky hopes to increase membership, including adding younger people.
"UHV students – along with the university's faculty and staff – could greatly benefit from receiving guidance in face-to-face communication," Jirkovsky said. "Being able to stand in front of people and communicate remains a critical skill in today's world."
Joe Humphreys, UHV Small Business Development Center director, also sees value in being able to quickly and clearly present key ideas in a business setting.
"While electronic communication is playing a greater role in business, there still are numerous times when people have to present an idea to a supervisor or a group of people," he said. "Usually, they have just a few minutes to make the speech or presentation and get their point across. That's why Toastmasters can be a tremendous asset. We're glad to be hosting their meetings."
Jirkovsky said Toastmasters has two tracks – communication and leadership. Members on the communication track give various five- to seven-minute speeches, such as a motivational, informative and persuasive. After members give 10 speeches, they receive a certificate.
"The certificate can be an advantage on a resume because many companies realize the usefulness of Toastmasters," Jirkovsky said.
For those on the leadership track, there are different positions in the club, such as speech evaluator, timer and sergeant of arms, in addition to executive positions.
UHV University North opened in August. The 63,000-square-foot building is home to the university's SBDC, School of Business Administration, Career Services, Disability Services and the new Regional Center for Economic Development. The Greater Victoria Toastmasters attracts members from around the Crossroads, including Goliad and Cuero.
"This conference room is a venue to bring people from around the region together," Humphreys said. "Toastmasters is an opportunity for resident from our region to participate in personal growth."
For more information about the club, contact Jirkovsky at donald.jirkovsky@gmail.com or 361-550-9948.
The University of Houston-Victoria, located in the heart of the Coastal Bend region since 1973 in Victoria, Texas, offers courses leading to more than 80 academic programs in the schools of Arts & Sciences; Business Administration; and Education, Health Professions & Human Development. UHV provides face-to-face classes at its Victoria campus, as well as an instructional site in Katy, Texas, and online classes that students can take from anywhere. UHV supports the American Association of State Colleges and Universities Opportunities for All initiative to increase awareness about state colleges and universities and the important role they have in providing a high-quality and accessible education to an increasingly diverse student population, as well as contributing to regional and state economic development.