Close
Victoria students win scholarships through Hispanic Heritage Month art competition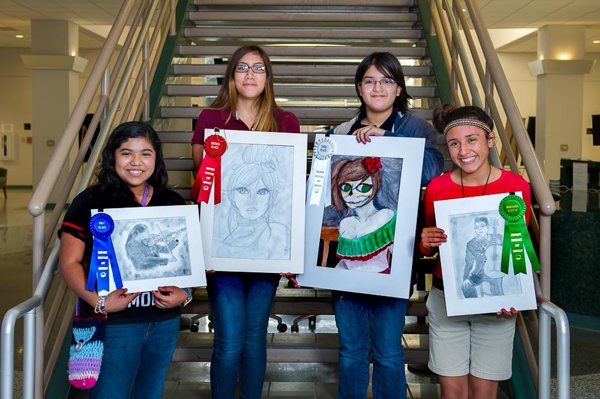 The winners of the Hispanic Heritage Month Art Contest display their artwork during a reception honoring the contest participants Wednesday at the UHV University Center. Shown from left are Abigale Flora Salazar, Thalia Tirador, Isabella Mata and Thalia Gonzales.
Family was a source of inspiration for two of the students who took part in the Hispanic Heritage Month Art Contest.
Abigale Flora Salazar and Thalia Tirador, both seventh-graders at Patti Welder Middle School took first and second place at the competition for their artwork inspired by members of their family.
"Family means a lot to us," Tirador said. "I have a huge family, and we love to dance and do things together."
Salazar and Tirador learned that their artwork won the top prizes in the Hispanic Heritage Month Art Contest during a reception Wednesday evening honoring all the contest participants at the University of Houston-Victoria University Center Multi-Purpose Room, 3007 N. Ben Wilson St. The contest was open to all Victoria middle school students and was sponsored by UHV, Victoria College and the Hispanic Council of Victoria.
The girls have been friends since kindergarten, and they both take art classes at Patti Welder.
"This was a chance to do something fun and compete against each other," Salazar said. "It's fun to see how our drawing styles are different."
Salazar's first place drawing "Music of my Heritage" was a portrayal of her sister, who is learning to play an instrument in band at Patti Welder Middle School. Her gray pencil drawing of the female Mariachi violinist was a symbol of her joy of music. She was awarded a $2,000 scholarship to UHV.
Tirador's second-place drawing "Samantha" was inspired by her cousin, who now lives in Dallas.
"I really loved her beauty," Tirador said. "She used to play with me a lot when I was little, and I always admired her. I wanted to share that happy memory."
Tirador was awarded a $1,000 scholarship to UHV or VC from the Hispanic Council of Victoria.
Third place was awarded to Isabella Mata's piece, "A Sock Opera," which earned the Howell Middle School eighth-grader a $500 scholarship to UHV or VC from the Hispanic Council of Victoria.
"This face was something I saw in a dream, and I wanted to do something more with it then," Mata said. "Eventually, I made up a story about her, but it seemed a shame that no one else knew about it, so I decided to do something with this character."
Thalia Gonzales, a Patti Welder seventh-grader, received honorable mention for her piece "Guitarra."
Hispanic Heritage Month is observed from Sept. 15 to Oct. 15. It recognizes the contributions of Hispanic and Latino Americans to the U.S. and celebrates Hispanic heritage and culture. The reception wraps up UHV's Hispanic Heritage Month activities. Earlier in the month, university students took part in a carnival, listened to several speakers and participated in the interactive Tunnel of Discrimination event that showcased the discrimination and prejudice the Hispanic community encounters.
UHV was designated a Hispanic-Serving Institution in 2013. A university can be given this designation if its enrollment of full-time undergraduates is at least 25 percent Hispanic. UHV's preliminary fall enrollment numbers show that 31 percent of the entire study body is Hispanic, and 47.3 percent of the new freshman class is Hispanic.
The University of Houston-Victoria, located in the heart of the Coastal Bend region since 1973 in Victoria, Texas, offers courses leading to more than 80 academic programs in the schools of Arts & Sciences; Business Administration; and Education, Health Professions & Human Development. UHV provides face-to-face classes at its Victoria campus, as well as an instructional site in Katy, Texas, and online classes that students can take from anywhere. UHV supports the American Association of State Colleges and Universities Opportunities for All initiative to increase awareness about state colleges and universities and the important role they have in providing a high-quality and accessible education to an increasingly diverse student population, as well as contributing to regional and state economic development.