Close
Chax Press organizes New York poetry reading to honor Jackson Mac Low
When Jackson Mac Low was alive, Charles Alexander would always try to start any trip to New York City by visiting the well-known poet, performance artist and composer.
"If he told me I should go see or hear something – whether it was a reading in honor of the poet Gil Ott or an avant-garde musical performance by Malcolm Goldstein – I would go there, and it would always be an enlightenment – not only for my current visit to New York but a light that continued into my life and my work," said Alexander, director of Chax Press and the University of Houston-Victoria's poet and designer in residence. "I can only hope I continue to honor his work in various ways in the future."
With the help of Mac Low's widow, Anne Tardos, and Simone White, executive director of the Poetry Project at St. Mark's Church in New York City, Alexander and many people who knew him will pay tribute to Mac Low's work.
Chax Press has organized a reading of Mac Low's "The Complete Light Poems" by some of the top poets from New York and beyond. The celebration and reading will be at 8 p.m. Wednesday at the Poetry Project at St. Mark's Church, 131 E. 10th St., in New York City. Reading Mac Low's poems will be Alexander, Tardos, Michael O'Driscoll, Charles Bernstein, Joan Retallack, Rodrigo Toscano, Nathaniel Weaving, Evelyn Reilly, Kit Robinson, Don Byrd, Marshall Reese performing with Chris Mason, Adeena Carsick, Sylvia Gorelick, Nada Gordon and Clarinda Mac Low.
"Mac Low was a beloved and much-admired figure of great influence over a wide ground of younger poets working in various innovative directions," Alexander said. "We could easily have had three or four times the number of readers we have, as Mac Low had friends, colleagues and admirers among several groups of poets and scholars, as well as among musicians, sound artists and visual artists."
Mac Low published more than two dozen volumes of poetry. He earned the Academy of American Poets' Wallace Stevens Award as well as grants and fellowships from the Guggenheim Foundation, the National Endowment for the Arts, PEN, the Fund for Poetry and the New York Foundation for the Arts. He taught at many schools, including New York University and the Mannes School of Music.
Influenced by Gertrude Stein and Gerard Manley Hopkins, as well as by his studies in Buddhism and philosophy, Mac Low frequently composed poems as scripts for performance that rely on the mechanisms of chance rather than the conventions of syntax or intention, Alexander said. His work explores the intersections of language, structure and music by systematically shuffling and silencing found and fragmented text.
"What he did, with all of his work in what some might call alternative forms of composition, was open up the question of what a poem might be and how it might proceed, something that great innovators in poetry have always done," Alexander said. "In other words, he changed the ground on which we walk, or, more literally, the means with which we imagine. That he was able to do so, and also keep the poems lively, energetic, appealing and so entirely human, is extraordinary."
For his "Light Poems," Mac Low created a chart of kinds of light. He worked through these images of light as he thought of particular qualities related to people for whom the poems were written as well as of the letters in their names.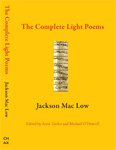 In 2014, a decade after Mac Low's death, Chax Press published "The Complete Light Poems," co-edited by Tardos and O'Driscoll. The 60 poems in this collection were written during an extended stretch of the poet's life, beginning on June 10, 1962, and concluding on Oct. 9, 1988, more than 26 years later.
Housed at UHV, Chax Press is one of nation's most innovative and active small literary presses. The press is known for a wide, inclusive, innovative and experimental vision in poetry. "The Complete Light Poems" was the first book published after Chax Press relocated to Victoria in August 2014.
Alexander is the director of the UHV Master of Fine Arts in creative writing, a low residency degree program which focuses on the creation, critique, revision and publication of poetry as well as creative literary works in fiction and creative nonfiction. The university also offers a Master of Science in publishing.
While Alexander has brought many poets to Victoria for the UHV Downtown Arts Series, he thought New York City would be the most appropriate location for this event.
"The 'Light Poems' has always been one of Mac Low's most admired works, and we knew when we brought all of its pieces together, that a number of people would get behind this book and understand its importance to several poetry-reading and writing communities," he said. "So it seemed only natural to hold an event for the book in the author's home city."
The Poetry Project at St. Mark's has been one of America's key sites for the presentation of innovative poetry since it began in 1966. Chax Press and Alexander have been featured there at past readings, and Mac Low often participated in events there.
The University of Houston-Victoria, located in the heart of the Coastal Bend region since 1973 in Victoria, Texas, offers courses leading to more than 80 academic programs in the schools of Arts & Sciences; Business Administration; and Education, Health Professions & Human Development. UHV provides face-to-face classes at its Victoria campus, as well as an instructional site in Katy, Texas, and online classes that students can take from anywhere. UHV supports the American Association of State Colleges and Universities Opportunities for All initiative to increase awareness about state colleges and universities and the important role they have in providing a high-quality and accessible education to an increasingly diverse student population, as well as contributing to regional and state economic development.