Close
Small Business Development Center network celebrates anniversaries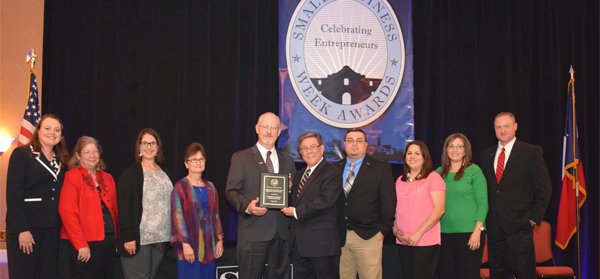 Members of the University of Houston-Victoria Small Business Development Center staff accept the SBDC Excellence and Innovation Award at the Small Business Week Awards on May 14 in San Antonio. Accepting the award, from left, are Lisa Barr, associate director and State Star 2014; Jean Smith, certified training professional; Lindsay Young, certified business advisor IV; Mary Densman, certified administrative professional; Joe Humphreys, UHV SBDC director; Anthony Ruiz, SBA San Antonio District director; Mark Martinez, certified business advisor III; Whitney Schroeder, certified administrative professional; Kacey Lindeman Butler, certified business advisor IV; and Brian Cunningham, certified business advisor IV.
This November is a landmark anniversary for the University of Houston-Victoria Small Business Development Center.
Thirty-five years ago, SBDCs were established across the nation to help small businesses start, grow and be successful. President Jimmy Carter signed legislation enacting the SBDC network into law, and in November 1985, the UHV SBDC joined the network.
"It's amazing to think that the UHV SBDC has been serving businesses in the Crossroads for 30 years," UHV SBDC Director Joe Humphreys said. "The SBDC and the entire area have come a long way during that time, and it's exciting to think about the growth and development coming in the future as a result of this program."
The UHV SBDC is part of a small business assistance program serving the small business community across the nation in partnership with federal, state and local governments. The center offers business advising, training and technical assistance to existing and start-up businesses in an 11-county area.
"The UHV SBDC is a vital resource for businesses in the Crossroads," said Farhang Niroomand, dean of the UHV School of Business Administration. "The university is proud to support the SBDC as it works to advise and encourage small business owners in the area."
Owning and running a small business is difficult, Humphreys said. Every business faces unique challenges, which is why services offered by the UHV SBDC and other similar centers across the nation are so vital. The centers are taxpayer-funded nonprofits that provide confidential, client-driven advice.
"In a rural market, like that seen in the 11 counties we serve, we are able to offer resources and information on par with services offered in metropolitan areas," Humphreys said. "The value of those services is immeasurable, especially when taking into account the intangible value of information."
During fiscal year 2014, the UHV SBDC assisted 394 clients and helped start or expand 92 businesses. Through those efforts, 956 jobs were created and retained, and $15,680,883 of capital was infused into the area economy.
The UHV SBDC first began tracking these numbers about 10 years ago. During that time, the group has assisted 2,391 clients and helped start 391 businesses in the Crossroads. That has led to the creation of 2,073 jobs and the retention of 2,846 jobs. In the past 10 years, $118.5 million in capital has been invested, and the UHV SBDC has helped clients obtain 184 contracts from entities including federal, state and local government.
"For many clients, the SBDC helps in phases from when they first want to open a business to times when they need advice to get past a certain challenge or obstacle," said Jean Smith, UHV SBDC training coordinator. "We are fortunate because we have a stable group of business advisors who have strong backgrounds in this region. Because our advisors are staying here, they're able to build relationships with our clients and build their own skill sets to better serve the needs of area businesses."
Looking back on the 30 years the UHV SBDC has served the Crossroads, it's impressive to think about how the center's work has impacted the area, Humphreys said.
"I don't know who the visionary person was who decided that the Victoria region needed an SBDC and that UHV should host it, but that decision has had an incredible effect on this area," Humphreys said. "It was a big commitment on UHV's part, and the university is still helping us expand our reach."
The University of Houston-Victoria, located in the heart of the Coastal Bend region since 1973 in Victoria, Texas, offers courses leading to more than 80 academic programs in the schools of Arts & Sciences; Business Administration; and Education, Health Professions & Human Development. UHV provides face-to-face classes at its Victoria campus, as well as an instructional site in Katy, Texas, and online classes that students can take from anywhere. UHV supports the American Association of State Colleges and Universities Opportunities for All initiative to increase awareness about state colleges and universities and the important role they have in providing a high-quality and accessible education to an increasingly diverse student population, as well as contributing to regional and state economic development.