Close
UHV marks year of achievements at annual report event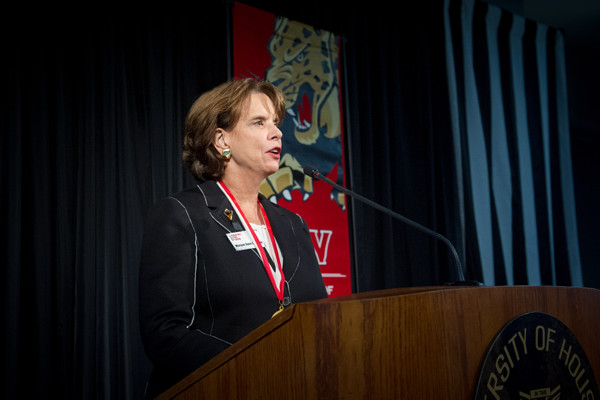 Victoria resident and former UH System regent Morgan Dunn O'Connor gives a speech after being awarded the Presidential Medal during Tuesday's 2014-2015 University of Houston-Victoria President's Annual Report & Excellence Awards. The medal is the highest award bestowed by the university.
University of Houston-Victoria leaders shared success stories and handed out five awards – including the prestigious Presidential Medal – during Tuesday's 2014-2015 President's Annual Report & Excellence Awards.
About 115 community supporters and university representatives gathered in the new UHV University North Multi-Purpose Room to celebrate the university's accomplishments during the past year.
The theme for the 2014-2015 annual report was "Making Our Mark," a variation of the university's Make Your Mark tagline. Speakers and videos throughout the evening explained how UHV students, alumni, faculty and staff members have made their marks in the classroom, athletic fields and community.
"We wanted to showcase how UHV is making our mark on students' lives throughout the region," UHV Interim President Vic Morgan said. "The report demonstrates how UHV has made a difference in the lives of our students and how, in turn, our students and alumni have made significant contributions in the workforce and in area communities."
Morgan handed out several awards throughout the evening, including presenting Victoria resident Morgan Dunn O'Connor with the Presidential Medal. The medal is the highest award bestowed by the university. It is given periodically to recognize individuals who have made distinguished professional and public contributions to UHV, the community it serves or to higher education in general.
O'Connor served on the UH System Board of Regents from 1999 to 2008. She was the board chair for one term, vice chair twice and served on the executive committee for five terms. She also has been a member of the President's Regional Advisory Board since 1997.
"This was such a lovely honor to receive this from Dr. Morgan and UHV," O'Connor said. "That being said, it's difficult to accept an award for something that you love doing. I've always had a passion for education and higher education in particular. Seeing our students succeed is all the reward any of us need."
Jennifer Yancey, Victoria College vice president of college advancement & external affairs, was given the UHV Alumni of the Year award. The award honors a UHV graduate or graduates who have distinguished themselves in their profession while taking an active leadership role in the community.
Yancey holds two degrees from UHV. In 1998, she graduated magna cum laude with a Bachelor of Business Administration with a concentration in marketing. In 2008, she earned a Master of Arts in Interdisciplinary Studies in communications and nonprofit leadership.
In addition to being a champion of higher education, Yancey has volunteered her time to serve in many capacities for community and civic organizations. She is a member of the Victoria Alliance Board, Golden Crescent Workforce Development Board and Victoria Rotary Club. She also has served as the former board chair of the Victoria County United Way, Victoria YMCA and Victoria Chamber of Commerce.
"I would like community members to realize the opportunities and assets that we have with higher education in Victoria," Yancey told the audience Tuesday. "To have that economic development engine with these two higher education institutions is fabulous."
The UHV Community Partnership Award is presented annually to a person, business or organization that has helped advance the quality of life in the region and at the university. On Tuesday, the award was presented to the M.G. and Lillie A. Johnson Foundation Inc.
In the past five years, the Johnson Foundation has given 11 separate contributions to the university. The organization's first gift to the university was in 1988 when the foundation gave $100,000 to establish the Johnson Foundation Endowed Scholarship. Since then, the foundation has contributed almost $3 million to the university in the form of grants and scholarships.
"The Johnson Foundation likes to do things in our quiet way," said Robert Halepeska, foundation executive vice president. "We don't expect recognition. But on behalf of the board, I'd like to extend our gratitude to UHV for honoring us in this matter. We've always been a long-term partner with UHV. We are really excited about what the future brings."
Claud and Mary Virginia Jacobs were the recipients of the People Who Make a Difference Award. This award was established to pay special tribute to individuals who have supported the university and made a difference in the quality of life in their communities.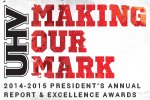 In 2007, the Jacobs family established the first athletic scholarship at UHV. The scholarship, which is awarded annually to a Jaguars baseball player, was established to honor the legacy of Claud's father. When UHV's golf program was getting ready to swing into action, the Jacobses agreed to match all scholarship donations up to $50,000 for student-athletes.
In 2006, the couple established the first UHV endowed nursing scholarship for students in memory of Mary Virginia's mother, Florence Nightingale Mason. The scholarship has helped nursing students with school expenses every year since.
"Claud and I are truly humbled by this award," Mary Virginia said. "One thing Claud and I realized after moving to Victoria more than 20 years ago was that Victoria is a very giving and caring community. Victoria has heart. Victoria has made a difference. Victoria has made its mark on UHV, and as a result, UHV had made its mark on this community."
The Student Leadership Award recognizes a student who demonstrates excellence in academic and leadership qualities. This year's recipient was Bola Adebayo.
Adebayo is a junior biology major from Houston. She is serving her second term as president of the UHV Student Government Association. She also serves on the Black Student Union and Women's Empowerment Committee. During the past year, Adebayo organized or took part in many student service projects.
"I don't expect a lot of recognition, but to see that the administration, faculty, staff and students have taken notice of what I've done means a lot to me," Adebayo said.
In addition to these awards, the event also featured videos about each of the four academic schools followed by speeches about highlights from the past year. These included:
The UHV School of Arts & Sciences received two Department of Defense grants totaling $603,000 for research into human/robot interaction and the integration of robotics and virtual reality.
The UHV School of Business Administration was re-accredited by AACSB International – The Association to Advance Collegiate Schools of Business. Less than 5 percent of business schools worldwide earn accreditation from AACSB.
The UHV School of Education, Health Professions & Human Development added new bachelor's degrees in health studies and kinesiology.
The first group of students in the UHV School of Nursing Master of Science in Nursing family nurse practitioner program graduated, and 100 percent passed one of the national certification exams needed to practice.
The 2014-2015 annual report can be viewed at UHVAnnualReport.com. The site features video presentations shown during the event; faculty, staff, student and alumni highlights; UHV's enrollment and financial figures; a list of donors; and more. Videos filmed at Tuesday's event and an event photo gallery soon will be added to the website.
The University of Houston-Victoria, located in the heart of the Coastal Bend region since 1973 in Victoria, Texas, offers courses leading to more than 80 academic programs in the schools of Arts & Sciences; Business Administration; and Education, Health Professions & Human Development. UHV provides face-to-face classes at its Victoria campus, as well as an instructional site in Katy, Texas, and online classes that students can take from anywhere. UHV supports the American Association of State Colleges and Universities Opportunities for All initiative to increase awareness about state colleges and universities and the important role they have in providing a high-quality and accessible education to an increasingly diverse student population, as well as contributing to regional and state economic development.