Close
Downtown Arts Series brings trio of poets to Victoria
When Tenney Nathanson writes poetry, he tries to let things shift and flow by becoming immersed in the moment.
The poet and professor of English at the University of Arizona knows that poetry can take unexpected directions, just like life, and he will share some of those experiences during his presentation Saturday as part of the University of Houston-Victoria Downtown Arts Series.
"One way my poetry tries to track what's going on in the moment is by taking an interest in relations among bodies and creatures in space, such as how I move in relation to other things moving around me," Nathanson said. "I want to offer some sense of how all things in the world interpermeate, to catch a glimpse of the local embodiments of that vast process."
Nathanson will be one of three poets who will come together to share their work at 7 p.m. in the UHV Center for the Arts, 204 N. Main St. The event is open to the public, and refreshments will be served.
The other two speakers, Judith Roitman and Stanley Lombardo, were originally scheduled to speak in October, but their presentation was rescheduled because of bad weather. Roitman not only is a poet, but also is a retired professor of mathematics, and Lombardo is a renowned translator of classical literature – particularly epic Greek and Latin poetry – and a poet who performs his translations.
"This is an exciting group of poets to bring to the Victoria community," said Charles Alexander, UHV poet and designer in residence and co-curator of the downtown series. "Each has their own distinct style, and I hope the audience will be riveted by their performances."
Nathanson first decided he wanted to be a poet after he earned his bachelor's degree. He considered getting a Master of Fine Arts in poetry, but decided to pursue a doctorate in English and comparative literature at Columbia instead so he could teach literature as well.
He tends to write book-length poems, and often explores topics that are political or involve current events in the U.S. and the world. His most recent book, "Ghost Snow Falls Through the Void (Globalization)," looked at two major events of the last decade, the invasion of Iraq and the housing subprime lending crisis in the U.S.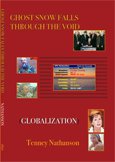 "Both of these things caused suffering and were pretty big disasters," he said. "They both were partly caused by an arrogant, self-assured certainty that turned out to be really misguided. I started writing it in 2006 about Iraq right after I finished another book. People thought they were doing something noble, but it was actually rather misguided and arrogant."
Nathanson tends to write what he refers to as serial poems focusing on things transitioning and unfolding. He includes a lot of different kinds of language and materials, and the poems don't usually repeat similar sound patterns or poetic structures.
"It's sometimes meditative, but it also collages in materials from newspapers and other sources," he said. "I want my poetry to be extremely varied and mobile. I think in some odd way, that gives the work a religious element, at least if you're OK with calling Zen Buddhism a religion."
There's a long relationship between American poetry and Zen, Nathanson said. He has been a Zen teacher for a few years, a vocation he shares with Roitman and Lombardo, who are both longtime Zen teachers.
Nathanson plans to read selections from his previous work as well as an excerpt from his current manuscript, "Ghost Snow 2 (Unwinding)."
The Downtown Arts Series presents an array of groundbreaking art practices to the Victoria community and stimulates dialogue about the arts as a presence in people's lives. Six more presentations are scheduled this school year by poets, musicians, literary scholars and social critics.
For more information about the series, contact Alexander or co-curator Cynthia Miller at 361-703-5147.
The University of Houston-Victoria, located in the heart of the Coastal Bend region since 1973 in Victoria, Texas, offers courses leading to more than 80 academic programs in the schools of Arts & Sciences; Business Administration; and Education, Health Professions & Human Development. UHV provides face-to-face classes at its Victoria campus, as well as an instructional site in Katy, Texas, and online classes that students can take from anywhere. UHV supports the American Association of State Colleges and Universities Opportunities for All initiative to increase awareness about state colleges and universities and the important role they have in providing a high-quality and accessible education to an increasingly diverse student population, as well as contributing to regional and state economic development.