Close
UHV business students analyze chemical company at BBA conference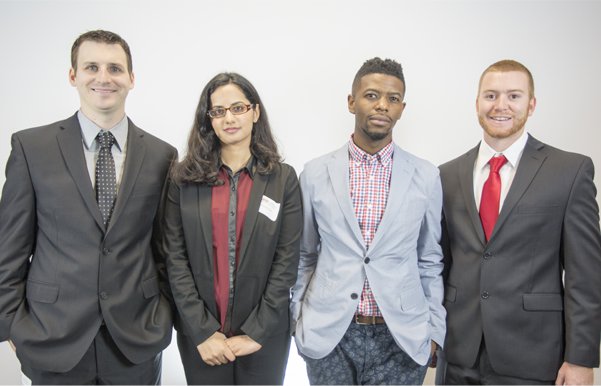 From left, Jeffrey Lengefeld, Husna Kassim, Eric Armstrong and Ryan Suescun earned first place at the UHV Bachelor of Business Administration Case Conference Saturday for their presentation on Westlake Chemical Corp.
SUGAR LAND – Members of the winning team at the University of Houston-Victoria Bachelor of Business Administration Conference were not able to meet in person until the night before their presentation.
Eric Armstrong of Seattle, Husna Kassim of Richmond, Jeffrey Lengefeld of Austin and Ryan Suescun of Houston spent the semester coordinating their research and presentation online using Google Docs, emails and video meetings before coming together Friday night to rehearse the group's Saturday presentation at the UHV School of Business Administration BBA Case Conference.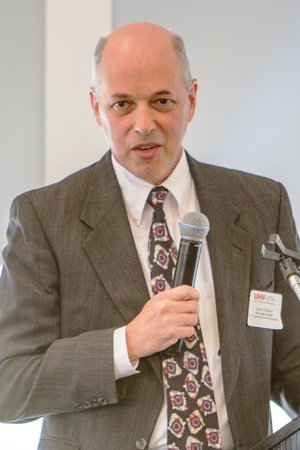 Larry Schubert, vice president of corporate business development at Westlake Chemical Corp., speaks to UHV students and guests attending Saturday's BBA Conference.
"We all had our individual pieces and sections ready when we arrived," said Lengefeld, who will earn his BBA in management in December. "We went through it a couple of times, rearranged a few things and called it a night. We were knowledgeable and comfortable about our presentation, but we didn't expect to get first place."
The UHV School of Business Administration holds the conference at UH Sugar Land, where UHV offers many of the degree programs. Every semester since 2007, students enrolled in "Strategic Management," the capstone course of the BBA program, have attended the conference and competed as teams in the presentation of a company case analysis.
At Saturday's conference, 144 students on 37 teams competed by presenting case analyses about Westlake Chemical Corp. The Houston-based corporation is a manufacturer and global supplier of petrochemicals, plastics and building products. Larry Schubert, vice president of corporate business development at Westlake Chemical Corp., gave a speech to the students after the competition.
Each member of the winning team received an individual plaque, and the names of the students will appear on a plaque in the UHV School of Business Administration office. They also will be invited to serve as panelists at future case competitions.
Members of the other winning teams and their hometowns are:
Second Place – Lucky Gandy, Daniel Goris, Joseph Martinez and Botond Puklus, all of Victoria
Third Place – Joshua Boothe of Katy, and Neil Fossati, Catherine Newell and Andrew Thibodeaux, all of Victoria
"The BBA conference is a valuable experience for students and an opportunity for them to showcase their critical and systematic thinking skills," said Kaveh Moghaddam, a UHV assistant professor of management and the winning team's professor. "The competition is tough, and the panelists take this very seriously. After seeing these students' progress reports as they prepared for the conference, I wasn't surprised to see them take first place."
For Suescun, who will receive his BBA in general business on Dec. 12, the group members' success was due to how well they worked together. The group split the presentation into four sections that each member could focus on.
The BBA conference is a unique experience for students to present their systematic and creative thinking in collecting and analyzing data about a company, Moghaddam said. Students also get a chance to network with other classmates, connect with alumni, meet recruiters, take advantage of UHV Career Services, listen to a knowledgeable guest speaker and kick off their graduation celebration with a luncheon.
The panelists, competitors and business faculty came together for the luncheon where Schubert gave the keynote presentation. He shared his personal journey from starting in business to reaching his current position with the company, then gave a presentation about the company's current position.
"Mr. Schubert's presentation was valuable because it helped our students gain perspective for the future," Moghaddam said. "Students gained an understanding that this is just a starting point for them. Here is someone who started at their same level and moved up the ladder to achieve success. He didn't know anything about chemicals when he joined Westlake, but he knew business, and now he is a vice president."
The luncheon was sponsored by Westlake Chemical Corp., Regency Post-Acute Healthcare System, Heavy Construction Systems Specialists and GEICO.
UHV's Master of Business Administration Conference will be Dec. 5 at UH Sugar Land. Jim Duncan, chief analyst and commodity marketing strategist for ConocoPhillips, will give the keynote address.
The University of Houston-Victoria, located in the heart of the Coastal Bend region since 1973 in Victoria, Texas, offers courses leading to more than 80 academic programs in the schools of Arts & Sciences; Business Administration; and Education, Health Professions & Human Development. UHV provides face-to-face classes at its Victoria campus, as well as an instructional site in Katy, Texas, and online classes that students can take from anywhere. UHV supports the American Association of State Colleges and Universities Opportunities for All initiative to increase awareness about state colleges and universities and the important role they have in providing a high-quality and accessible education to an increasingly diverse student population, as well as contributing to regional and state economic development.