Close
ABR author uses history, personal struggle to fuel latest writing projects
David Marion Wilkinson said his professional and personal life unraveled while writing the novel "Where the Mountains Are Thieves."
The author and screenwriter had three lucrative movie deals fall apart during that time. The relationships with his agents dissolved, and his book editor was fired. He also went through a divorce.
"Across the board, things were going badly," he said. "I wanted to do something to reflect the place I was in. I started writing the book as a comic novel about a fish out of water. This person was an urbanite, living in small-town West Texas. Then I found myself in a tough spot, so the revisions of the book reflected it."
"Where the Mountains Are Thieves" will be one of three books Wilkinson will read from Dec. 3 at the University of Houston-Victoria/American Book Review Fall Reading Series. The event will take place at noon in the University West Alcorn Auditorium, 3007 N. Ben Wilson St. The reading is free and open to the public.
The novel follows the turbulent life of husband and father Jesse Reverchon. After a fast-paced life in Houston, he transplants his family to the rural Big Bend valley of West Texas hoping to slow down, resume his writing career and spend more time nurturing his family. His attempt yields mixed results, with Jesse falling back into old self-destructive patterns that threaten his efforts.
Wilkinson said he put all the angst, disappointment, sadness, fear and hope from that time period into the novel. The book is about coming to terms with getting older and the consequences of decisions.
"It took a long time to write it and a long time to publish it," he said. "I spent more time on that book than any of the others. I had to come to terms with the anguish. It's devastatingly sad to look at it now, but I'm proud of the book."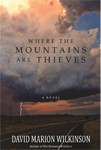 "Where the Mountains Are Thieves" has no shortage of parallels to Wilkinson's life, including the three years he spent living in Alpine, where he created Sul Ross State University's first writer-in-residence program.
"What I noticed about that region is people were more connected with each other," he said. "Everyone was more socially involved. It's a unique and magical place."
Wilkinson also will read from his historical epic, "Not Between Brothers," a tale of the birth of the Lone Star State, and from "One Ranger," a memoir written with H. Joaquin Jackson that chronicles Jackson's exploits as a Texas Ranger.
"Mr. Wilkinson combines a deep knowledge of Texas history with a gifted approach to storytelling," said Jeffrey Di Leo, dean of the UHV School of Arts & Sciences, and ABR editor and publisher. "I think our students and the community will be quite entertained."
Hailing from an old pioneer family in southwest Arkansas, Wilkinson developed early on a curiosity about what life was like during the frontier days.
"I'm really interested in how we got to where we are," Wilkinson said. "Everyone talks about how things are unraveling, but it never was stitched that well to begin with."
Wilkinson initially was called in as a historical consultant and then made a writer for the miniseries "Texas Rising," which was broadcast in May and June on the History Channel. The story was an account of the Lone Star State's battle for independence from Mexico.
"I told them they had huge problems with the history, and they didn't real care," he said. "I did the best I could to bring it within the realm of possibility. In the end, they made their own movie."
Wilkinson said at one time, he was encouraged about the quality of the script in spite of fictions, but what was shot had been significantly altered, and the setting in no way resembled Texas. The mood, dialogue and sometimes even the wardrobe did not reflect the times. Although "Texas Rising" fared well in the ratings, many critics found fault with the miniseries' rampant historical inaccuracies. Wilkinson felt the same way. He said the true story of the Texas Revolution is itself dramatic enough to be portrayed very close to the bone.
"For me, it was a huge disappointment, but it also was a learning experience," Wilkinson said. "I'm very sad in the way 'Texas Rising' represented our history and culture."
The silver lining was the experience opened new doors for Wilkinson.
"It turned out I was a pretty good screenwriter," he said. "I learned quite a bit about making movies and the politics involved."
Wilkinson is now writing a miniseries biopic about the writing of the "Little House" stories by Laura Ingles Wilder and her daughter, Rose Wilder Lane. He said Wilder and Lane were extraordinary writers but quite different.
"There was a real clash of personalities," Wilkinson said. "They were under enormous pressure to write something that would help them make a living during the Depression. Out of that came the Little House series. That was a lot of conflict, emotions and turmoil."
Wilkinson will conclude the UHV/ABR Fall Reading Series. The series continues in the spring with visits by Rikki Ducornet, Phoebe Gloeckner, Valerie Sayers, Ben Marcus and Charles Bernstein.
ABR is a nonprofit, internationally distributed literary journal published six times a year. It began in 1977, moved to UHV in 2007 and has a circulation of about 8,000. The journal specializes in reviews of works published by small presses.
For more information about the UHV/ABR Reading Series, call the ABR office at 361-570-4101 or go to www.americanbookreview.org.
The University of Houston-Victoria, located in the heart of the Coastal Bend region since 1973 in Victoria, Texas, offers courses leading to more than 80 academic programs in the schools of Arts & Sciences; Business Administration; and Education, Health Professions & Human Development. UHV provides face-to-face classes at its Victoria campus, as well as an instructional site in Katy, Texas, and online classes that students can take from anywhere. UHV supports the American Association of State Colleges and Universities Opportunities for All initiative to increase awareness about state colleges and universities and the important role they have in providing a high-quality and accessible education to an increasingly diverse student population, as well as contributing to regional and state economic development.