Close
Books edited by UHV assistant professor explore electronic church in digital age
Two recent books edited by Mark Ward Sr., a University of Houston-Victoria assistant professor of communication, are the first major works to be published in a generation about the electronic church.
The two-volume set, "The Electronic Church in the Digital Age: Cultural Impacts of Evangelical Mass Media," tackles a phenomenon hotly debated in the 1980s and explores its 21st-century incarnation on smartphones, tablets and computers, as well as television and radio.
"One in four adults in the U.S. identifies as evangelical Christian, while one in five consumes evangelical mass media on a daily basis," Ward said. "The electronic church remains a key institution of American evangelicalism. Each month, more people are exposed to these media than those who go to church."
Many people associate the electronic church with high-profile televangelists such as Jerry Falwell and Pat Robertson in the 1980s or Joel Osteen of Houston's Lakewood Church today. But Ward says that the continuing popularity of evangelical media celebrities is not what drove him to put together the books. Instead, he cites other reasons.
"First, mass media are becoming convergent, which means that the same religious content can now be seen and heard across a variety of media," Ward explains. "Second, due to deregulation and industry consolidation, a handful of evangelical media conglomerates dominate the market and can drive religious uses of new media technologies."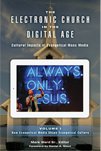 Ward hopes that his books, which are written for general readers as well as scholars, can lead to better understanding of the religious differences that fuel culture wars, as well as alert evangelicals to the ways that technological and commercial values can influence religion.
"The Electronic Church in the Digital Age" was released in November by Praeger Publishers of Santa Barbara, Calif. The first volume explores how evangelical media shape evangelical culture, while the second investigates how evangelical media engage mainstream American culture. Each volume has 10 chapters.
"Each chapter describes actual content from evangelical media and analyzes it according to an established theory of media or rhetoric," Ward said. "The goal is to demonstrate how evangelicals make sense of this content and thus create their own identity and culture."
Ward's role as editor of the two-book series was to conceive the vision for the project, map out the chapters for each volume, recruit scholars to write the chapters and work with them to carry out the vision. He also contributed a chapter to each volume and wrote an introduction, an encyclopedia of major evangelical media personalities and networks, and a chronology of the electronic church from the telegraph to the Internet.
Readers will learn, among other things, what it is like to hear religious radio every day, to watch TV portrayals of Muslims and Jews on Bible prophecy shows, to join an evangelical videogame guild, and to receive a daily call from "Jesus" via a smartphone app.
"Bible tract societies were America's first mass medium in the early 1800s, and evangelicals have embraced every new media technology since then," Ward said. "You can't understand America without understanding its religiousness, and you can't understand its religiousness without understanding the electronic church."
Ward has published two histories of religious broadcasting and numerous scholarly articles about evangelical culture and media. One was named the 2014 article of the year by the Religious Communication Association. He serves on the association's executive council and is a member of the editorial board for the Journal of Communication and Religion. In 2014, Ward published a scholarly book about the Holocaust and earlier this year co-authored a textbook about organizational communication.
The University of Houston-Victoria, located in the heart of the Coastal Bend region since 1973 in Victoria, Texas, offers courses leading to more than 80 academic programs in the schools of Arts & Sciences; Business Administration; and Education, Health Professions & Human Development. UHV provides face-to-face classes at its Victoria campus, as well as an instructional site in Katy, Texas, and online classes that students can take from anywhere. UHV supports the American Association of State Colleges and Universities Opportunities for All initiative to increase awareness about state colleges and universities and the important role they have in providing a high-quality and accessible education to an increasingly diverse student population, as well as contributing to regional and state economic development.