Close
Three UHV students win top prize at MBA Conference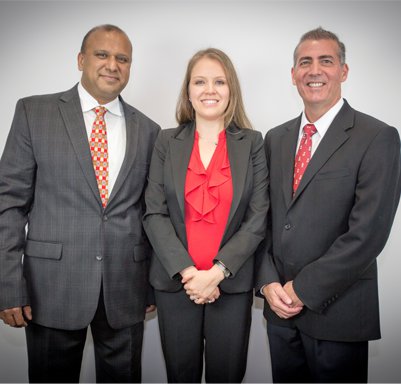 Sanjay Muzumdar, left, Bertha Buendia and Dale Downhour pose for a photo after taking first place at the University of Houston-Victoria Master of Business Administration Conference Saturday at UH Sugar Land.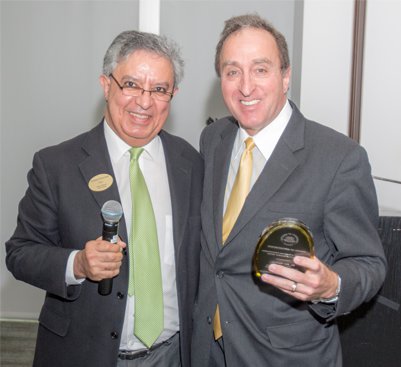 Jim Duncan, right, chief analyst and commodity marketing strategist for ConocoPhillips Gas and Power, displays an award of appreciation given to him by Farhang Niroomand, dean of the UHV School of Business Administration, after Duncan delivered the MBA Conference keynote speech.
SUGAR LAND – While confident in his team's presentation, Dale Downhour became nervous Saturday when the dean of the UHV School of Business Administration and the conference keynote speaker walked into the room.
"We were feeling pretty good about the content we had," Downhour said. "We had no idea what other people would present though. When they called our names as the winners, our team was shocked. We had no idea. It was a really great experience."
Downhour of Cypress, Bertha Buendia of Richmond and Sanjay Muzumdar of Katy won first place at Saturday's University of Houston-Victoria Master of Business Administration Conference.
Since 2003, the conference has been the culmination of the UHV School of Business Administration's Strategic MBA program. Held at UH Sugar Land, where UHV offers many of the degree programs, the event also featured a luncheon and keynote address by Jim Duncan, chief analyst and commodity marketing strategist for ConocoPhillips Gas and Power.
Competing in the conference were 75 students on 23 teams from the MBA capstone course "Seminar in Strategic Management." The teams each presented an analysis about Texas Instruments to a panel of judges.
Winning team members received a certificate and will be invited to participate as panelists at future competitions. Their names also will appear on a plaque in the UHV School of Business Administration office in Victoria.
Other teams placing in the competition were:
Second Place – Amir Omidvari of Houston, Jason Mazoch of Katy and Carrie Stiles of Pearland
Third Place – James Hesse of Needville, Isaias Preza of Pearland, Salim Sonmez of Houston and Xue Zhong of Stafford
"The conference is always a terrific way for students to put what they've learned in the MBA program to use, and this year was no exception," said Farhang Niroomand, dean of the UHV School of Business Administration. "Many of our contest judges came away impressed with students' knowledge, analyses and presentation skills. The day was a good showcase of how far they have come in their graduate studies."
Downhour said the experience of putting together a case study paid almost immediate dividends at his own job at Toshiba International Corp. A company vice president asked Downhour on Tuesday to be part of a team that generates a business plan for a new venture. Downhour was able to confidently say he just finished a project for his MBA that included many of the same elements.
After researching Texas Instruments, Downhour said his team came away with a good grasp of the company's core products and services.
"We determined that Texas Instruments already is very successful," he said. "We decided it shouldn't enter into a new market or joint venture in a different direction. We focused on expanding the markets it already is in."
Jifu Wang, associate dean of the UHV School of Business Administration, said students did a fantastic job of analyzing Texas Instruments and recommending doable and measurable actions.
"The focus of the MBA program is about how students can achieve results to improve the situation," Wang said. "Analyzing the situation is part of the equation, but what we're looking for is students to show how they've used what they learned in accounting, finance, economics and marketing to bring about a better result. A lot of people can identify problems. What was so great about Saturday's conference is we saw that our students provided answers."
Wang said the lessons of the day were tied together well in Duncan's luncheon speech. Duncan is responsible for developing customized financial market strategies to determine market movement for both ConocoPhillips and its customers.
"He gave us a lot of insights into what kind of impact the drop in oil prices made both in the U.S. and across the world," Wang said.
Downhour said he appreciated Duncan's insights about the oil and gas industry recovery time and his advice about good business practices. One that stood out to him was for employees to know their value to an organization.
"You have to know where you fit in the marketplace and what you can deliver," Downhour said.
The MBA Case Conference luncheon was sponsored by Bloomberg BusinessWeek, Regency Post-Acute Healthcare Systems and HCSS Innovate Software. A career fair also was held during the conference.
The University of Houston-Victoria, located in the heart of the Coastal Bend region since 1973 in Victoria, Texas, offers courses leading to more than 80 academic programs in the schools of Arts & Sciences; Business Administration; and Education, Health Professions & Human Development. UHV provides face-to-face classes at its Victoria campus, as well as an instructional site in Katy, Texas, and online classes that students can take from anywhere. UHV supports the American Association of State Colleges and Universities Opportunities for All initiative to increase awareness about state colleges and universities and the important role they have in providing a high-quality and accessible education to an increasingly diverse student population, as well as contributing to regional and state economic development.