Close
Police sergeant brings local law enforcement experience to UHV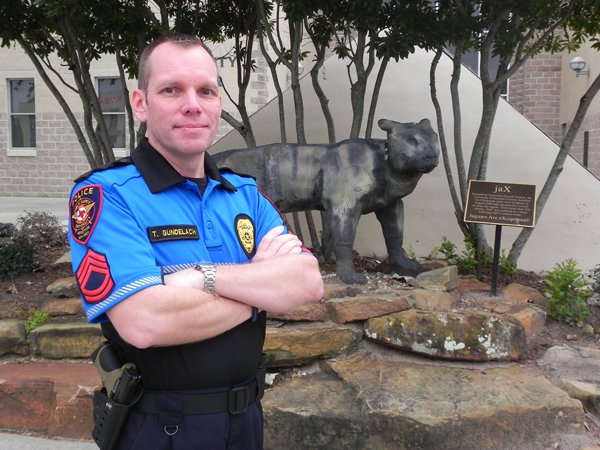 Sgt. Travis Gundelach recently was hired to oversee security at the University of Houston-Victoria as part of the UH Police Department.
When Travis Gundelach graduated from high school in Hallettsville, he started riding along with police officers.
He began going on the rides because he was curious, and he soon was inspired by the exciting variety of situations he saw the officers dealing with every day and night.
"Those ride outs really set the hook for me," he said. "I was able to see what the job was about, and I loved the spontaneity of not knowing what might come up each day. It's always interesting and always a challenge."
Now, 18 years after he began his career in law enforcement, Gundelach, a Victoria resident, has come to the University of Houston-Victoria as part of the UH Police Department to oversee campus security.
"UHV is glad to welcome Sergeant Gundelach to campus and the university family," UHV Interim President Vic Morgan said. "Safety on campus is one of UHV's highest priorities, and I am sure he will bring a fresh perspective to how best keep our campus secure and our students protected."
The UHV security team provides law enforcement and security services for the campus. They team takes part in many activities aimed at improving campus security, including campus patrols, security escorts and checks, investigations, student location and wellness checks, motorist assistance and first aid.
Before joining the UHPD, Gundelach worked for 14 years at the Victoria County Sheriff's Office. He first joined the department in 2001 working in the county jail, and then eventually became a patrol sergeant. He is now a sergeant for UHPD and is contracted to UHV.
"Being promoted to sergeant was a big moment in my career," he said. "The position came with a lot of accountability and responsibility. It's a clear compliment and shows that your superiors have confidence in your abilities."
That experience as a supervisor and the connections Gundelach made during his time working for the Sheriff's Office and with other area law enforcement agencies will be useful tools as he strives to maintain a safe campus environment, he said.
One of his major focuses is ensuring that campus security resources keep up with the university's overall growth, Gundelach said. As UHV continues to add programs and new buildings, the need for more security and campus safety resources grows.
"I'd like to focus more energy on proactive steps to increase campus security," he said. "I stay busy during the semester with a lot of administrative tasks and acting as a liaison with outside law enforcement agencies, but my main focus always is on how my office can continue to improve safety for UHV students, faculty and staff."
Although the shift from municipal law enforcement to a university police department has involved a bit of a learning curve, Gundelach said he still enjoys the daily variety of cases and situations.
"It's exciting to have the opportunity to learn new things and meet so many new people," he said. "I'm learning about the reporting requirements and other policies, and I've come across some policing matters I haven't dealt with in the past. I enjoy the challenge, and I feel very welcome and at home at UHV."
The University of Houston-Victoria, located in the heart of the Coastal Bend region since 1973 in Victoria, Texas, offers courses leading to more than 80 academic programs in the schools of Arts & Sciences; Business Administration; and Education, Health Professions & Human Development. UHV provides face-to-face classes at its Victoria campus, as well as an instructional site in Katy, Texas, and online classes that students can take from anywhere. UHV supports the American Association of State Colleges and Universities Opportunities for All initiative to increase awareness about state colleges and universities and the important role they have in providing a high-quality and accessible education to an increasingly diverse student population, as well as contributing to regional and state economic development.