Close
UHV Alumna Publishes Novel, Raises Cancer Awareness
University of Houston-Victoria alumna Tanya Michna released her first novel on Sept 4.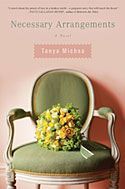 The book is available in bookstores and many online booksellers.
Published by New Amber Library, "Necessary Arrangements" is a story about two sisters, one who is planning to get married and the other battling breast cancer.
The novel was heavily influenced by her family struggles with cancer. She captures the courage, dignity, and surprising humor she has experienced and breathes it into her novel's characters giving them life.
"The successes and accomplishments of UHV graduates never cease to amaze me," said Dr. Jeffrey R. Di Leo, UHV dean of School of Arts and Sciences, and editor of the American Book Review. "And I think the news of Michna's new novel is all the more inspiring because of the difficulty of its subject matter. Her achievement is an outstanding example of what UHV graduates can and have achieved. I'm so proud of her."
The 1998 summa cum laude graduate picked up her interest in writing at UHV as a writing tutor in the Academic Center. She shared the Academic Center with UHV graduate Jane Mims, who still contacts her regularly.
Mims recalls Michna's desire to be a writer.
"She always wanted to be a novelist," Mims said. "What I like about her writing is that she is so good at creating dialogue. She makes her dialogue so conversational and natural you feel like you're in the conversation," Mims said.
"The characters in her books are so realistic and credible; they are like people we can all relate to in our own lives.
"I have read "Necessary Arrangements," and it is an incredible book. I would say her primary audience for this particular novel is women, especially women who have struggled or known someone who has struggled with cancer. But, the book can be for anyone, man or woman, who knows the struggles of someone battling with cancer," Mims added.
"Cancer can be devastating whether you're the overwhelmed patient or the loved one who just doesn't know what to say," Michna said. "I want readers to feel they aren't alone, that others have suffered similar fears or even laughed at the same absurdities."
The book is currently being considered for publication in other countries and has already been sold in Germany.
Michna is so concerned about the early detection of cancer she has held book giveaways where participants had to email the date of their next mammogram or comparable test.
Michna lives in Georgia with her husband, Jarrad Michna, also an alumnus of UHV, and their two children.
Michna has also written many romance novels under her pen name, Tanya Michaels. She is characterized as a fiction writer who captures real life in her fiction.
The University of Houston-Victoria, located in the heart of the Coastal Bend region since 1973 in Victoria, Texas, offers courses leading to more than 80 academic programs in the schools of Arts & Sciences; Business Administration; and Education, Health Professions & Human Development. UHV provides face-to-face classes at its Victoria campus, as well as an instructional site in Katy, Texas, and online classes that students can take from anywhere. UHV supports the American Association of State Colleges and Universities Opportunities for All initiative to increase awareness about state colleges and universities and the important role they have in providing a high-quality and accessible education to an increasingly diverse student population, as well as contributing to regional and state economic development.