Close
Dalkey Archive Press settles into office at Totah Building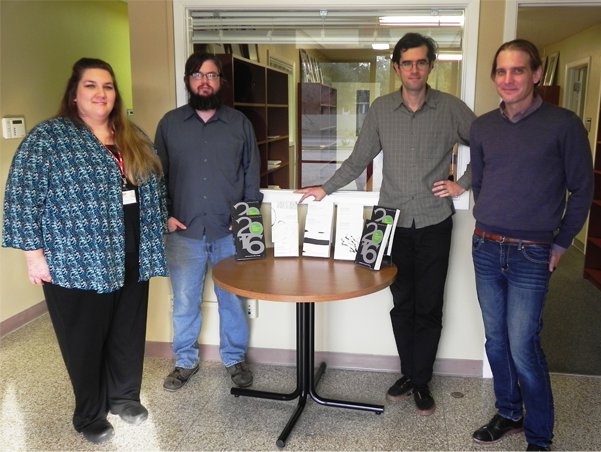 Dalkey Archive Press staff members stand in the front entryway of their new office in the Totah Building. Pictured are office manager Angela Sneeringer-Gonzalez, left, production manager Jeff Higgins, assistant editor Nathaniel Davis and associate director Jake Snyder.
With ample room, street parking and no shortage of books on hand, Dalkey Archive Press is open for business at the University of Houston-Victoria.
The internationally renowned nonprofit literary organization began moving its publishing operations in August from Champaign, Ill., to Victoria. John O'Brien, Dalkey Archive Press founder and publisher, and a four-person staff has moved into the Totah Building, 3402 N. Ben Wilson St.
"Dalkey Archive Press has been a tremendous addition to our literary lineup at UHV," said Jeffrey Di Leo, dean of the UHV School of Arts & Sciences. "This office has given Dalkey an immediate presence on our campus and will allow the press to host authors and other events."
Dalkey Archive Press has published more than 750 fiction and poetry books during the past three decades. The press publishes about 50 books a year with an emphasis on translations from more than 40 countries.
Jake Snyder, Dalkey Archive Press associate director, said the Totah Building provides abundant space for the press. There are offices for six staff members, a meeting area and rooms for books and files.
UHV Facilities tore out a wall to allow for a large book room. Snyder recently transported shelving from Illinois, so all the books Dalkey has for sale will be readily available.
"We are thankful for the university providing more-than-enough space for our new office," Snyder said. "It's an easy-to-get-to location and will serve us well in the years to come."

Dalkey moved into the space last occupied by the UHV Small Business Development Center. The SBDC moved across the street to UHV University North when the new academic and economic development building opened in August.
Dalkey is located next door to the Victoria Business and Economic Coalition, which moved into the other side of the building last summer. The UHV Athletics Training Room remains in the back of the building.
O'Brien plans to implement educational projects for teachers, writers, researchers, students, translators and the general public. The press also will bring some of its authors to town for readings and events. Dalkey publishes the works of Rikki Ducornet, who will have a reading Jan. 28 to kick off the spring UHV/American Book Review Reading Series.
Starting this summer, Dalkey is offering its Applied Literary Translation program at UHV. This program provides emerging translators with the opportunity to work closely with editorial staff to produce book-length translations published by Dalkey Archive Press.
The Dalkey translator program was already in existence, but with the move to UHV, those enrolled can earn a certificate from UHV in applied literary translation. Upon completion of the certificate, students will have 12 credit hours completed toward a UHV Master of Fine Arts in creative writing or a Master of Science in publishing.
The press also has started an internship program for graduate students in UHV's publishing and creative writing programs.
To learn more about the Dalkey Archive Press, visit www.dalkeyarchive.com.
The University of Houston-Victoria, located in the heart of the Coastal Bend region since 1973 in Victoria, Texas, offers courses leading to more than 80 academic programs in the schools of Arts & Sciences; Business Administration; and Education, Health Professions & Human Development. UHV provides face-to-face classes at its Victoria campus, as well as an instructional site in Katy, Texas, and online classes that students can take from anywhere. UHV supports the American Association of State Colleges and Universities Opportunities for All initiative to increase awareness about state colleges and universities and the important role they have in providing a high-quality and accessible education to an increasingly diverse student population, as well as contributing to regional and state economic development.