Close
DeLeon Elementary students win top prizes in Black History poster contest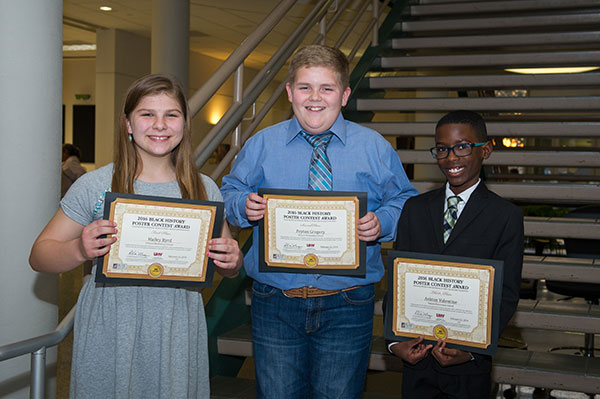 The top three winners of the 2016 Black History Month Poster Contest show off their award certificates Friday after a reception at the University of Houston-Victoria. Hailey Byrd, left, won first place for a poster about Harriet Tubman. Taking second and third were Peyton Gregory and Ashton Valentine. All three are fifth-graders at DeLeon Elementary School.
As the winners' names were read during Friday's Black History Month Poster Contest reception at the University of Houston-Victoria, Hailey Byrd's fingers were crossed.
It turned out the fifth-grader at DeLeon Elementary School didn't need the extra luck. Byrd's old-fashion poster about Harriet Tubman won first place, which included a $2,000 UHV scholarship and a Victoria College summer camp waiver.
The theme for this year's contest was Honoring African American Women in Public Service and Government. Fifth-graders across Victoria Independent School District submitted 75 posters for the contest. The posters were judged by representatives from UHV, Victoria College and the Black History Steering Committee.
"The students did a fantastic job putting together these posters," UHV Interim President Vic Morgan said. "The posters were creative and well researched. I'm glad students took the time to learn about these important African American women and then illustrate their accomplishments.
Byrd said she and several students in her class were inspired by Tubman's story. While most of her classmates ended up writing about other subjects, Byrd wanted to illustrate why Tubman was so significant.
The poster was told from Tubman's point of view. Tubman explained what she did in various years of her life and accompanied her explanation with photos and a map of the Underground Railroad. Byrd dyed the poster with tea and tried to make it resemble a bulletin board. She used old-fashioned looking fabrics to make it seem like something from 1850s.
"I freed a thousand slaves," Tubman said in a quote Byrd used for the poster. "I could have freed a thousand more if only they knew they were slaves."
DeLeon Elementary student Peyton Gregory took second place for a poster about civil rights leader Barbara Jordan. He won a $1,000 scholarship and a VC summer camp waiver. The poster had an American flag background, took readers through Jordan's career and highlighted two of her quotes. It also included an audio portion. By pushing a button, Gregory talked more about Jordan's life.
Ashton Valentine, also a DeLeon student, received third place and took home a $500 UHV scholarship and VC summer camp waiver. Valentine focused on Navy admiral Michelle Howard. In addition to photos and facts, the poster was designed with a nautical theme.
Valentine said he admired the many accomplishments of Howard, including being the first woman to become a four-star admiral and her leadership on the mission to rescue Captain Richard Phillips from Somali pirates.
Honorable mention selections in the poster contest were:
Inara Ballard, DeLeon Elementary
Colton Broome, DeLeon Elementary
Amber Granados, Smith Elementary
Reid Rangnow, Aloe Elementary
They received gift bags from UHV and VC.
The ceremony included remarks from Morgan, Victoria College President David Hinds and James Murphy, Black History Steering Committee member. It also included a performance of traditional African dances by the UHV African Student Association.
The posters will be on display through February in the UHV University Center, 3007 N. Ben Wilson St. A few also will be displayed at the Victoria Public Library, 302 N. Main St.
The University of Houston-Victoria, located in the heart of the Coastal Bend region since 1973 in Victoria, Texas, offers courses leading to more than 80 academic programs in the schools of Arts & Sciences; Business Administration; and Education, Health Professions & Human Development. UHV provides face-to-face classes at its Victoria campus, as well as an instructional site in Katy, Texas, and online classes that students can take from anywhere. UHV supports the American Association of State Colleges and Universities Opportunities for All initiative to increase awareness about state colleges and universities and the important role they have in providing a high-quality and accessible education to an increasingly diverse student population, as well as contributing to regional and state economic development.