Close
VC/UHV Library adds digital collection of longtime Advocate columnist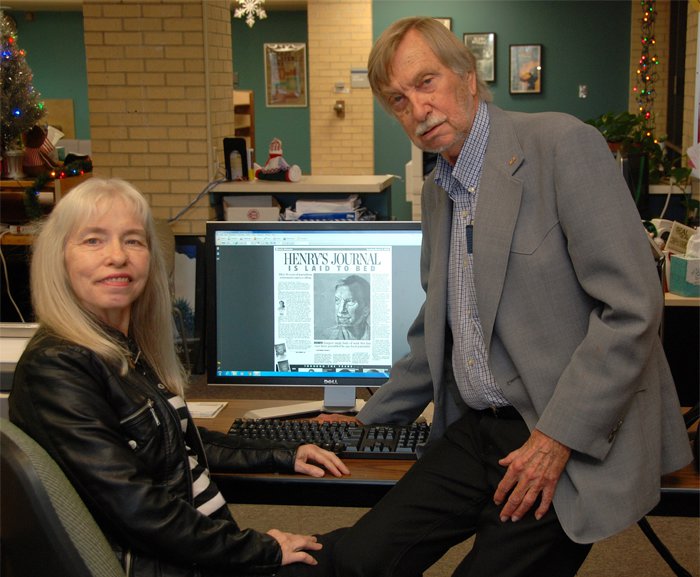 Linda and Henry Wolff sit next to a computer screen displaying Henry's final column in the Victoria Advocate. More than 6,700 of Wolff's columns have been digitized and can be accessed through the Victoria College/University of Houston-Victoria Library.
The Victoria Advocate received a call awhile back from a magazine writer researching Sam Hill, a Victoria Presbyterian minister who was a pilot in World War II.
The writer was referred to retired Advocate columnist Henry Wolff Jr., who recalled writing several columns about Hill. But it wasn't easy to recall the details of those columns or when they ran.
Now with a search on the Victoria Regional History Center website, information easily can be found about Hill and the numerous other topics Wolff wrote about during his 30 years as a columnist.
"The Henry Wolff Collection shines a bright and tremendously entertaining light on our area." said Joe Dahlstrom, Victoria College/University of Houston-Victoria Library director. "We are delighted to be hosting this collection, one of the largest – if not the largest – collections of its kind in Texas."
Henry's Journal Online is a digital collection of more than 6,700 of Wolff's columns published in the Victoria Advocate from August 1979 until his retirement in March 2009. The collection can be accessed at vrhc.uhv.edu/digitalcollections.
The VC/UHV Library and the Victoria Advocate will celebrate the collection at a reception in honor of Henry and Linda Wolff on Wednesday. The festivities will be from 4:30 to 6 p.m. on the second floor of the library, 2602 N. Ben Jordan St.
The reception will include an overview of the collection, the history behind the development of the columns, and an opportunity to discuss the collection with the Wolffs and library staff. The event is free and open to the public. Refreshments will be served.
Linda Wolff, a local historian, along with a group of volunteers, VC/UHV librarians and staff members spent the last five years scanning the columns and adding them to the library's online digital collections.
Henry Wolff, 79, said the project never would have happened without Linda. She took the initiative to start the digitizing, and along the way she had to reconstruct columns cut out on different pages and clean up columns that had been smudged. As the project progressed, Linda would bring up some of the columns to see if Henry remembered them. Chances are he didn't.
"Most of the time, I wrote five columns a week," Wolff said. "When I finished one column, I was off working on another one. I had people sometimes compliment me on my column in that morning's newspaper. And I replied, 'What was it about?' I had already moved on to the next one."
Wolff often examined an element of history, such as Victoria's brick factory at the beginning of the 20th century or the commotion caused by an 1891 meteorite in Fannin. He also traveled around 13 area counties to record interesting developments, such as a 1995 column that described singing chickens in Goliad or a 1998 column that detailed the construction of the Splashway water park in Sheridan. Wolff said he didn't often write about the newsmakers of the day.
"I tried to write about everyday people doing unusual things," he said. "It often was something involving their work or a hobby."
Wolff said the columns may be of value in the future to historians and genealogists. He's glad the area's history, folklore and culture will be preserved for generations to come. The Wolff Collection is part of the library's digital collections growth, which include UHV and VC student newspapers and assorted photographs.
"There's not a similar collection of this magnitude for this area," Wolff said. "It gives me a great deal of pleasure that the Advocate allowed me to do this. It's not often that you have a single full-time columnist for 30 years."
A Texas journalist for five decades, Wolff worked for the San Angelo Standard-Times, the Abilene Reporter-News and the Victoria Advocate. Wolff joined the Advocate in 1963 as a reporter and photographer and held that position until 1977. Two years later, Wolff visited Morris Roberts, who was publisher at the time. He asked Roberts about writing one or two columns a week.
"Morris told me the answer was no," Wolff recalled. "He wanted me to write five columns a week."
In 1990, Wolff typed a column about typewriters versus computers. He had written all of his columns on a typewriter, and he continued to do so for another three years.
"I well remember, not so many years ago, when you could walk into a newspaper and hear the clatter of typewriters throughout the building, and especially in the newsroom – not to mention the teletypes – and it was a nice sound, and you knew there would be some news in the morning paper," Wolff wrote in the 1990 column. "Walk in a newsroom today, and it's so quiet that you can hear a pin drop. I think newspapers ought to pipe in the sound of typewriters and teletypes just to make it seem like something is going on."
Because he grew up in the country and Victoria was in some ways rural at the time, Wolff's early columns were written in a folksy manner. As Victoria became more cosmopolitan, Wolff adapted his language accordingly.
"I like to think that as the column grew, I grew with it," he said.
The University of Houston-Victoria, located in the heart of the Coastal Bend region since 1973 in Victoria, Texas, offers courses leading to more than 80 academic programs in the schools of Arts & Sciences; Business Administration; and Education, Health Professions & Human Development. UHV provides face-to-face classes at its Victoria campus, as well as an instructional site in Katy, Texas, and online classes that students can take from anywhere. UHV supports the American Association of State Colleges and Universities Opportunities for All initiative to increase awareness about state colleges and universities and the important role they have in providing a high-quality and accessible education to an increasingly diverse student population, as well as contributing to regional and state economic development.