Close
Author explores fidelity, effects of culture in novels
When Valerie Sayers needs inspiration, she looks at daily life.
"It's interesting to see how daily life is reflected in and affected by culture," Sayers said. "I grew up in South Carolina during Jim Crow and the Civil Rights movement, and that has impacted my writing and how I see the world. I find I'm generally attracted to big social trends or political movements."
The novelist and professor of English at Notre Dame University will read some of her work at the University of Houston-Victoria/American Book Review Reading Series on March 10. The event will take place at noon in the UHV University West Alcorn Auditorium, 3007 N. Ben Wilson St. The reading is free and open to the public.
"Valerie Sayers is a thoughtful writer who has taken some stories from America's recent history and given them a shift in perspective," said Jeffrey Di Leo, ABR editor and publisher, and dean of the UHV School of Arts & Sciences. "Her unique voice will be a welcome addition to the reading series."
At first, Sayers resisted being a writer, she said. She had always felt the urge to write novels, poetry and works of fiction, but she also knew how difficult that kind of career can be. However, after going through graduate school, she already had enough writing accumulated that she decided to give it a try.
"I set a goal for myself, more of a challenge really, to write every night after work," she said. "I wrote a lot of poetry and short stories. I even wrote my first attempt at a novel."
That novel was what Sayers described as experimental. Although she got an agent to represent her, she was not able to get it published. When she wrote another novel, she took a more streamlined approach. That book, "Due East," was published in 1987. She went on to write five more novels with another in the works.
Although her first published novel was more straightforward, in some of Sayers' more recent works, she began to play with the different forms a novel can take. Her latest book, "The Powers," is set in New York City in 1941 before the bombing of Pearl Harbor. Throughout the book, she augments the text with photographs of people from the time.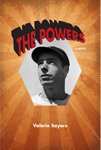 "The photographs don't necessarily illustrate the text, but they are of people going about their daily lives in the same place and era as the story," Sayers said. "These portraits are a contrast to what is left unsaid about the war happening in Europe during that same time frame."
Sayers also tends to examine the theme and idea of fidelity in her writing, she said. Her short story, "The Age of Infidelity," examines how today's society looks at that concept.
"It's interesting to see how people are trying to be faithful in love, politics, religion, values and all sorts of areas in their adult lives," she said. "My story shows how people today have the fortune and misfortune to grow up in a time when even children are cynical of beliefs once considered set in stone. It's become much more acceptable to challenge culture and philosophy."
As she prepares for her presentation, Sayers is looking forward to visiting UHV and taking part in the series. She has been reading the American Book Review literary journal for years, and is excited to participate.
"The American Book Review has been a publication of tremendous importance," Sayers said. "It's very helpful in finding works that would go unnoticed, and it contains intelligent, thoughtful criticisms of modern literary works."
Other writers scheduled for the spring UHV/ABR Reading Series are:
Ben Marcus, April 7 – Marcus is the author of several books, including the novel "The Flame Alphabet," and a collection of short stories, "Leaving the Sea." His fiction has appeared in Harper's, Granta, Tin House and The New Yorker. He is the editor of New American Stories, an anthology of short fiction. Among his awards are the Berlin Prize and a Guggenheim fellowship. He lives in New York, where he is on the faculty at Columbia University.


Charles Bernstein, April 28 – Bernstein's "Pitch of Poetry, New Essays" will be out this spring from University of Chicago Press. His most recent book of poems is "Recalculating." He is the Donald T. Regan Professor of English and Comparative Literature at the University of Pennsylvania, where he is co-director of PennSound. In 2015, Bernstein was awarded both the Münster Prize for International Poetry and the Janus Pannonius Grand Prize for Poetry.
ABR is published six times a year. It began in 1977, moved to UHV in 2007 and has a circulation of about 8,000. The journal specializes in reviews of works published by small presses.
For more information about the UHV/ABR Reading Series, call the ABR office at 361-570-4101 or go to www.americanbookreview.org.
The University of Houston-Victoria, located in the heart of the Coastal Bend region since 1973 in Victoria, Texas, offers courses leading to more than 80 academic programs in the schools of Arts & Sciences; Business Administration; and Education, Health Professions & Human Development. UHV provides face-to-face classes at its Victoria campus, as well as an instructional site in Katy, Texas, and online classes that students can take from anywhere. UHV supports the American Association of State Colleges and Universities Opportunities for All initiative to increase awareness about state colleges and universities and the important role they have in providing a high-quality and accessible education to an increasingly diverse student population, as well as contributing to regional and state economic development.