Close
Distinguished jazz pianist to perform at UHV Downtown Arts Series concert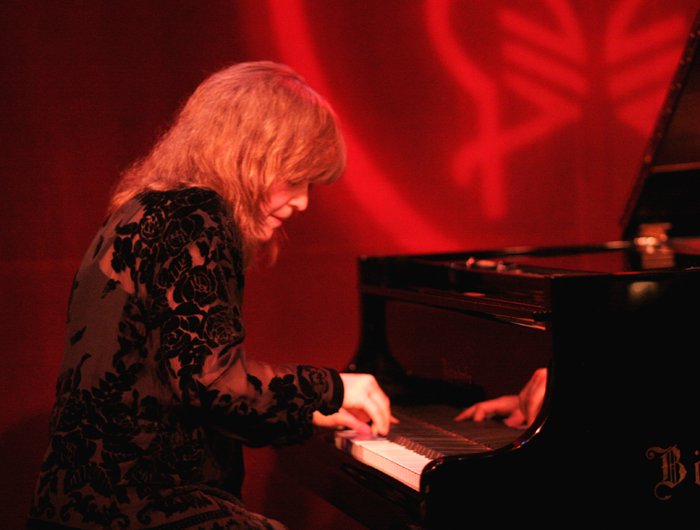 Pianist Marilyn Crispell performs a jazz song at a prior concert. Crispell will give a solo concert on March 11 at the Leo J. Welder Center as part of the University of Houston-Victoria Downtown Arts Series.
When she appears on stage at the March 11 University of Houston-Victoria Downtown Arts Series concert, Marilyn Crispell won't have a score of music.
That's because Crispell doesn't play traditional songs. She invents songs in the moment.
"She simply sits down at the piano, and things begin to happen," said Charles Alexander, UHV poet and designer in residence and co-curator of the Downtown Arts Series. "There's a lyrical lushness in her playing as well as emotional intensity."
Crispell is a renowned jazz pianist who has performed throughout the world. She will give a concert at 7:30 p.m. March 11 at the Leo J. Welder Center, 214 N. Main St. The performance is co-sponsored by the Victoria Bach Festival. Tickets are $20 for adults and $10 for UHV, VC and kindergarten through 12th-grade students. They may be purchased through the Victoria Bach Festival at 361-570-5788 or victoriabachfestival.org.
While Crispell has been part of several jazz trios and quartets, she is well known for her solo concerts.
"There are few pianists who can command the stage for an hour and be inventive for every moment of that time," Alexander said.
Nina Di Leo, Victoria Bach Festival executive director, said Crispell has played with many of the great improvisers of adventurous jazz and mixes these influences with strains of 20th-century classical music and the spirituality of John Coltrane.
"She is a master of her instrument, and her moving performances balance the full range of color and emotion on the piano," Di Leo said. "Marilyn Crispell's music has an intensity of expression that is unique. It's very personal music from an incredibly imaginative improviser."
Crispell, a resident of Woodstock, N.Y., is a graduate of the New England Conservatory of Music, where she studied classical piano and composition. She spent 10 years performing as a member of the Anthony Braxton Quartet and the Reggie Workman Ensemble. She also has played with the Barry Guy New Orchestra and was a guest with his London Jazz Composers Orchestra. She has been the recipient of three New York Foundation for the Arts Fellowship grants and a Guggenheim Fellowship.
In addition to playing, Crispell has taught improvisation workshops and given demonstrations at universities and art centers in the U.S., Europe, Canada, Australia and New Zealand. She also has collaborated with videographers, filmmakers, dancers and poets.
She was the inaugural guest at a series Alexander put together in Tucson, Ariz., that paired jazz musicians and poets. When Alexander learned that Di Leo also is a big fan of Crispell's, plans came together for a Victoria concert.
"I consider her a treasure of American music, and we're lucky to have her come to Victoria," Di Leo said.
Crispell and Alexander will perform a collaborative piece during the event, and they are currently deciding what that piece will include. He said audience members are in for an entertaining evening.
"People will be swept away in a torrent of music that will be at times calm and romantic and at other times contentious and brilliantly stormy," Alexander said. "Everything I've heard her play tends to go through emotional moods."
The UHV Downtown Arts Series presents an array of groundbreaking arts practices to the Victoria community and stimulates dialogue about the arts as a presence in people's lives. For more information about the series, contact Alexander or co-curator Cynthia Miller at 361-703-5147.
The University of Houston-Victoria, located in the heart of the Coastal Bend region since 1973 in Victoria, Texas, offers courses leading to more than 80 academic programs in the schools of Arts & Sciences; Business Administration; and Education, Health Professions & Human Development. UHV provides face-to-face classes at its Victoria campus, as well as an instructional site in Katy, Texas, and online classes that students can take from anywhere. UHV supports the American Association of State Colleges and Universities Opportunities for All initiative to increase awareness about state colleges and universities and the important role they have in providing a high-quality and accessible education to an increasingly diverse student population, as well as contributing to regional and state economic development.