Close
DeLorean president tells UHV students how company is going 'Back to the Future'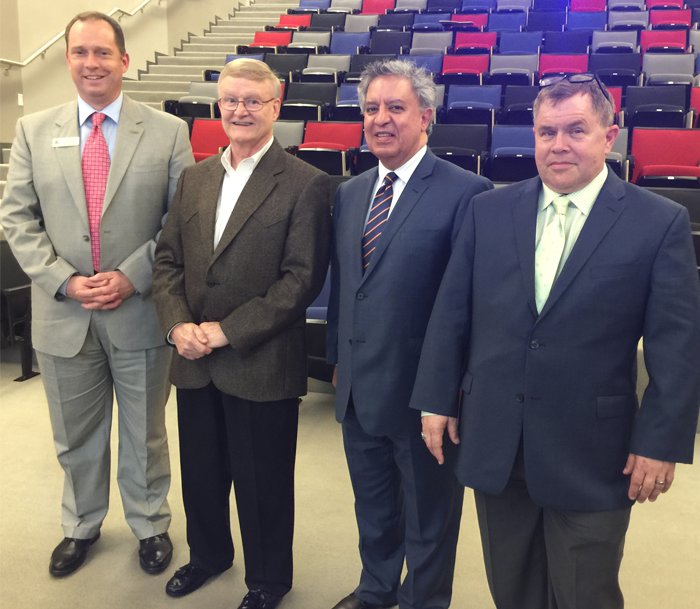 Jesse Pisors, left, UHV vice president for advancement and external relations; Roger Dartt, DeLorean Motor Co. president; Farhang Niroomand, dean of the UHV Business Administration; and Jeffrey Cass, UHV provost and vice president for academic affairs, stand for a group photo Tuesday after Dartt's presentation at UH Sugar Land.
SUGAR LAND – University of Houston-Victoria graduate business students soon could lend a hand in marketing the rebirth of the gull-winged car immortalized in the movie "Back to the Future."
Roger Dartt, DeLorean Motor Co. president, spoke to room full of UHV students, alumni, faculty members and area business executives Tuesday about plans to manufacture a new version of the DeLorean in 2017.
"Mr. Dartt's lecture was enlightening and entertaining on several levels," said Farhang Niroomand, dean of the UHV School of Business Administration. "The story of how the company persevered and is now on track to produce new DeLoreans next year was impressive and inspiring. I think our students came away with some valuable lessons."
Jifu Wang, associate dean of the UHV School of Business Administration, said Dartt is interested in having UHV Master of Business Administration students get involved by looking at how the company can take advantage of its branding and market the new car to the media. UHV marketing faculty members are considering making it a class project, he said.
"This will be a great opportunity for our students to get hands-on experience in a setting that is generating tremendous interest," Wang said. "They can study what's happening in the specialty automobile market and then look at providing analysis on finance, marketing and promotion."
Dartt's presentation Tuesday was part of the UHV School of Business Administration Distinguished Speaker Series. He spoke at UH Sugar Land, where UHV offers many business degrees.
Dartt has worked in senior corporate management for 35 years. He came up through the engineering ranks, working for PepsiCo, Owens-Illinois and Bristol-Myers. Since earning an MBA from Xavier University in Cincinnati, Dartt has been president of nine companies in the medical, dental, electronic and specialty retail markets. He is well known for helping companies turn around from difficult situations.
Anna Roberts, a UHV MBA student, said she enjoyed hearing about how Dartt came into troubled companies and breathed new life into them. She also saw a lot of relevant tie-ins with her studies.
"He gave insight that touched on topics many of us have studied in our college courses such as international business, marketing and target customer segments, political influences, exchange rates, expansion and contraction and financial woes," she said.
Dartt began the presentation by introducing the history of the company. He talked about its origin in Ireland in 1975, its expansion and its eventual move to the U.S.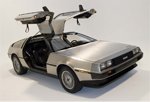 "It was interesting to see how a company started from scratch and gradually grew into such a status that it was featured in 'Back to the Future,'" Wang said.
After the insolvency of the original DMC, mechanic Stephen Wynne started a separate company using the DeLorean Motor Co. name. Mr. Wynne later acquired the rights to the DeLorean name along with the original blueprints to the car, and the entire original parts stock from the Ireland factory.
The company moved to Humble in 1987 and was dedicated to keeping the approximately 6,500 remaining DeLoreans on the road by supplying spare parts and restoration work. It was not legally allowed to assemble new cars, Wang said.
That all changed in December when Congress passed the Low Volume Motor Vehicle Manufacturers Act. The act allows small companies to produce a limited number of completed replica motor vehicles that resemble the appearance of cars produced 25 or more years ago.
The company announced in January that it would begin assembling modern versions of the DeLorean by the first quarter of 2017. It would be the first time the cars have been manufactured since the early 1980s.
Dartt, who has taught classes at UH-Downtown and other area universities, concluded his talk by providing some tips on good management and how students can become great leaders, Wang said.
"While many speakers try to provide a climatic ending to their presentations, Mr. Dartt closed with a meaningful yet profound phrase," Roberts said. "He told us to go and simply 'let your light shine.'"
Since 2011, the UHV School of Business Administration Distinguished Speaker Series has brought in area executives to discuss contemporary business issues. Past speakers have included Heber Lacerda, president and CEO of Regency Post-Acute Healthcare System Inc.; Richard Davis, chief operating officer of Katalyst Data Management; Phyllis Saathoff, deputy executive director of corporate affairs for the Port of Houston Authority; and Ron Canion, co-founder and former CEO of Compaq Computer Corp.
The University of Houston-Victoria, located in the heart of the Coastal Bend region since 1973 in Victoria, Texas, offers courses leading to more than 80 academic programs in the schools of Arts & Sciences; Business Administration; and Education, Health Professions & Human Development. UHV provides face-to-face classes at its Victoria campus, as well as an instructional site in Katy, Texas, and online classes that students can take from anywhere. UHV supports the American Association of State Colleges and Universities Opportunities for All initiative to increase awareness about state colleges and universities and the important role they have in providing a high-quality and accessible education to an increasingly diverse student population, as well as contributing to regional and state economic development.