Close
Auto group owner, race car driver to share story at UHV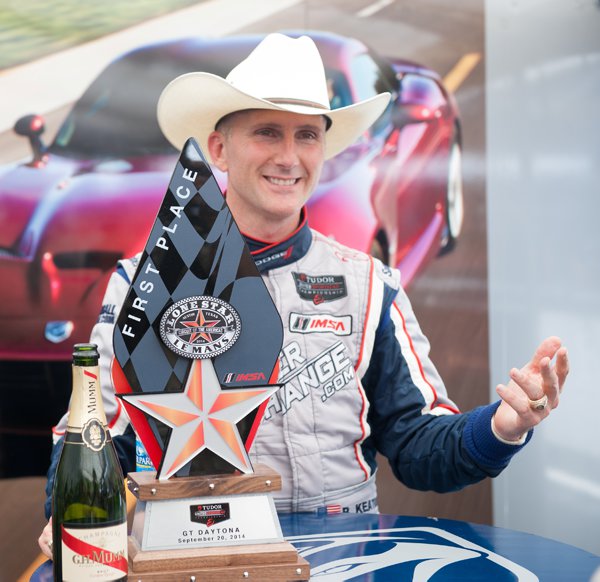 Ben Keating, president and owner of Keating Auto Group and Viper Exchange Racing, celebrates winning the 2015 Rolex 24 Hours at Daytona International Speedway in Florida. Keating will give a speech Tuesday evening in Victoria as part of the UHV School of Business Administration Distinguished Speaker Series.
The next speaker in the University of Houston-Victoria School of Business Administration Distinguished Speaker Series has made his mark selling and racing vehicles.
Ben Keating, president and owner of Keating Auto Group and Viper Exchange Racing, will speak at 7 p.m. Tuesday in the Kay and Ron Walker Auditorium at UHV University North, 3007 N. Ben Wilson St. The speech is free and open to the public.
In 15 years, Keating has gone from being unemployed to owning 14 car dealerships, including Toyota of Victoria and Port Lavaca Auto Group. He also owns an insurance company, an advertising agency and a real estate company. Keating said it's been a wild ride, and he's looking forward to sharing his experiences.
"Ben Keating's business success is undeniable, and the story behind it is quite remarkable," said Farhang Niroomand, dean of the UHV School of Business Administration. "Our students will learn a lot from his presentation. Racing fans and anyone who wonders how the Booming Port Lavaca phrase and pink license plates got started also should find this speech fascinating."
As a student at Texas A&M University, Keating took a summer internship after his junior year at a car dealer consulting business. The experience piqued his interest in auto sales even though he was well on his way to an engineering degree. After graduating in 1995, he took a job as a car salesman to learn the business.
"I've been a student of the industry ever since," he said. "As a result, I've been on the cutting edge of many new business practices in the industry."
Keating, 44, went on to become a used car sales manager and later was general sales manager at his father's dealership. In 2002, Keating purchased Port Cities Ford, which was renamed Port Lavaca Ford. In the next two years, he bought two other Port Lavaca dealerships: Franklin Dodge and Lavaca Bay Chevrolet.
He has since acquired dealerships in Tomball, Victoria, Grapevine, San Antonio, Alvin and College Station. Keating recruits college graduates annually to join his organization.
"Much of my success is due to the hiring and development of many great people through the years," he said. "I enjoy teaching others how to be successful in today's ultra-competitive environment."
For his Christmas present in 2005, Keating's wife gave him a driving experience weekend at Texas World Speedway in College Station. The adrenaline rush hooked Keating, and he started racing competitively in 2007.
He has won numerous national championships racing a Dodge Viper. In 2015, Keating's Viper won the Rolex 24 Hours at Daytona. He finished first in the GT Daytona Class after a total racing time of 23 hours, 2 minutes and 58.303 seconds on the 3.56-mile race course at Daytona International Speedway. In addition, Keating is the only three-time winner at the endurance race held each year at Circuit of the Americas in Austin.
Keating will be the second automobile industry speaker in the business speaker series this month. On March 7, Roger Dartt, DeLorean Motor Co. president, spoke at UH Sugar Land about plans to manufacture a new version of the DeLorean in 2017.
Since 2011, the UHV School of Business Administration Distinguished Speaker Series has brought in area executives to discuss contemporary business issues. While most of the lectures in the series have taken place at UH Sugar Land, Keating will be the second speaker to give a talk in Victoria. Heber Lacerda, president and CEO of Regency Post-Acute Healthcare System Inc., spoke in the fall in Victoria.
The evening will begin with a free reception from 6-7 p.m. Tuesday in the UHV University North Multi-Purpose Room.
The University of Houston-Victoria, located in the heart of the Coastal Bend region since 1973 in Victoria, Texas, offers courses leading to more than 80 academic programs in the schools of Arts & Sciences; Business Administration; and Education, Health Professions & Human Development. UHV provides face-to-face classes at its Victoria campus, as well as an instructional site in Katy, Texas, and online classes that students can take from anywhere. UHV supports the American Association of State Colleges and Universities Opportunities for All initiative to increase awareness about state colleges and universities and the important role they have in providing a high-quality and accessible education to an increasingly diverse student population, as well as contributing to regional and state economic development.