Close
Victoria boys have magical summer in UHV assistant professor's latest book
Diana López's three nephews are supportive of their aunt's success in writing books for middle-grade students, but a couple years ago they had an important question for her.
"One day they asked, 'When are you going to write a book for boys?'" López said. "My other books feature girl characters. The three main characters in my new book are boys, and they have a few things in common with my nephews. I felt compelled to write it before they got too old to enjoy it."
Published by Little, Brown, "Nothing Up My Sleeve" will be released on April 19. This is the fourth book López, a University of Houston-Victoria assistant professor of creative writing, has written for the middle-grade audience, joining "Confetti Girl," "Choke" and "Ask my Mood Ring How I Feel."
When sixth-grade best friends Loop, Dominic and Z stumble on a new magic store in Victoria, they quickly decide to become amateur magicians and participate in a competition held by the Texas Association of Magicians. Their first step is perfecting tricks in order to gain entry to the store's secret vault, something that would be easier if Ariel, the seventh-grade daughter of the shop's owners, weren't so scornful of their skills. Once they get in, they set their sights on a huge competition at the end of the summer.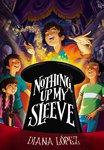 López said there are several reasons magic often appeals to boys – and some girls – in middle grades.
"First of all, magic is mysterious," she said. "There's a lot of problem solving, and it's an opportunity for creative expression. Also, it's a skill to master and has a performance element. All of those aspects make it an engaging thing for young people."
López's husband, Gene, first became interested in magic when he was a boy. He remains a fan of close-up magic and has a library of magic books that served as a research resource when Diana was writing the book.
The couple annually attends the Texas Association of Magicians Labor Day convention. One part of the convention is an amateur magic competition. López said she was amazed by how polished and expressive the teen competitors were. She thought it would be a great scene for a book, with the story building up to the competition.
"The best magicians always have interesting stories to accompany their magic," López said. "They tell stories while doing their tricks. I always was fascinated by that aspect. It felt like another form of storytelling."
As the boys bicker good-naturedly about their magic, they also face challenges at home. Z is the youngest in his large family, always last and always in hand-me-downs; Dominic's divorced parents won't speak to each other; and Loop has learned that the man he thought was his father is in fact his stepfather.
López, who also is the director of undergraduate creative writing in the UHV School of Arts & Sciences, said the characters have layers of problems they are struggling with because real life often has layers of tribulations. One of López's thematic interests is family and friends, and the hang-ups in those relationships.
"There's the question of who is going to win the contest, if the boys will be ready for the contest, how they will get to the contest, why their friends are mad at them and how to deal with family situations," she said. "Young people struggle with those things. They often haven't quite figured out the coping mechanisms to deal with relationships. The magic gives the book's characters tools for dealing with their family issues. It gives them insights into reconciling those situations."
While López's other books take place in San Antonio and Corpus Christi, this is her first book set in Victoria. The fictional magic store is located in the Town and Country Shopping Center at the corner of Airline Road and Laurent Street.
"I'm inspired by what I see around me, and this is where I'm at," she said.
López will have a book signing at the Texas Library Association Conference April 20 in Houston. She also will have an upcoming reading at a magic store in San Antonio.
López said one of the selling points of the book is readers can do the magic performed. Every chapter begins with the definition of a magic word or phrase. That word goes on to play a role in the chapter.
At the back of the book, López has a list of resources, including books to read to learn magic tricks. There's also a list of the names of tricks the characters perform, so readers could look them up online.
"Every trick in the book is possible," López said. "The secrets aren't revealed, but I've pointed people in the direction to find the answers. People who really want to learn can learn. Maybe we'll get a new crop of magicians out of this."
The University of Houston-Victoria, located in the heart of the Coastal Bend region since 1973 in Victoria, Texas, offers courses leading to more than 80 academic programs in the schools of Arts & Sciences; Business Administration; and Education, Health Professions & Human Development. UHV provides face-to-face classes at its Victoria campus, as well as an instructional site in Katy, Texas, and online classes that students can take from anywhere. UHV supports the American Association of State Colleges and Universities Opportunities for All initiative to increase awareness about state colleges and universities and the important role they have in providing a high-quality and accessible education to an increasingly diverse student population, as well as contributing to regional and state economic development.