Close
UHV student wins award during Alternative Spring Break trip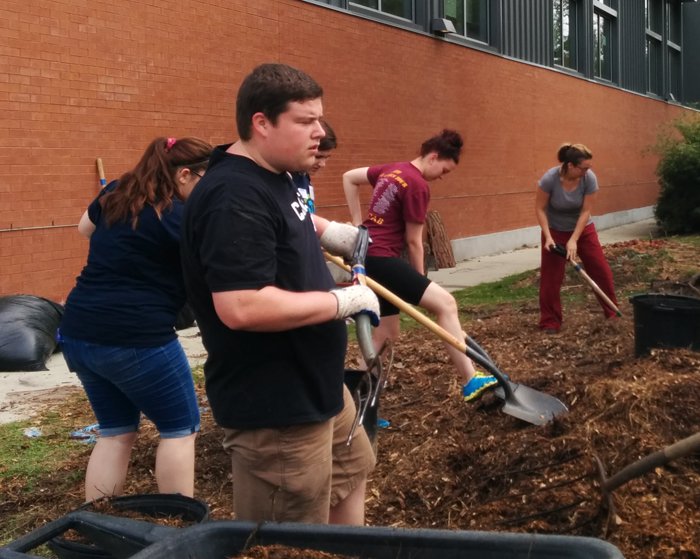 Perry Geurin, center wearing black shirt, works with fellow students in a garden during the Alternative Spring Break trip in New Orleans. Geurin was one of 10 University of Houston-Victoria students to go on the trip from March 13 to 19, and was named Volunteer of the Week.
When Perry Geurin signed up for the University of Houston-Victoria Alternative Spring Break, he didn't think he would come home with an award.
Geurin, a junior from Castroville, was awarded Volunteer of the Week after spending a week volunteering in New Orleans. The computer science major served as a volunteer team leader during the trip.
"Serving as a team leader was an opportunity for leadership I don't usually take on myself," he said. "It presented me with some new challenges, but it was nice to learn from the experience."
Geurin was one of 10 UHV students who participated in the Alternative Spring Break trip from March 13 to 19. The students were accompanied by Kaleb Briscoe, UHV associate director of Student Life, and Anthony Bryson, a UHV Student Life & Services coordinator.
"Passion, resilience and devotion are all words I would use to describe the UHV students that attended Alternative Spring Break New Orleans," Briscoe said. "Being engaged in the community is a lifelong experience which enables an enormous change. Each project that students participated in throughout the week challenged them intellectually and civically, ultimately shaping their collegiate development."
The trip was paid for by a $4,000 grant from The Trull Foundation, a Palacios foundation that supports educational, religious, cultural and social programs. The grant funds went toward travel expenses, meals, housing, excursions into New Orleans and activities.
The group went to New Orleans to work with Break a Difference, a nonprofit organization that coordinates volunteering opportunities. The students and staff members were divided into four teams along with students from other universities across the nation.
Each team followed a daily schedule that included service projects at a variety of nonprofits and schools in New Orleans. These included cleaning and repositioning historic headstones for Hope Crew, distributing energy-efficient light bulbs for Green Light, painting and retiling classrooms at Sarah T. Reed Charter School, and working in an outdoor garden area for ESYNOLA Charter School.
"This year, there was a lot to like," said Geurin, who also went on last year's Alternative Spring Break. "There were many more volunteering opportunities, and it felt like we were making a bigger impact. I liked how efficient it all was."
As a team leader, Geurin used some of the team-building activities that advisors introduced him to the previous year. One of the best received was a picture of his group that he printed out and attached to a piece of paper so team members could sign it, similar to a high school yearbook page.
At the end of the week, all of the volunteers voted for who they thought should be named the Volunteer of the Week. Geurin and another student tied, so they both received the honor.
In addition to the volunteer work, the students also had time to explore New Orleans and take part in some activities, including a music festival near Bourbon Street and a St. Patrick's Day parade. They also visited The Presbytère museum, which features exhibits about the city's past and present, and the Lower Ninth Ward Living Museum, which features oral histories from some of the residents displaced by Hurricane Katrina.
"The activities and the museum trips were a way to thank students for coming and all of their service while also teaching them about the history of New Orleans and the city it is today," Briscoe said. "Every day was jam-packed with service projects, and they did a wonderful job."
The students will share their experiences during National Volunteer Week from noon to 2 p.m. April 14 in the 11:59 Lounge inside Jaguar Hall, 2705 Houston Highway.
The University of Houston-Victoria, located in the heart of the Coastal Bend region since 1973 in Victoria, Texas, offers courses leading to more than 80 academic programs in the schools of Arts & Sciences; Business Administration; and Education, Health Professions & Human Development. UHV provides face-to-face classes at its Victoria campus, as well as an instructional site in Katy, Texas, and online classes that students can take from anywhere. UHV supports the American Association of State Colleges and Universities Opportunities for All initiative to increase awareness about state colleges and universities and the important role they have in providing a high-quality and accessible education to an increasingly diverse student population, as well as contributing to regional and state economic development.