Close
Business alumni return to UHV to provide advice to students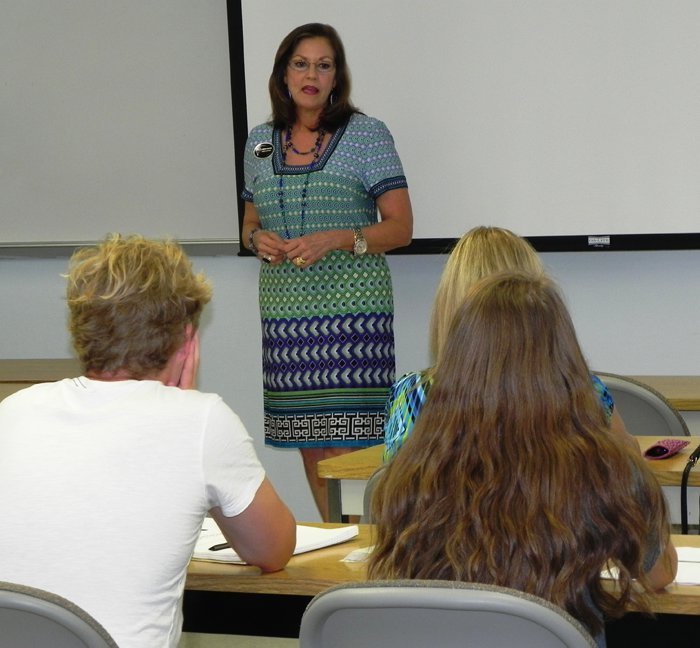 Re/Max realtor Lorene Bothe talks about her job with students in a University of Houston-Victoria management class Thursday in Victoria. Bothe was one of 32 UHV School of Business Administration graduates to speak to classes during the school's fifth annual Alumni Week.
A record-high 32 University of Houston-Victoria business alumni came back to campus during UHV's Homecoming week to impart wisdom on the next crop of UHV business students.
The alumni visited classes in Victoria, Katy and Sugar Land March 28 through March 31 for the UHV School of Business Administration Alumni Week. This marked the fifth time the school has made a collective effort to bring back a group of alumni at the same time to talk to students.
"It was wonderful seeing our alumni return to share their stories with our students," said Farhang Niroomand, dean of the UHV School of Business Administration. "To have so many participate speaks volumes about the high-caliber graduates we have and the positive experiences they had at UHV. By sharing advice, they helped our students prepare for the business world."
UHV alumna Karen Sanders told students in two accounting undergraduate courses about how higher education improved her life and how she is using her degree in her role as the university's budget director. Sanders also encouraged students to take advantage of internships and other work experience.
"Anything that helps students build their personal portfolio will be a benefit later on," Sanders said. "There are lots of job opportunities for accountants. An accounting degree can open a lot of doors."
While students benefit from interacting from UHV graduates, Sanders said it's also an important week for alumni.
"It helps us keep in contact with the university and reminds us of where we've been and how far the degree has taken us," she said. "For students, it helps them see that the degree can lead to success."
The alumni came from the health care, financial services, marketing, accounting, entrepreneurial and information technology sectors. Many speakers talked about their career paths and how a UHV degree helped them reach their positions. The alumni also gave overviews of their professions and answered questions from students.
Lorene Bothe, a realtor for Re/Max in Victoria, explained the ins and outs of selling real estate to students taking "Principles of Management." Bothe said her communication tactics change based on the age of the home-buying audience.
"There's a totally different way to sell houses to younger people," Bothe said. "They often text me which houses they want to see. They have already looked up all the information online. Mature adults generally tell me what they want in a house and leave it up to me to take them to those houses, so they can touch, see and smell the home. They are methodical about it."
While students may have a general idea for a career direction, Bothe said the reality is sometimes people wind up working in a different area.
"If that's the case, stop then," she said. "Rethink it, talk to some people and then reroute because you don't want to wake up 10 years later and regret the route you took."
Other speakers during the UHV School of Business Administration Alumni Week were:
Danelia Argtueta, director of marketing and business development for ConneXion Research in Houston
Sol Bobst, former senior regulatory compliance and toxicology advisor at Nexeo Solutions in Houston
Nafis Bhuiyan, marketing director for Eutex International, a global oil and gas company specializing in hazardous area products and services
Kar Chong, a hospital systems analyst who owns retail, hospitality and real estate companies
Taj Clark, founder of Diverse Recovery, a substance abuse services business
Robert Dechert, Airgas salesman
L. Sarah DeMerchant, founder and CEO of FuzionApps. She developed Aequitas, a career management app that allows users to find the average salaries of various jobs.
Ben Gonzalez, petrochemicals analyst at Platts in Houston
Nicholas Guidry, organizational development specialist in the Houston Independent School District
LaToya Henry, associate director of IT finance at AIG in Houston
Culeathia Hopkins, store manager of Wells Fargo bank in Sugar Land
Rose James, partner at Z. A. R. Consulting, a company that works with executive leadership to bring effective management strategies
Donald Jirkovsky, owner of Lighthouse Development Resources, a coaching and professional development company
Teri Moten, principal of Moten Financial Services in Victoria
Clark Mott, an accountant for Occidental Petroleum Corp.
Sam Nader, mortgage banker for Chase Mortgage Banking in Katy
Patricia Nagle, senior lender for American Bank in Victoria
Benny Nguyen, an engineer and project manager for Cernus Development
Trace Pallock, sales operations project manager for National Oilwell Varco
Karen Pantel, UHV benefits/Human Resource Management System manager
Mayank Patel, chemical engineer for Jacobs Engineering
Chris Pemberton, chief product officer at White Cloud Security
Terry Register, chief auditor and director of information technology for Enbridge Energy Partners and Midcoast Energy Partners
Modesto Santana, risk solutions representative for H-E-B
Manan Sharma, vice president at JPMorgan Chase and Co.
Larry Shilling, project manager at Testengeer Engineering
Brenda Svetlik, UHV capital projects director
Alicia Washington, senior accountant for Halliburton
Anthony Williams, financial advisor for Galene Financial
Jimmy Youngblood, manager of software development for Gulf States Toyota
The University of Houston-Victoria, located in the heart of the Coastal Bend region since 1973 in Victoria, Texas, offers courses leading to more than 80 academic programs in the schools of Arts & Sciences; Business Administration; and Education, Health Professions & Human Development. UHV provides face-to-face classes at its Victoria campus, as well as an instructional site in Katy, Texas, and online classes that students can take from anywhere. UHV supports the American Association of State Colleges and Universities Opportunities for All initiative to increase awareness about state colleges and universities and the important role they have in providing a high-quality and accessible education to an increasingly diverse student population, as well as contributing to regional and state economic development.