Close
Taylor, Valdez selected as 2016 UHV homecoming king and queen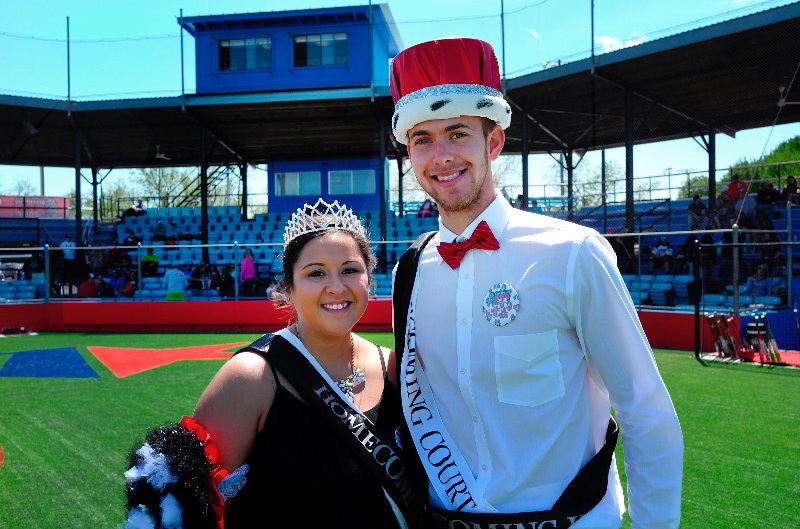 Mandi Valdez, left, and Ben Taylor have their photo taken after being crowned UHV's 2016 Homecoming queen and king Saturday at Riverside Stadium. Valdez is a junior from Menard, and Taylor is a junior from Nottingham, England.
Mandi Valdez likes to try new things in life for the experience, so when she saw an application for homecoming queen, it wasn't a surprise she pursued it.
But Valdez, a junior education major from Menard, was caught off guard when her name was called Saturday as the University of Houston-Victoria's homecoming queen.
"I was surprised and super excited to hear my name," she said. "I really wanted to make my mark on campus, so I thought what better way to do that than apply to be the homecoming queen. I decided to put myself out there. I'm really glad I did."
Valdez and homecoming king Ben Taylor were crowned between games at a homecoming baseball doubleheader at Riverside Stadium. UHV students voted for the king and queen during homecoming week.
Other homecoming queen candidates were Destiny Mayfield of Bastrop, Alba Sanchez of Equatorial Guinea and Tia Tate of Killeen. King candidates included Andre Ollivierre of Baytown and Daniel Rivera of New York City.
The crowning of the queen and king wrapped up UHV's first homecoming celebration since 1998.
Taylor is a junior history major from Nottingham, England. He has played soccer for the past three seasons at UHV, scoring five goals, three of which have been game winners. Taylor said while they have proms in England, schools do not hold homecomings.
"It was a bit of a different experience," he said. "All I knew about homecoming is what I've seen on TV. I was anxious about what to expect. But it turned out all the king and queen candidates – and so many other people – got into the spirit of the week. I think that's what homecoming is about."
Taylor and Mayfield are student workers in UHV's Student Success Center. They were encouraged to apply for king and queen by the university's student success coaches.
"They gave us a lot of support, so I thought why not give it a shot," Taylor said. "I like getting involved and thought it would be good for some laughs."
Taylor gave a rousing karaoke performance at the 1973 Breakfast Bash March 28. His rapping was well received and resulted in quite a few Snapchat videos, he said. He also posted flyers around campus and gave speeches to a few classes.
Valdez also plastered posters throughout Jaguar Hall. She and her friends participated in a March 31 talent show, which served as another plug for her candidacy.
"I walked around and encouraged people to vote," she said. "A lot of people enjoyed the campaigning. They were excited to have this new tradition and have ways to get involved and participate."
Valdez aspires to be an elementary school teacher after graduation in spring 2017. She said there are many benefits to attending UHV.
"I love the close-knit campus," she said. "UHV has given me the opportunity to get to know people. If I went to a bigger school, I wouldn't get those same opportunities."
Many alumni participated in events throughout the week. These included an alumni banquet, tailgate, comedy show and magic performance. There also were several student events, including a midnight breakfast, campus beautification project and soccer game against UHV faculty and staff members.
"Homecoming 2016 was a great success," UHV President Vic Morgan said. "The campus community and our alumni came together to enjoy activities and build spirit during a number of events. I believe the spirit generated will carry forward in an exciting finish of the spring semester."
Valdez agreed, saying that homecoming was a big hit.
"There was a lot of participation," she said. "It was awesome to see the number of people who got involved. I think homecoming is going to get bigger every year."
The University of Houston-Victoria, located in the heart of the Coastal Bend region since 1973 in Victoria, Texas, offers courses leading to more than 80 academic programs in the schools of Arts & Sciences; Business Administration; and Education, Health Professions & Human Development. UHV provides face-to-face classes at its Victoria campus, as well as an instructional site in Katy, Texas, and online classes that students can take from anywhere. UHV supports the American Association of State Colleges and Universities Opportunities for All initiative to increase awareness about state colleges and universities and the important role they have in providing a high-quality and accessible education to an increasingly diverse student population, as well as contributing to regional and state economic development.