Close
UHV senior wins first place in national contest for Halloween poster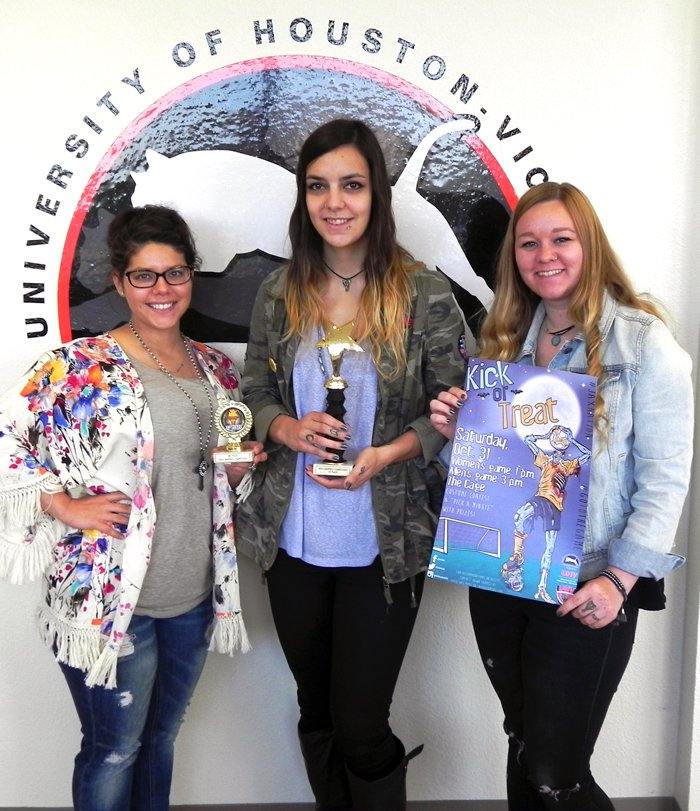 Justine Jarratt, left, Jaime Flores and Reese Johnson, University of Houston-Victoria graphic design student directors, display awards they received. Johnson is holding a poster that recently won first place in a national competition, which earned the trophy Flores is holding. Jarratt has a trophy from a 2015 regional poster contest.
Jaime Flores of Spring landed her ideal assignment in October when she was asked to design a poster promoting a University of Houston-Victoria Halloween soccer doubleheader.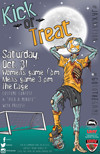 "I really enjoy Halloween, and I played soccer when I arrived at UHV, so getting to put the two things together was ideal," Flores said. "I designed the poster to be fun and something that would attract people's attention."
In the Kick or Treat poster, a zombie wearing a torn soccer jersey has detached his head and put it under his foot. A soccer ball is placed where his head should be. The poster was awarded first place at the March National Conference for the Association of the Promotion of Campus Activities in Houston.
It was the first time UHV has received an award at the national convention. Flores and Reese Johnson of Grand Prairie won third place at a regional association conference in 2015.
"We were hoping to place, but it was unexpected for Jaime's poster to take first place against schools from across the nation," Johnson said. "I was really excited for her."
Flores, Johnson and Justine Jarratt of Edna are graphic design student directors in UHV Student Life & Services. They receive requests to create promotional materials for student events. Sometimes the requestor has a sketch of what he wants, but often the designers are free to create a concept for the poster, flyer or digital sign.
"Our graphic designers do an amazing job," said Dawn Savage, a UHV Student Life & Services coordinator. "For the number of events we put on, we wouldn't function well without their graphics help. This award brings them some deserved national recognition. I'm proud of them for all they do."
This is only the second school year that UHV Student Life has employed student directors for graphic design services. The students each said the experience has been beneficial.
"This job has given me an idea of real-world operations and deadlines," Johnson said. "I have a better understanding of what to expect after graduation in May."
Jarratt said the job has taught her how to interact with different people and take into consideration the opinions of her fellow students.
Flores said she enjoys the job because it's always something different.
"Design work is constantly evolving, which is exciting," she said. "That's the number one reason I'm going into this field. I want to express my creativity, and I don't want to do the same thing every day."
The students agreed it's exciting to see their work displayed around campus and on digital signs, especially when they hear comments from others
"Posters get overlooked all the time, but when they do get noticed, that's when you realize what you are doing is speaking to someone," Flores said.
The University of Houston-Victoria, located in the heart of the Coastal Bend region since 1973 in Victoria, Texas, offers courses leading to more than 80 academic programs in the schools of Arts & Sciences; Business Administration; and Education, Health Professions & Human Development. UHV provides face-to-face classes at its Victoria campus, as well as an instructional site in Katy, Texas, and online classes that students can take from anywhere. UHV supports the American Association of State Colleges and Universities Opportunities for All initiative to increase awareness about state colleges and universities and the important role they have in providing a high-quality and accessible education to an increasingly diverse student population, as well as contributing to regional and state economic development.