Close
Student's paper, presentation on gym teachers recognized at conference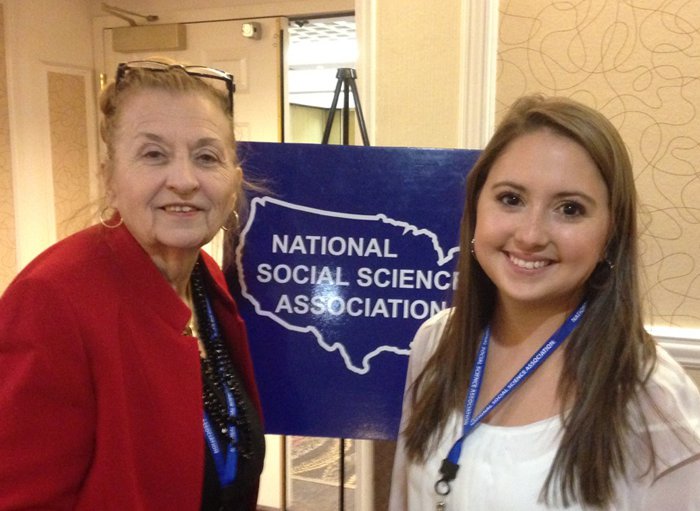 UHV professor Barba Patton, left, and Kelsey Brown, a UHV graduate student, stand next to a National Social Science Association sign. Brown was named runner up for the best graduate student paper after she presented her research paper at the association's National Social Science and Technology Conference in March in Las Vegas.
When Kelsey Brown was putting together a research paper about the problem of obesity in relation to children and physical education teachers, her professor suggested presenting the information at a national conference.
Brown, a University of Houston-Victoria graduate student from Pawnee, was named runner up for the best graduate student paper at the National Social Science Association National Social Science and Technology Conference. Her paper and presentation were titled "When I Look at My P.E. Teacher, I See … Person." Brown is pursuing a Master of Education in curriculum and instruction with a concentration in elementary education.
"I remember when I was a kid, I would look at obese P.E. teachers and wonder why I should have to exercise and be healthy when they weren't living the lifestyle they were trying to teach," Brown said. "That made me want to look at the problems of childhood obesity and how physical education and healthy lifestyles are approached in elementary education."
One of the issues with how obesity is handled in education is the lack of training educators receive in health and nutrition, Brown said. Her research showed that P.E. teachers are trained in how to coach students, but they often are not prepared to teach the basics of a healthy lifestyle.
Brown's presentation was sponsored by Barba Patton, a UHV professor of curriculum and instruction. Brown was doing the research in Patton's "Educational Research" course, and Patton recommended she present her findings at the conference. The presentation was one of 20.
"Her research has such a promising approach to the importance of educators practicing and modeling what they teach," Patton said. "Obesity is such a big problem today, and educators can't afford to ignore the health of their students."
The conference was a three-day event in Las Vegas the week before Easter. Brown submitted her paper for review and gave a 20-minute presentation about her research. Her paper now is being considered for publication in the National Social Sciences Association Journal.
This was Brown's first presentation at a national conference. At first she was nervous, but after watching a few other students present and seeing the encouragement from other conference attendees, she felt comfortable giving her presentation.
"This conference is a good place for students to gain their first experience presenting research," Patton said. "The focus is on helping students and showing them how to present and publish their research. These students are bringing in research that can change education and our society for the better, and the conference is dedicated to helping them succeed."
The University of Houston-Victoria, located in the heart of the Coastal Bend region since 1973 in Victoria, Texas, offers courses leading to more than 80 academic programs in the schools of Arts & Sciences; Business Administration; and Education, Health Professions & Human Development. UHV provides face-to-face classes at its Victoria campus, as well as an instructional site in Katy, Texas, and online classes that students can take from anywhere. UHV supports the American Association of State Colleges and Universities Opportunities for All initiative to increase awareness about state colleges and universities and the important role they have in providing a high-quality and accessible education to an increasingly diverse student population, as well as contributing to regional and state economic development.