Close
UHV charters six new student organizations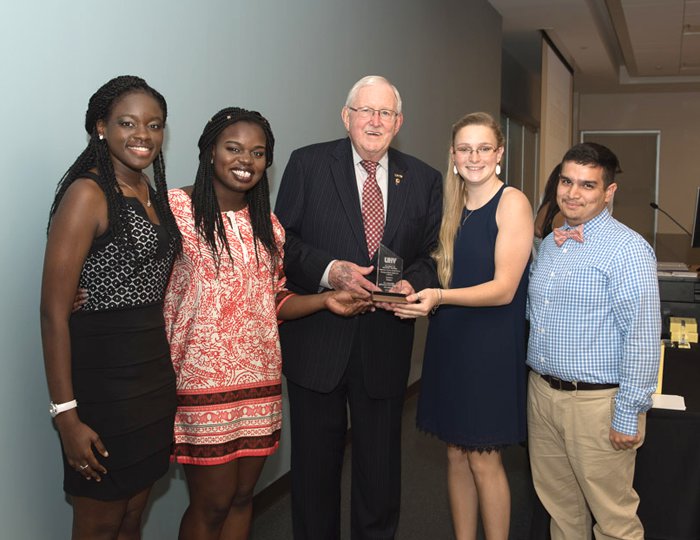 Members of the UHV Rotaract Club accept the New Student Organization of the Year award from UHV President Vic Morgan, center, during Tuesday's Student Organization & Leadership Banquet. From left, the club members are Tranell Blazio, Sarah Lukudu, Ashley Yaws and Raul Plata.
During the 2015-2016 school year, the University of Houston-Victoria's 31 student organizations and seven interest groups hosted more than 150 events on and off campus.
About 120 students, faculty and staff took part in the annual Student Organization & Leadership Banquet Tuesday to celebrate those groups, welcome newly chartered organizations and recognize student volunteers, workers and leaders.
This year's banquet featured six new student organizations that were chartered. The event also highlighted the achievements of UHV Student Life & Services and current student organizations, including the Student Government Association, which also inducted new members.
"Through chartering organizations, we provide support by helping create a foundation so they are able to function more independently," said Dawn Savage, a UHV Student Life & Services coordinator. "It's so exciting to see the university grow through these student organizations. These students are leaders who are making their mark here and finding a place where they can fit, and that's something we want every student to be able to do."
In addition to celebrating the new student organizations, several awards were presented at the banquet. The awards went to students, advisors and organizations that made an impact on UHV student life and the community. They were selected from a group of nominations submitted by students. A committee of students, staff and faculty made the final decisions.
Each student organization has a UHV faculty or staff member as its advisor. The Advisor of the Year award went to Jang Woo Park, an assistant professor of mathematics in the UHV School of Arts & Sciences. Park is the advisor for the Math and Sciences Club.
"I have a lot of fun working with the students," Park said. "I don't have to advise them. They are adults, not kids, and they already have ideas about what they want to do. All I have to do is be with them and support them."
In the past year, UHV nearly doubled the number of chartered student organizations. Rotaract Club was one of the additions, and it was named New Student Organization of the Year at this year's banquet. Rotaract Club is an organization that provides community service opportunities, develops the leadership and professional skills of members, and introduces its members to fellow UHV students and leaders within the community.
"Rotaract Club started with an interest meeting that grew into a group that was chartered last year," said Sarah Lukudu, president of the club and an Austin sophomore. "The volunteering, service projects and coordinated events the club puts on bring people together. We've become almost like a family, and we are always looking for ways to get students involved."
The Organization of the Year award went to the Black Student Union. The group is an educational, cultural, political, social and community service organization. Its purpose is to encourage cultural awareness and dialogues about social responsibility. The Black Student Union first started in 2010 but fizzled after a large group of the members graduated in the 2012-2013 school year. It was restarted in the 2014-2015 school year.
"When I was a junior, I was student director of student organizations, and I saw so many marginalized groups supported on campus, but there wasn't an organization on campus bringing awareness to black culture," said Destiny Mayfield, BSU president and a Midland senior. "That's what the Black Student Union is about, as well as empowering other students to come together. We're passionate about our culture, and we wanted to bring that life and vibrancy to campus."
Several other students also were presented awards during the ceremony:
Volunteer of the Year – Krissa Powell, Pearland
Organization Member of the Year – Tranell Blazio, Pflugerville
SGA Representative of the Year – Jesus Martinez, Houston
SGA Senator of the Year – Catherine Newell, Victoria
Off-Campus Student Worker of the Year – Hannah Crone, Port Lavaca
On-Campus Student Worker of the Year – Justine Jarratt, Edna
Quiet Influencer – Carly Guidry, Garland
Emerging Leader of the Year – Ke'Andre Green, Killeen
Leadership Legacy – Reese Johnson, Grand Prairie
Spirit of the Jaguar – Jesse Gonzales, Houston; Valeria Hinojosa, Bedford; Lagotason Johnson, Killeen; Faizon Matthews, Baytown; Yesenia Morales, Midland; Alyssa Otero, San Antonio; Ashley Rivas, Richmond; Jakolbi Tyler, Houston; Brooke Welch, Houston; and Chyna Young, Katy
The newly chartered student organizations are Bible Praying Jags, Jags After Christ, Jaguar Cheer Team, the Math and Science Club, Phi Epsilon Kappa, and the Sugar and Spice Baking Club. A representative from each organization received a plaque during the ceremony.
To become a chartered organization, a group must have at least five members, three of whom need to be executive officers with a minimum 2.5 grade point average. The students also must write a constitution, which is submitted along with a charter application to the UHV Committee on Student Organizations. Once the committee reviews the application, it either approves the application for charter or requests corrections.
The University of Houston-Victoria, located in the heart of the Coastal Bend region since 1973 in Victoria, Texas, offers courses leading to more than 80 academic programs in the schools of Arts & Sciences; Business Administration; and Education, Health Professions & Human Development. UHV provides face-to-face classes at its Victoria campus, as well as an instructional site in Katy, Texas, and online classes that students can take from anywhere. UHV supports the American Association of State Colleges and Universities Opportunities for All initiative to increase awareness about state colleges and universities and the important role they have in providing a high-quality and accessible education to an increasingly diverse student population, as well as contributing to regional and state economic development.