Close
Students present strategies for Men's Warehouse, Mattress Firm at business conference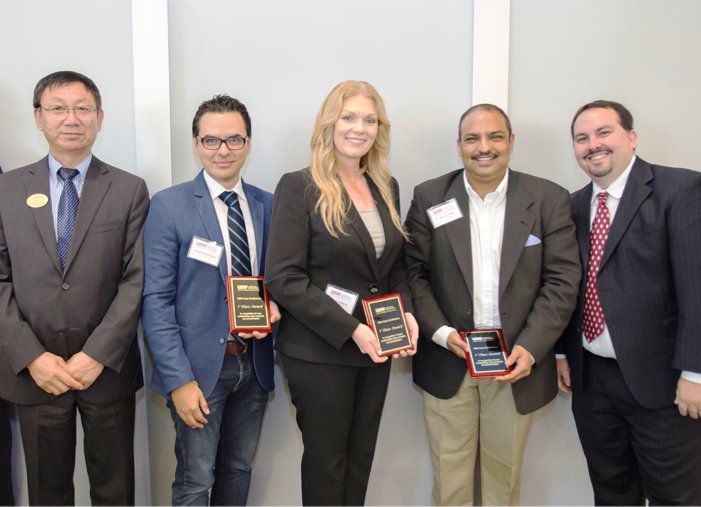 Jifu Wang, left, associate dean of the University of Houston-Victoria School of Business Administration; and John Vazquez, right, Tailored Brands vice president of financial reporting, have their photo taken Saturday with Oswaldo Rodriguez, Anna Roberts and Dhaval Shah, the winning team in the Master of Business Administration Case Competition. Vazquez also gave the keynote address at the conference.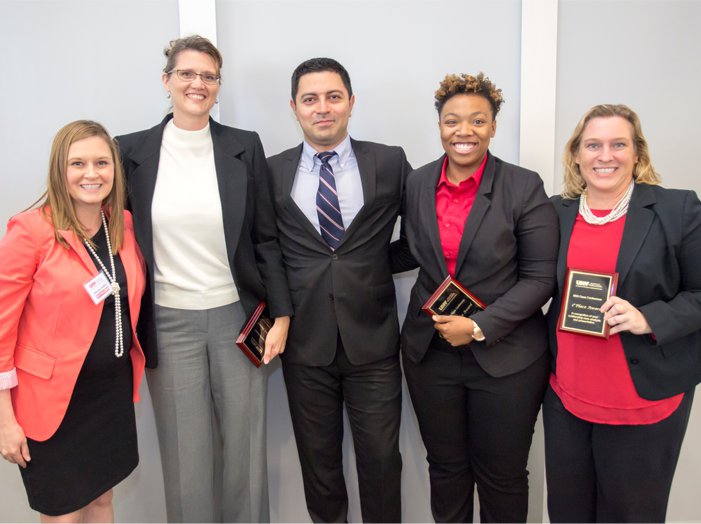 The winning team in Saturday's Bachelor of Business Administration Case Competition poses for a celebratory photo. Pictured are Amanda Roberts, left, Mattress Firm vice president of talent acquisition and retention; Stacey O'Connor-Post; Ehsan Fakharizadi, a UHV assistant professor of management; Kristin Goldsmith and Sicily McCambridge.
SUGAR LAND – From the first day of class, Anna Roberts, Oswaldo Rodriguez and Dhaval Shah weren't motivated by grades or the fact they were one semester away from earning a Master of Business Administration. They had something bigger in mind.
"We established from the start that we were here to win the MBA case competition," Roberts said. "That desire carried through the entire semester for us."
After countless hours of preparation, the three Katy residents celebrated winning first place Saturday in the University of Houston-Victoria MBA Case Competition. Kristin Goldsmith of Missouri City, Sicily McCambridge of Sugar Land and Stacey O'Connor-Post of Sugar Land won the Bachelor of Business Administration competition.
Since 2003, the MBA conference has been the culmination of the UHV School of Business Administration's Strategic MBA program. For the first time, the BBA conference was held simultaneously with the MBA competition, though judging remained separate. Held at UH Sugar Land, where UHV offers many of the degree programs, the event also featured a luncheon and keynote address by John Vazquez, Tailored Brands vice president of financial reporting.
A total of 56 students on 17 teams competed as part of the MBA capstone course "Seminar in Strategic Management." The teams each presented an analysis about Men's Warehouse to a panel of judges.
Shah said the judges complimented the team on the way they presented the analysis. That – along with everything else – was carefully planned and practiced. Rodriguez said they did a good job playing to their strengths and that the synergy was evident. Shah is a plant manager, Rodriguez is an information technology product manager and Roberts has a management background.
"This project was 80 percent planning and 20 percent execution," Shah said.
Winning team members received a plaque and will be invited to participate as panelists at future competitions. Their names also will appear on a plaque in the UHV School of Business Administration office in Victoria.
Other teams placing in the MBA competition were:
Second Place (tie) – Umair Ahmed of Stafford, Umair Siddiqui of Sugar Land, Toral Sindha of Missouri City and Shobana Srinavasan of Sugar Land
Second Place (tie) – Hardik Dave of Sugar Land, Jason Haywood of Rosenberg and Glennie Kureekottil of Missouri City
Third Place – Birdie Cobb of Stafford, Rashanae Cummins of Houston, Adam Jefferson of Denton and S. Pavankumar Madewalkar of Houston
The BBA competition featured 108 students on 29 teams who presented case analyses about Mattress Firm. Only one team contacted Amanda Robins, Mattress Firm vice president of talent acquisition and retention, to get additional information about the company. It turned out to be the winning team of Goldsmith, McCambridge and O'Connor-Post.
"I found that to be a great way to utilize your resources and network," Robbins said.
Robbins invited the team to make its presentation in front of company executives at Mattress Firm's corporate office in Houston. McCambridge said the actual presentation was solid, but the hard work in putting it together was the key to victory.
Other teams placing in the BBA competition were:
Second Place – Neal Bloss of Sugar Land, Sean Cawthon of Sugar Land and James Greene of Katy
Third Place – Rene Cruz of Spring, Courtney Gatlin of Rosenberg, Gibran Sawani of Sugar Land and Tylar Walyuchow of Victoria
Farhang Niroomand, dean of the UHV School of Business Administration, said the school and students made a great impression on the vice presidents of the two companies that were studied.
"They were very impressed with our programs and our students," Niroomand said. "The effectiveness of the presentations and the ability to relay the message showed how hard the teams worked. I am proud of our students, faculty, programs and school."
Cruz was one of several students that said a morning full of nervousness turned out to be a satisfying experience.
"Our presentation was in a room at the end of a long hall where we passed all our competitors," Cruz said. "Once we got into it, the nerves disappeared. This was really a good step for the future for us since we are finishing school."
Before or after presentations, students had the opportunity to visit with Geico, HCCS and alumni groups.
John Cappello, senior Talent Acquisition Specialist at HCSS, said the company has a longstanding relationship with UHV. HCCS is a software company that services the construction industry.
"We've hired five or six UHV students in the past year-and-a half, and they are thriving," Cappello said. "We are happy to be part of this event. We get a lot of face time with students who remember who we are."
The event concluded with Vazquez talking about the company's history, acquisitions and the rationale behind the recent corporate name switch from Men's Warehouse to Tailored Brands.
One piece of advice he had was the importance of nonverbal communication.
"There's always going to be something unexpected that comes along," he said. "Don't show it. One compliment I often receive is I'm so calm. That may be how I outwardly show things, but inside I'm not happy. It's fine to have those emotions. But people look to you for your reactions as you become a leader."
He also told graduates to invest in themselves.
"I like to teach and pass down knowledge, but you need to have the right work ethic and attitude," he said. "You'd be surprised how many people come in with the expectation that I should invest in them, but they won't invest in our company or in their own career development."
The University of Houston-Victoria, located in the heart of the Coastal Bend region since 1973 in Victoria, Texas, offers courses leading to more than 80 academic programs in the schools of Arts & Sciences; Business Administration; and Education, Health Professions & Human Development. UHV provides face-to-face classes at its Victoria campus, as well as an instructional site in Katy, Texas, and online classes that students can take from anywhere. UHV supports the American Association of State Colleges and Universities Opportunities for All initiative to increase awareness about state colleges and universities and the important role they have in providing a high-quality and accessible education to an increasingly diverse student population, as well as contributing to regional and state economic development.