Close
UHV dean edits book about public intellectuals in 21st century
In today's digital age, the term "public intellectual" has lost its meaning.
A new book edited by a University of Houston-Victoria administrator scrutinizes what is next for public intellectuals and the challenges of coming up with a new meaning. A public intellectual had been defined as a noted specialist in a particular field who has become well-known to the public for commenting on current affairs.
"The New Public Intellectual: Politics, Theory, and the Public Sphere" was complied by Jeffrey Di Leo, dean of the UHV School of Arts & Sciences, and Peter Hitchcock, a professor of English in the Graduate Center at the City University of New York.
"The book began with the notion that public intellectuals today operate within a set of conditions very different from those of Jean-Paul Sartre and Simone de Beauvoir, who lived and wrote in the mid 20th century, or even Edward Said and Susan Sontag, who lived and wrote in the late 20th century," Di Leo said. "The book aims to identify and explore some of these changing and new conditions."
In the book's introduction, Di Leo and Hitchcock write that society no longer affords its star public intellectuals much respect.
"Public intellectuals are widely regarded as merely representatives of 'one side of an argument,' so to speak," Di Leo and Hitchcock state. "From within the market for ideas, they are simply brands of argument: either Republican or Democrat, liberal or conservative, left wing or right wing, pro-choice or pro-life, and so on. … Public intellectuals are respected for the depth of their knowledge, but the effort to suppress it, such as the reduction of knowledge to a mere position or brand of argument, is a way to suspend critical thinking in general."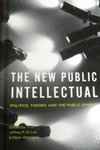 The book was published by Palgrave MacMillan, an international academic publishing company with offices in London, New York and Shanghai.
Di Leo and Hitchcock introduce the book and set up 11 scholarly essays. The text is divided into three parts. The first deals with neoliberalism, education and commitment. The second part focuses on democracy, community and globalization, and the third section looks at legitimation, publics and philosophy.
"We decided to bring together a group of contributors, some of whom are major public intellectuals themselves, to examine the ways public intellectuals today are forged at the meeting points of several otherwise different conversations," Di Leo said. "We sought a range of contributors who could speak historically, theoretically and practically about the topic."
Di Leo said the book is important because it helps people understand the parameters that produce public intellectuals in the new millennium.
"It is both a political critique of the category 'public intellectual' as well as a statement on the challenges its meaning presents in the 21st century," he said.
Di Leo is involved in a number of different literary and academic endeavors. He is editor and publisher of the American Book Review, and founder and editor of the journal symploke, both based at UHV. He also is executive director of the Society for Critical Exchange at UHV. Di Leo has numerous published works, including the 2014 book "Turning the Page: Book Culture in the Digital Age – Essays, Reflections, Interventions."
"The New Public Intellectual: Politics, Theory, and the Public Sphere" is available from Palgrave Macmillan and several online booksellers.
"This excellent volume goes a long way to demonstrating that there are other versions of the public intellectual," Daniel O'Hara, a professor of English at Temple University in Philadelphia, wrote in a book review. "Both analytically astute and critically inspiring, the book will become a classic in the new culture of the future."
The University of Houston-Victoria, located in the heart of the Coastal Bend region since 1973 in Victoria, Texas, offers courses leading to more than 80 academic programs in the schools of Arts & Sciences; Business Administration; and Education, Health Professions & Human Development. UHV provides face-to-face classes at its Victoria campus, as well as an instructional site in Katy, Texas, and online classes that students can take from anywhere. UHV supports the American Association of State Colleges and Universities Opportunities for All initiative to increase awareness about state colleges and universities and the important role they have in providing a high-quality and accessible education to an increasingly diverse student population, as well as contributing to regional and state economic development.