Close
'The Martian' chosen as next UHV Community of Readers Book
While the 2016 University of Houston-Victoria Community of Readers book is considered science fiction, the realistic science of "The Martian" combined with human elements made it a smash hit book and movie.
"As a reader, it keeps you on the edge of your seat wondering if the main character will survive," said Amanda Breu, Community of Readers Committee chair and instruction and outreach librarian at the Victoria College/UHV Library. "It's a great book for a shared reading experience because it is a book that reaches a broad audience."
All UHV freshmen will receive a free copy of the "The Martian" by Andy Weir as part of the First-Year Academic Experience. The book was published in 2014 and turned into an award-winning movie starring Matt Damon.
The Community of Readers program is designed to establish a common reading experience between first-year students and the larger community. Everyone is asked to read a book that can provide cross-disciplinary perspectives, generate discussion and foster the exchange of diverse ideas. Lessons from the book are incorporated into lectures, projects and events during the fall semester.
Every year, the Community of Readers Committee reviews books recommend by UHV faculty, staff and community members. There were approximately 30 books on the committee's 2016 initial list of recommendations. After discussing those submissions, the committee narrowed down the list of possibilities to eight books and read each of them.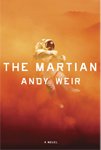 Breu said the committee selected "The Martian" because it met all the criteria they look for in a Community of Readers book.
"We want a book that students will read, we can build academic and social events around, and is timely to current events," Breu said. "We couldn't think of a better book for the students to read. The characters are likable; it's funny and well written; plus, we have a lot of options for events."
In "The Martian," astronaut Mark Watney becomes one of the first people to walk on Mars and then is sure he'll be the first person to die there. After a dust storm nearly kills him and forces his crew to evacuate while thinking him dead, Mark finds himself stranded and completely alone with no way to even signal to Earth that he's alive. Even if he could get word out, his supplies would be gone long before a rescue could arrive.
But Watney isn't ready to give up yet. Drawing on his ingenuity, his engineering skills and a relentless, dogged refusal to quit, he steadfastly confronts one seemingly insurmountable obstacle after the next.
Weir stated in a Q&A on his website that the facts about Mars are accurate, as well as the physics of space travel. NASA's ultimate goal is a human mission to Mars. All the technology in the story is modeled after rockets, spacesuits and other space travel technology that already exists, and Watney has to rely on real science to keep himself alive.
Given the plot, science, technology, engineering and mathematics disciplines are present throughout the book. But the book also fits well with political science, philosophy, ethics and psychology, Breu said. A faculty lecture series regarding themes from the book will take place in the fall.
"It is always great to have faculty members involved and talking about the book from the viewpoint of their academic disciplines," she said. "I hope we can have some events that tie in the STEM disciplines and possibly a trip to NASA's Johnson Space Center in Houston."
While some incoming freshmen will have seen the movie, Breu said they can go more in-depth with the book.
"It truly is a fantastic book that makes people want to keep reading," Breu said. "The book covers a lot more than the movie. Students will get more character development and be able to participate in class discussions by reading the book."

"The Martian" is the seventh Community of Readers book. During the past six years, committee members have seen the successes of the program, Breu said.
"Students have many opportunities to get involved through activities that tie to the book put on by UHV Student Life & Services," she said. "Plus, they have an opportunity to meet new faculty through the lecture series. We also know from our year-end surveys that students are having conversations outside of class with their friends and classmates about the Community of Readers."
Freshmen will get their copy of "The Martian" at the beginning of the fall semester, and other UHV students, faculty and staff can request a free copy by going to the Request a Book link on the Community of Readers website, www.uhv.edu/community-of-readers. Books will be delivered in early fall.
"The Martian" also is available for purchase at local and online retail outlets, and copies can be checked out from the Victoria Public Library and the VC/UHV Library.
The University of Houston-Victoria, located in the heart of the Coastal Bend region since 1973 in Victoria, Texas, offers courses leading to more than 80 academic programs in the schools of Arts & Sciences; Business Administration; and Education, Health Professions & Human Development. UHV provides face-to-face classes at its Victoria campus, as well as an instructional site in Katy, Texas, and online classes that students can take from anywhere. UHV supports the American Association of State Colleges and Universities Opportunities for All initiative to increase awareness about state colleges and universities and the important role they have in providing a high-quality and accessible education to an increasingly diverse student population, as well as contributing to regional and state economic development.