Close
First UHV math camp teaches real-world geometric, modeling uses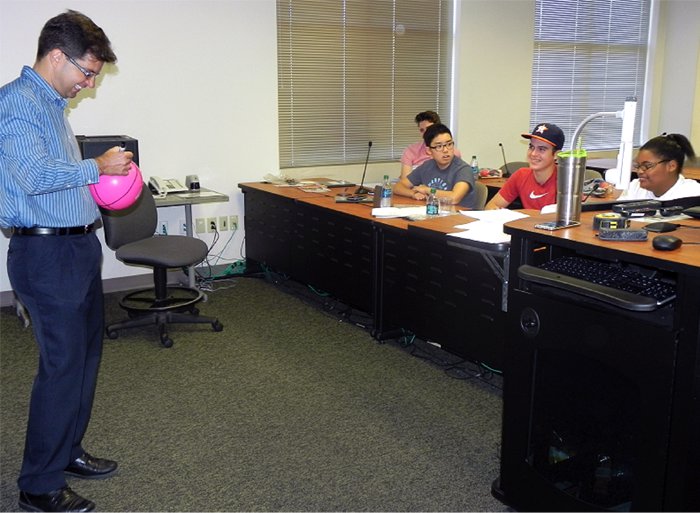 Ricardo Teixeira, a UHV assistant professor of mathematics, draws a mathematical equation on a ball Thursday as an example of non-Euclidean geometry during UHV Math Camp. Five students from area high schools attended the weeklong camp.
Five teens recently learned how mathematics can predict heights, find the best electricity provider and cheaply feed 40 people at the University of Houston-Victoria Summer Math Camp.
Ricardo Teixeira, a UHV assistant professor of mathematics and director of the mathematics and core curriculum programs, gave the students several real-world problems to show how advanced mathematics can be used in various situations. Students also learned theoretical concepts in geometry and increased their knowledge in mathematical modeling, probability and other areas.
"I tried to expose students to many levels of mathematics," Teixeira said. "They enjoyed solving these problems because they could see why it mattered. Students definitely became more aware about math and satisfied about studying more complex math as the week went on."
The four-day camp, held July 5 through Friday in the UHV University Center, was made possible by a grant from Alcoa Foundation. The $20,000 grant also was used to fund an after-school robotics course, a summer robotics camp, the annual Math & Robotics Awareness Day and a C++ programming course. The math camp and programming course were new additions this year.
Alexis Norman, Edna High School junior, said math is her favorite subject. She attended the camp to learn more in-depth math and was excited to be introduced to several new concepts.
Michael Choi, a Victoria West sophomore, said he learned a great deal about math language.
"I've gained more insight into the world of math," he said. "It's been fun learning from Dr. Teixeira and my other learning partners."
One camp project used mathematical models to predict a person's height. The students measured a hand's length from the middle finger to the wrist to come up with height estimates. For another project, students went outside and used angles and lengths to calculate measurements of three-dimensional structures, such as a flag pole and sculptures.
Choi teamed up with Marco Di Leo, a Victoria West sophomore, and Kevin Clark, a Victoria West graduate who will be a freshman at Rice University in the fall, on an assignment to find the least expensive way to feed a meal to 40 people.
They first researched the minimum calories considered a meal. With a calories figure calculated, they looked up several restaurants online to see what would cost the least amount of money to hit that total. The students concluded the cheapest option was to order items that come with dipping sauces from a pizza chain.
"If nothing else, we learned dipping cups have a lot of calories," Clark said as he laughed "This is the first time I've seen college geometry, so it's been fun. We learned both theories and real-life applications."
Four campers stayed at Jaguar Hall during the week. They ate breakfast and dinner at the residence hall and took the university shuttles to UHV University Center.
"I've enjoyed hanging out with the other students and getting a feel for college life," Norman said. "This gives me an idea of what college will be like for me in the future."
Teixeira said he had a great group of students. He hopes the camp will be an annual summer event.
"We are grateful to Alcoa for providing funds," Teixeira said. "We hope this camp grows and attracts more brilliant minds in the region. It is a nice thing for the university, the students, and ultimately, for the Crossroads region, since the more knowledgeable the community is, the more prosperous it will be."
The University of Houston-Victoria, located in the heart of the Coastal Bend region since 1973 in Victoria, Texas, offers courses leading to more than 80 academic programs in the schools of Arts & Sciences; Business Administration; and Education, Health Professions & Human Development. UHV provides face-to-face classes at its Victoria campus, as well as an instructional site in Katy, Texas, and online classes that students can take from anywhere. UHV supports the American Association of State Colleges and Universities Opportunities for All initiative to increase awareness about state colleges and universities and the important role they have in providing a high-quality and accessible education to an increasingly diverse student population, as well as contributing to regional and state economic development.