Close
UHV alumnus, high school counselor writes mystery novels
Working as a high school counselor gives Tim Hemlin a unique insight into how different people think, and that's a helpful skill when he's writing novels.
"You are exposed to a lot of different situations, some you never even considered seeing," Hemlin said. "It has made me more aware of people's lives and helps me understand where they are coming from when they make decisions."
Hemlin graduated from the University of Houston-Victoria in 2013 with a Master of Education in counselor education with a concentration in school counseling. He works as a counselor at Ridge Point High School in the Fort Bend Independent School District and lives in Fresno.
"I came into counseling backwards," Hemlin said. "I taught English for more than 20 years. I was asked to be the department chair at Dulles Middle School, but the district wants department chairs to have a master's degree, so I started looking for a good, affordable program."
Hemlin met a recruiter for the UHV master's in counselor education program at a career fair in Sugar Land. He had thought about becoming a school counselor before, and the recruiter suggested he enroll and take a couple of classes to see how he liked it. Before long, he was working full-steam ahead.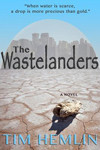 In addition to teaching, Hemlin has written several novels including a mystery series about a private investigator in Houston. The first novel he wrote was "A Whisper of Rage," which he sent to a publisher in New York who he'd previously met at a conference. The publisher liked the book, but requested a prequel. That became his first published book "If Wishes Were Horses..."
"Going back and writing that prequel was a great challenge," Hemlin said. "I've always been interested in sleuth novels, and I decided to give a genre novel a try. That's how I got started with the Neil Marshall series."
The series is made up of five books that were originally published by a branch of Random House Books. The series focuses on Neil Marshall, a graduate creative writing student at the University of Houston who is going through a bad divorce and becomes a prime suspect when his racehorse breeding friend is murdered. To clear his name, Marshall has to find the real killer and a missing thoroughbred.
"He's very much an everyman character who keeps getting pulled into these situations," Hemlin said. "It's very similar to a Hitchcock movie where ordinary people become trapped in insane circumstances and have to find their way out."
The series is being reissued with new covers and soon will be released as ebooks as well. The series also draws from his experience working part time for a caterer when he was younger. In addition, Hemlin has a new young adult novel "Son of a Kitchen Witch" coming out. In 2012, he published a science fiction dystopian novel titled "The Wastelanders," and a sequel titled "Rise of the Time Witch" will be released in the near future.
As he continues his career writing fiction and working with students, Hemlin knows that his decision to pursue counseling and earning a graduate degree at UHV has made an impact on his life and the lives of the students he sees every day.
"The education I got at UHV and the experiences I've had as a teacher and a counselor have opened my eyes to certain things," he said. "They've taught me to connect with people on a deeper level, and they make me a better person and a better writer."
The University of Houston-Victoria, located in the heart of the Coastal Bend region since 1973 in Victoria, Texas, offers courses leading to more than 80 academic programs in the schools of Arts & Sciences; Business Administration; and Education, Health Professions & Human Development. UHV provides face-to-face classes at its Victoria campus, as well as an instructional site in Katy, Texas, and online classes that students can take from anywhere. UHV supports the American Association of State Colleges and Universities Opportunities for All initiative to increase awareness about state colleges and universities and the important role they have in providing a high-quality and accessible education to an increasingly diverse student population, as well as contributing to regional and state economic development.