Close
UHV students observe business culture during study abroad program in China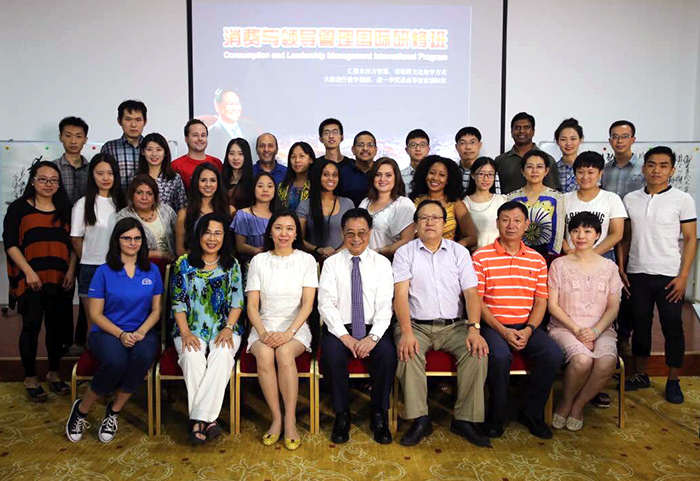 Students and faculty members participating in the UHV School of Business Administration study abroad program to China gather for a group photo after a lecture by Bingxin Wu, front center, president and chairman of Sanzhu Group. Wu and his wife, Shuqin Feng, front third from left, donated $600,000 to UHV in 2013 to help make the study abroad program possible.
When University of Houston-Victoria graduate student Taliah Molina was visiting China, she was amazed at the range of similarities and differences she had with Chinese students.
"It was surprising how much the Chinese students loved American pop culture and even watched the same shows," Molina said. "However, when it came to business and leadership styles, their attitudes were totally different."
Molina, a Houston graduate student pursuing a Global Master of Business Administration in management, was one of 11 UHV students who took part in the UHV School of Business Administration's annual study abroad program in China from July 17 to 31.
During the two-week trip, the UHV students joined 13 students from the School of Government at the Central University of Finance and Economics and the Academy of Consumption at the University of International Business and Economics in China. The group visited three cities – Beijing, Tianjin and Jinan City – where students attended lectures by Chinese business leaders and university deans, participated in group discussions and visited historic and cultural sites across the country.
The UHV School of Business Administration provided $2,000 scholarships to help each student pay for the program thanks to a $600,000 donation in 2013 to the school by Chinese businessman Bingxin Wu and his wife, Shuqin Feng. This donation also was used for the establishment of the Wu-Feng Center for International Business at UHV. Wu was awarded a UHV honorary doctorate in May.
"The ability to navigate and cultivate international relationships in today's global market is essential," said Farhang Niroomand, dean of the UHV School of Business Administration. "Our students benefit from the firsthand experience the study abroad program offers. The ultimate goal is for them to take what they learn from this open dialogue and apply it to their business experiences."
When Molina, the IT procurement manager for Chicago Bridge and Iron, first heard about the program two years ago, she was unable to go. This year, she was determined to make the trip.
"I've done some international traveling before, and it's always an eye-opening experience," she said. "This program was great because it combined information and education opportunities with the chance to visit and learn about Chinese culture."
Activities started the day the students arrived in China. They spend the program attending lectures presented by Wu; deans of various Chinese universities; Jifu Wang, associate dean of the UHV School of Business Administration; and Mo Perwaiz, the general manager of Airtech Asia Ltd. in China.
In addition to the lectures, students sometimes worked in groups of UHV and Chinese students, and discussed business and leadership concepts. Learning different perspectives about how businesses should operate was an interesting comparison for Molina.
"In American business, there's a big emphasis on collaboration," she said. "Everyone is invested in finding solutions and moving a goal forward. But in China, the decisions are made by managers and other leadership while everyone works to fulfill their specific roles within the company's structure."
The group also took trips to some of the most famous locations in China, including the Great Wall, the Forbidden City, the Summer Palace, Tiananmen Square, Confucius's hometown and Tai Mountain.
"The Great Wall was my favorite site," Molina said. "It's a place you hear about your whole life, and some people never get to experience. I love to go places and be able to touch and experience these kinds of huge, historic things."
For information about future UHV School of Business Administration study abroad programs, contact Rosie McCusker, UHV manager of student recruitment and marketing for graduate business programs, at mccuskerr@uhv.edu or 281-396-3729.
The University of Houston-Victoria, located in the heart of the Coastal Bend region since 1973 in Victoria, Texas, offers courses leading to more than 80 academic programs in the schools of Arts & Sciences; Business Administration; and Education, Health Professions & Human Development. UHV provides face-to-face classes at its Victoria campus, as well as an instructional site in Katy, Texas, and online classes that students can take from anywhere. UHV supports the American Association of State Colleges and Universities Opportunities for All initiative to increase awareness about state colleges and universities and the important role they have in providing a high-quality and accessible education to an increasingly diverse student population, as well as contributing to regional and state economic development.