Close
Chinese university interested in sending students to UHV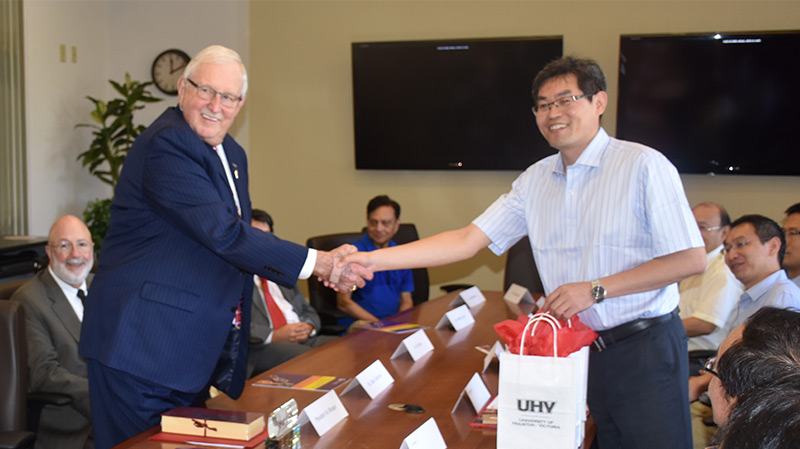 UHV President Vic Morgan and Liqiang Zhang, a professor at the China University of Petroleum, shake hands after exchanging gifts Tuesday during a meeting in Victoria. The Chinese delegation spent the day touring UHV and talking with administrators and faculty members about ways to collaborate.
Eight faculty members and the international program director from a Chinese university spent Tuesday at the University of Houston-Victoria discussing how the two universities can work together on research and student exchanges.
The visit comes on the heels of a Memorandum of Understanding signed last month by UHV President Vic Morgan and China University of Petroleum President Honghong Shan. Morgan, Farhang Niroomand, dean of the UHV School of Business Administration; Jifu Wang, associate dean of the business school; and Yun Wan, associate professor in the UHV School of Arts & Sciences, recently toured the school in the Shandong Province and began talking about a partnership.
"UHV and the China University of Petroleum see several ways that collaboration can mutually benefit the students and faculty of both institutions," Morgan said. "While we outlined some mutual goals in China, their visit to Texas allowed for more in-depth discussions of how to go about becoming partners in a number of scholarly activities. I'm excited about what we can do together."
Located in Qingdao, the China University of Petroleum is a top-level university specializing in the oil industry. Founded in 1953, the university was the first petroleum institute of higher education in China. School leaders are interested in collaborating with universities located in oil-rich areas of Texas.
A delegation of China University of Petroleum coordinators and faculty members who teach petroleum engineering, computer science and electronic engineering have traveled to the U.S. to visit UHV, Rice, University of Texas, Texas A&M and Stanford. UHV was the second stop on the tour.
The China University of Petroleum has an international 2+2 program where students spend their first two years getting an associate degree in China and their next two years at a partner university outside the country.
"Their faculty members want to get to know UHV better before they consider recommending us to their students," Niroomand said. "Their visit gave us a chance to showcase our programs, labs and research expertise. I think the delegation got a better feel for who we are and what we can offer."
The Chinese delegation began by meeting with UHV International Programs staff. They then met with UHV faculty members who teach computer science, biology and petroleum engineering. Morgan then hosted a lunch for the guests. In the afternoon, they toured the Petroleum Training Institute, UHV's Computation & Advanced Visualization Engineering lab and the Jaguar Village residence halls.
Wan said the delegation liked UHV's affordable tuition and cost of living. They also liked the quiet and idyllic nature of the Victoria campus.
"One faculty member said he plans to send his son to UHV," Wan said. "They complimented us on the residence halls and took a lot of pictures. They think UHV is a great option for international students."
UHV added a petroleum technology concentration in the spring for students pursuing a Bachelor of Applied Arts & Sciences. Wan said the visitors also were impressed by the research done by UHV's petroleum technology adjunct faculty members. They invited them to come speak at China University of Petroleum.
Wan said the China University of Petroleum has strong online programs, so there may be some ways to collaborate with online course delivery in the future.
"They have a comprehensive, sophisticated online course operating system," Wan said. "We visited their center where they monitor all the online classes with real-time communication between faculty and students. They developed this system by themselves."
The China University of Petroleum has more than 24,000 students, including nearly 1,000 international students from 74 different countries. They have an international student apartment building and dining hall.
"This may develop into another study abroad option for UHV students," Morgan said. "Certainly, there are opportunities to enhance the international experience of faculty and students, and further the global understandings between our communities."
On Tuesday, UHV gave the Chinese delegation a copy of "Voices from Chernobyl" as a gift. The book was translated from Russian to English by the Dalkey Archive Press housed at UHV. The book's author, Belarusian investigative journalist Svetlana Alexievich, won the Nobel Prize in Literature in October.
The Chinese delegation presented Morgan with a screen featuring Beijing Opera masks.
The University of Houston-Victoria, located in the heart of the Coastal Bend region since 1973 in Victoria, Texas, offers courses leading to more than 80 academic programs in the schools of Arts & Sciences; Business Administration; and Education, Health Professions & Human Development. UHV provides face-to-face classes at its Victoria campus, as well as an instructional site in Katy, Texas, and online classes that students can take from anywhere. UHV supports the American Association of State Colleges and Universities Opportunities for All initiative to increase awareness about state colleges and universities and the important role they have in providing a high-quality and accessible education to an increasingly diverse student population, as well as contributing to regional and state economic development.