Close
UHV offers first classes in new Katy location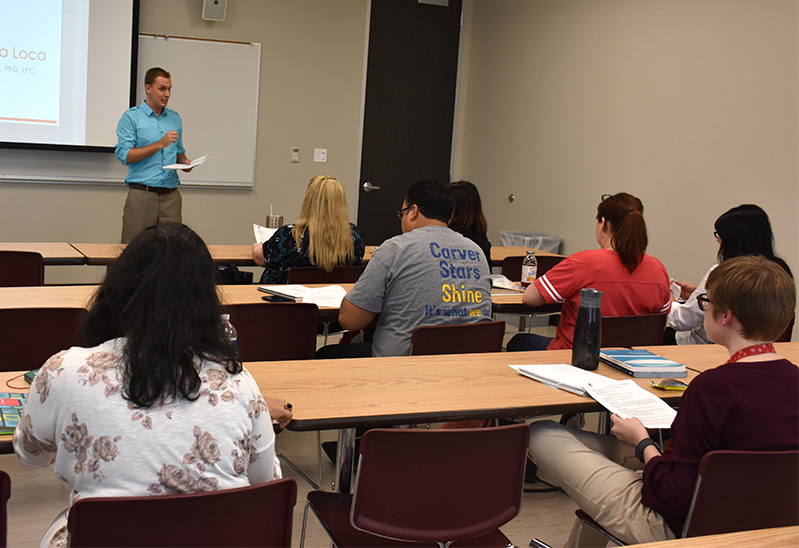 Wayne Smith, a UHV assistant professor of counseling, goes over the syllabus Monday with his graduate "Counseling Techniques" students on the first day of classes. Smith's class was the first held at the university's new Katy location.
Music thumped through the speakers Monday, and students laughed as Wayne Smith, an assistant professor of counseling, explained how the hip hop song "Stay Schemin" relates to his life.
"Counseling Techniques" is a graduate class in the UHV School of Education, Health Professions & Human Development's Master of Education in counselor education program. What was different about Smith's class Monday was the location. It was the first class at the University of Houston-Victoria's new Katy location.
The university is leasing the third floor – more than 43,000 square feet – at 2002 W. Grand Pkwy N., Building 2. The arrangement will allow UHV to continue serving the higher education needs of the region while a new UH System teaching center is built nearby at Interstate-10 and Grand Parkway.
UHV previously offered programs at two locations in Katy and at UH Sugar Land. Starting this fall, UHV consolidated its Greater Houston teaching sites to the new Katy location.
"The Katy site is an excellent move that will serve the needs of our students well," UHV President Vic Morgan said. "Our Greater Houston students now have access to a convenient, up-to-date facility to pursue their studies as UHV continues to grow and develop."
The building features seating areas, a library and study space, a computer lab, a multi-purpose room, faculty offices and classrooms equipped with projectors and webcams for Interactive TV courses.
"This is an impressive location, and it will be a good fit for the next couple of years," Smith said. "There's plenty of open lighting, a good view, and the technology we need for our classes either face to face or through ITV."
Tracie Hillyard, a Katy counselor education student, said the new location is even more convenient for her than the previous sites where she took UHV classes in Katy and Sugar Land. She is a high school English teacher for Katy Independent School District. Hillyard wants to become a certified counselor and work with clients both inside and outside the high school.
"I'm happy the university has moved this way," Hillyard said. "I prefer hands-on and face-to-face learning and interaction, so this location is a great option for me."
During Smith's class, he illustrated how people identify with music and its usefulness in counseling.
"Music can be a great tool in counseling sessions," Smith said. "You can use it to set a relaxing mood, focus on certain emotions or even learn more about your clients by listening to the music that speaks to them."
Students also took part in an icebreaker that illustrated the kinds of questions they should ask to get to know counseling clients. The students paired up and interviewed each other for eight minutes, then introduced their partners to the class.
After the students finished introducing each other, Smith encouraged them to share observations about the interviewing and presentation process. The students noticed the difference between a closed question, which has one specific answer, and an open question, which lends itself to many possible answers. They also noticed how different perspectives can influence the way a person sees someone else.
"This is my third time teaching this class," Smith said. "I've gotten some great feedback from the previous classes, and this semester is off to a great start. I'm looking forward to seeing how these students progress and develop their skills as future counselors."
The University of Houston-Victoria, located in the heart of the Coastal Bend region since 1973 in Victoria, Texas, offers courses leading to more than 80 academic programs in the schools of Arts & Sciences; Business Administration; and Education, Health Professions & Human Development. UHV provides face-to-face classes at its Victoria campus, as well as an instructional site in Katy, Texas, and online classes that students can take from anywhere. UHV supports the American Association of State Colleges and Universities Opportunities for All initiative to increase awareness about state colleges and universities and the important role they have in providing a high-quality and accessible education to an increasingly diverse student population, as well as contributing to regional and state economic development.