Close
ABR author looks for emotional honesty in storytelling
When Sam Lipsyte sits down to write, he doesn't always have a clear plan for his story; he's responding to an itch.
"I get a deep desire to follow the language and see where it leads me," he said. "I tend to deal with characters in bad situations because it's so interesting to see how people behave when the pressure is on."
The novelist, short story writer and associate professor in the Columbia University School of Arts in New York City will be the next speaker in the University of Houston-Victoria/American Book Review Fall Reading Series. He will talk at noon Sept. 22 in the UHV University West Alcorn Auditorium, 3007 N. Ben Wilson St. The event is free and open to the public.
He is the author of the short story collections "Venus Drive" and "The Fun Parts," as well as the novels "The Subject Steve," "Home Land" and "The Ask." Lipsyte won the Believer Book Award and was the recipient of a Guggenheim Fellowship.
"Sam Lipsyte is a master at blending wit with the grim reality of life," said Jeffrey Di Leo, dean of the UHV School of Arts & Sciences and ABR editor and publisher. "His gripping style combined with an unflinching look at the darker side of things will inspire attendees in all walks of life."
Lipsyte began writing at an early age. Recently, his daughter rediscovered one of his third-grade writing notebooks, and the stories it contained were even grimmer than his current work.
"There were stories about people who were shipwrecked and died on a deserted island or animal crackers that came alive and terrorized a small town," Lipsyte said. "The animal crackers story actually recaptured my imagination, and I'm thinking about exploring that further."
Even though his stories often are dark in tone, there usually is humor interwoven with the grimness. The comedic side touches on emotional honesty and showcases the important part of being alive, Lipsyte said.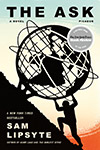 "Creating a fascinating story relies on how the writer tells it and creates emotional truth," he said. "A good story should end in a surprising but inevitable way. I want to be astounded by what I read, and I'm always keen to see someone doing something in a different way."
Lipsyte still is choosing what he plans to share during his presentation at UHV, and he is considering reading something new.
Although he has written stories all his life, the process of writing is not easy, Lipsyte said. While it's easy to rehash elements that others have done before, it's hard to find something new. Several of his students at Columbia University have come to him saying they didn't realize writing could be so difficult.
"The most difficult part about writing is living with it while writing, but that's also the best part," he said. "Good writing can be hard won. Some passages come out freely, but mostly it's hard work."
Other writers scheduled for the fall UHV/ABR Reading Series are:
Tiphanie Yanique, Oct. 6 – Yanique is the author of the short story collection "How to Escape from a Leper Colony," the novel "Land of Love and Drowning" and the poetry collection "Wife." Her writing has won the BOCAS Prize for Caribbean Fiction and Caribbean Poetry, a Boston Review Prize in Fiction, a Rona Jaffe Foundation Writers Award, a Pushcart Prize, a Fulbright Scholarship, an Academy of American Poet's Prize and the Rosenthal Family Prize from the American Academy of Arts and Letters. "Wife" is a finalist for the Forward Prize for a first collection. Yanique is from the Virgin Islands and lives in New Rochelle, N.Y.
John E. Woods, Nov. 3 – Woods won both the 1981 American Book Award and PEN award for his translation of Arno Schmidt's "Evening Edged in Gold" and has published a new translation of Thomas Mann's "Buddenbrooks." He also is the translator of Schmidt's "Collected Novellas," "Two Novels: The Stony Heart and B/Moondocks," "Collected Stories" and "Nobodaddy's Children," all of which are available from Dalkey Archive Press housed at UHV. He lives in Berlin.
Monica Drake, Dec. 1 – Monica Drake has a Master of Fine Arts from the University of Arizona and teaches at the Pacific Northwest College of Art. Her debut novel, "Clown Girl," was published by independent press Hawthorne Books and has won an Eric Hoffer Award as well as an Independent Publisher Book Award. It's been translated into Italian and recently was optioned for a film by Kristen Wiig. Drake's most recent novel, "The Stud Book," is now out.
ABR is published six times a year. It began in 1977, moved to UHV in 2007 and has a circulation of about 8,000. The journal specializes in reviews of works published by small presses.
For more information about the UHV/ABR Reading Series, call the ABR office at 361-570-4101 or go to www.americanbookreview.org.
The University of Houston-Victoria, located in the heart of the Coastal Bend region since 1973 in Victoria, Texas, offers courses leading to more than 80 academic programs in the schools of Arts & Sciences; Business Administration; and Education, Health Professions & Human Development. UHV provides face-to-face classes at its Victoria campus, as well as an instructional site in Katy, Texas, and online classes that students can take from anywhere. UHV supports the American Association of State Colleges and Universities Opportunities for All initiative to increase awareness about state colleges and universities and the important role they have in providing a high-quality and accessible education to an increasingly diverse student population, as well as contributing to regional and state economic development.