Close
UHV business school celebrates successes, starts 2016-2017 speaker series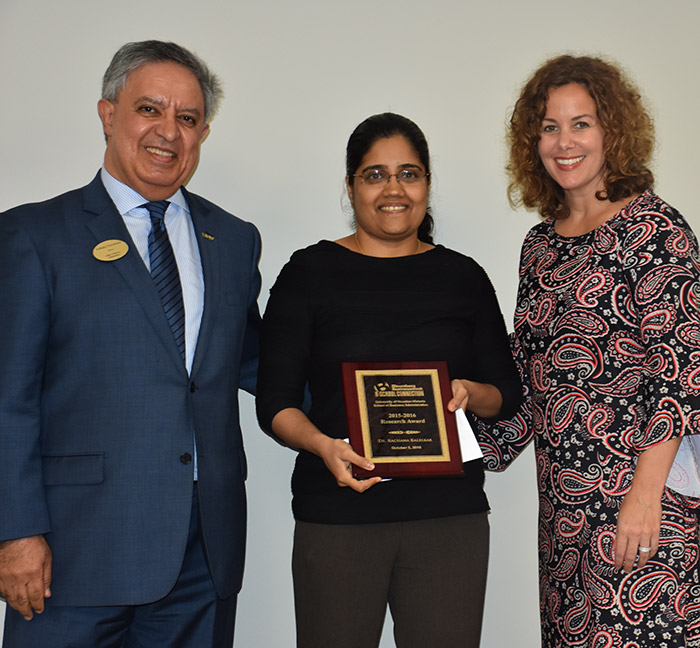 Christy Sanders, right, regional sales manager at Bloomberg Businessweek, presents Rachana Kalelkar, a UHV assistant professor, with a Bloomberg teaching award Oct. 5 during a business awards celebration at the UHV Katy campus. The award was announced by Farhang Niroomand, left, dean of the UHV School of Business Administration.
KATY – University of Houston-Victoria School of Business Administration faculty and students came together Oct. 5 for a night of camaraderie, accolades and to learn more about what has made one Houston area company so successful.
HCSS CEO Mike Rydin opened the 2016-2017 UHV School of Business Administration Distinguished Speaker Series with a presentation at the UHV Katy campus. HCSS develops software to help construction firms streamline their operations. Much of Rydin's speech was about organizational culture.
"Mr. Rydin gave an entertaining and thought-provoking speech that I think was eye-opening to a lot of students and alumni," said Farhang Niroomand, dean of the UHV School of Business Administration. "The story of his company's rise and the way he treats his staff was inspirational. It was a terrific way to cap off the night."
The evening started with a reception honoring students, alumni and faculty. The winners of the Bloomberg Businessweek Teaching and Research Awards were announced. The winning professors were:
Rupak Rauniar – Bloomberg Fall 2015 Teaching Award
Barjinder Singh – Bloomberg Spring 2016 Teaching Award
Rachana Kalelkar – Bloomberg 2015-2016 Research Award
Rauniar and Singh each received $2,000 from Bloomberg Businessweek, and Kalelkar received $2,500.
Bloomberg Businessweek award winners are chosen based on professors' use of the publication's teaching materials in the classroom. The publication puts out teaching notes on particular industry topics or scenarios that professors can use in class. The topics usually involve recent events from different areas of the business industry to help generate relevant discussion.
Rauniar is an associate professor of quantitative management science. He has taught at UHV since 2010. Rauniar taught "Operations & Supply Chain Management" and "Operations Management: Creating Competitive Advantages" last fall. This is the second time the publication has honored Rauniar. He also won the Bloomberg Spring 2014 Teaching Award.
Singh also is a two-time winner, having received the Bloomberg 2013-2014 Research Award. An assistant professor of management, Singh taught "Management and Organizational Behavior" and "Staffing" in the spring.
"Bloomberg gives me a platform to show my students how things work in real life," Singh said. "At times, it can be difficult for students to get their hands around certain concepts. Bloomberg has helped build a connection between the concept and what's happening in the world."
Kalelkar is an assistant professor of accounting. Her research focus is on executive compensation, auditing, financial reporting and corporate governance. Her articles have been published in multiple journals, including the Journal of Accountancy, Auditing: A Journal of Practice and Theory, Valuation Strategies, and the Journal of Accounting and Public Policy.
"I am grateful to receive a research award and be recognized for the publication of my scholarly works," Kalelkar said. "I have many talented colleagues who conduct important research, so it's a real honor to receive this award."
Also honored at the reception were winners of the Master of Business Administration and Bachelor of Business Administration case competitions for fall 2015 and spring 2016, students who were inducted to Beta Gamma Sigma international business honor society, and students who received the Wu-Feng Scholarships to study abroad during the summer in China.
Rydin started his career as a programmer, developing estimating software for a construction company. When the company went out of business, Rydin rewrote the software for PCs and started HCSS.
But it was a long road ahead. Rydin financed the business with credit card debt and worked 120-hour weeks for the first five years with no salary, while his wife held two jobs. Today, the company has 230 employees on a campus in Sugar Land. The company has been named "A Best Place to Work in Texas" for nine straight years.
When Rydin was a teen, he told his father he wanted a job he would enjoy. His dad, a factory worker, replied, "That's not how life works." Rydin has been rebelling against that idea ever since.
Rydin showed photos of HCCS, including the outdoor track, jogging trail and indoor workout areas. There's also a basketball court.
"Our marketing department doesn't like me showing these pictures because it makes it look like we are a school," Rydin said while laughing. "One of the reasons we promote sports is we want people from different departments playing together. They hopefully will have less conflicts because they know each other."
Every office has a window view, and every employee has a covered parking space. The lobby includes an aquarium. There's a commercial-grade kitchen. Free fruits and vegetables are provided to the staff. There's a slide, stacks of Legos and a game room.
"Our goal is to be a place where employees are excited to go to work every morning," Rydin said. "The wellness items all together are about 1 percent of our labor cost. That doesn't even register to me."
Since 2011, the UHV School of Business Administration Distinguished Speaker Series has brought in area executives to discuss contemporary business issues. Past speakers have included executives in the health care, oil and gas, real estate, technology, transportation and staffing industries.
The University of Houston-Victoria, located in the heart of the Coastal Bend region since 1973 in Victoria, Texas, offers courses leading to more than 80 academic programs in the schools of Arts & Sciences; Business Administration; and Education, Health Professions & Human Development. UHV provides face-to-face classes at its Victoria campus, as well as an instructional site in Katy, Texas, and online classes that students can take from anywhere. UHV supports the American Association of State Colleges and Universities Opportunities for All initiative to increase awareness about state colleges and universities and the important role they have in providing a high-quality and accessible education to an increasingly diverse student population, as well as contributing to regional and state economic development.