Close
Mock election encourages students to take action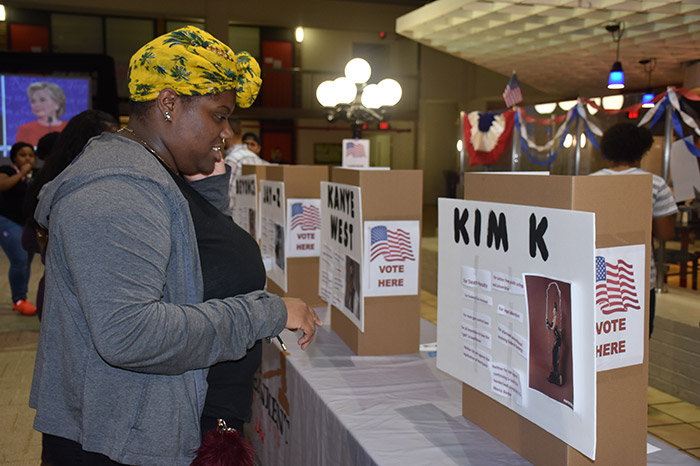 Ashanti Wardlow, a UHV junior from Houston, examines each of the candidates' stances before casting her ballot Oct. 26 at the UHV Student Government Association Mock Election. The event is part of the university's Project Vote events intended to encourage students to vote in the Nov. 8 election.
University of Houston-Victoria students studied four posters displaying political issues supported or opposed by the candidates running for president, then placed their votes in a ballot box.
On Oct. 26, students took part in the UHV Student Government Association's Mock Election intended to inspire students to educate themselves about political issues and vote in the national election.
"We wanted students to get a clear understanding of the issues," said Megan Huerta, SGA president and a UHV graduate student. "We didn't want negative media coverage of the candidates to overrun the issues and policies that matter."
The mock election was one of the activities in Project Vote, a set of events UHV organized to promote student involvement in the upcoming election.
To help students look past the candidates' party affiliations and any perceptions attached to their names, the identities and party affiliations of the four candidates – Hillary Clinton, Donald Trump, Gary Johnson and Jill Stein – were replaced with the celebrities Kim Kardashian, Beyonce, Jay-Z and Kanye West, respectively.
Ashanti Wardlow, a Houston junior secondary education major, decided to take part in the event because she thought it was a good idea that could inspire students to cast their ballots.
"This format will help students get prepared to go out and vote," Wardlow said. "Not many young people participate in elections, and it's important for us all to get out and vote. This is a big, crucial election, and we can't afford to be silent."
At the end of the night, 75 students cast their votes. The winner was Jill Stein with 59 percent of the votes. Next was Donald Trump with 18 percent, Hillary Clinton with 16 percent and Gary Johnson with 7 percent.
In addition to the mock election, Project Vote has included debate-viewing parties for the second and third presidential debates and a three-day voter registration drive in three locations on campus. About 60 students attended the debate-viewing parties, said Hilary Kofron, associate director of Student Life.
On Election Day, UHV will offer a Ride to Vote program, which will provide shuttles from campus to the polling place in the Victoria Fine Arts Center from 8:30 a.m. to 3:30 p.m. After the election, Project Vote will conclude with a Nov. 9 Post-Election Panel for students. Panel members will look at the election results and discuss what to expect in the future.
"We've had several students volunteer to be part of these events," Kofron said. "It's good to see their interest and desire to be involved. We've had strong support from faculty, staff and administration, and it's encouraging to see this campuswide passion to enable students to vote."
The University of Houston-Victoria, located in the heart of the Coastal Bend region since 1973 in Victoria, Texas, offers courses leading to more than 80 academic programs in the schools of Arts & Sciences; Business Administration; and Education, Health Professions & Human Development. UHV provides face-to-face classes at its Victoria campus, as well as an instructional site in Katy, Texas, and online classes that students can take from anywhere. UHV supports the American Association of State Colleges and Universities Opportunities for All initiative to increase awareness about state colleges and universities and the important role they have in providing a high-quality and accessible education to an increasingly diverse student population, as well as contributing to regional and state economic development.