Close
UHV launches student leader certification program at annual conference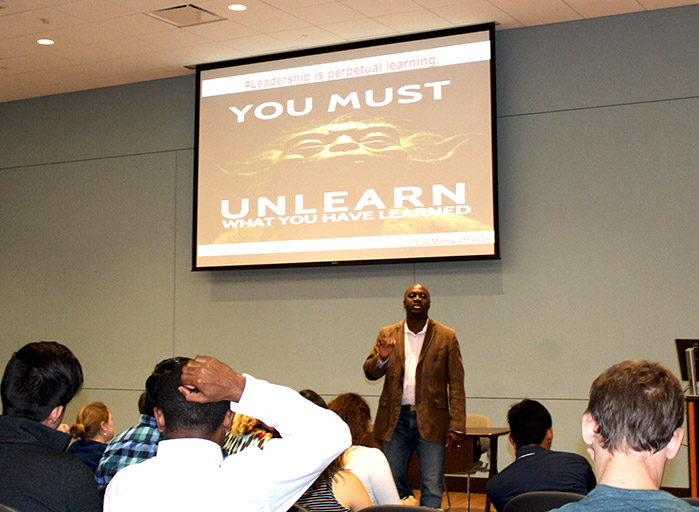 Jason Meriwether, vice chancellor for enrollment management and student affairs at Indiana University Southeast, speaks to students Saturday during the University of Houston-Victoria's third annual ROAR Leadership Conference. During the conference, UHV launched its new ROAR Certified Leader program, which encourages students to think critically about their leadership skills and how those skills can impact their future careers.
University of Houston-Victoria students learned plenty of leadership skills Saturday at the third annual ROAR Leadership Conference, and starting in December, they will be able to demonstrate what they learned to become certified leaders.
The ROAR Certified Leader program encourages students to meet certain requirements in four specific leadership areas: communication, problem solving, social responsibility and teamwork. Once students earn certification in a specific area, they are given digital badges to promote their accomplishment on social media, a framed certificate and a corresponding cord to wear at graduation.
The application process for the ROAR Certified Leader program opens on Dec. 1. The program details were announced Saturday at the end of the ROAR Leadership Conference. The conference is a free training opportunity for UHV, UH System, Victoria College and high school students to learn how to be successful leaders at school and in their future careers.
"Earning these certifications has to be an intentional effort on the students' part," said Michael Wilkinson, director of UHV Student Life & Services. "A lot of these principles are things students already are doing on campus as part of their student groups, but we want them to take what they are doing and think critically about how those skills can fit into a workplace environment."
The certification program has been in development for over a year, and was finalized this September as a result of UHV representatives attending a meeting hosted by the Texas Council of Chief Student Affairs Officers. UH, the University of North Texas, Texas A&M University-Commerce and Stephen F. Austin State University also had representatives at the meeting. The group came together to develop common language that would help reach one of the Texas Higher Education Coordinating Board's goals from the 60x30TX plan.
The plan calls for 60 percent of Texans ages 25 to 34 to have a postsecondary degree or credential by 2030. A key objective in the state plan is to teach students marketable skills, so they can thrive in the workplace.
The goal is: "By 2030, all graduates from Texas public institutions of higher education will have completed programs with identified marketable skills."
The group used skills emphasized by the National Association of Colleges and Employers, and the Texas Higher Education Coordinating Board as a foundation and simplified the principles into four certification areas, Wilkinson said. To qualify for each area, students will have to prove that they have met certain requirements. To obtain a certification, students will be required to submit a resume and cover letter explaining why they have earned the honor.

If a student earns a certification in all four areas, he will be named a Distinguished ROAR Certified Leader and will be given an embossed leather padfolio along with a special digital badge and a gold cord for graduation.
Every aspect of the program is geared toward helping students prepare for the job application process and developing the marketable skills needed to be successful in the workplace, Wilkinson said.
"Our end goal is to facilitate leadership development and to get students critically thinking about these key areas," he said. "These certifications are items students can put on a resume and be key talking points to portray who they are and what skills they have when talking to future employers."
During the ROAR conference, 57 students from UHV, UH Downtown, VC and Victoria high schools participated in sessions led by UHV faculty and staff members as well as Victoria community leaders. Each of the sessions focused on the NACE Top 10 Skills/Qualities Employers Want to See on Your Resume.
The keynote speaker was Jason Meriwether, vice chancellor for enrollment management and student affairs at Indiana University Southeast. His presentation focused on the importance of student organizations and how the quality of current members' involvement is often more important than achieving a large volume of inactive members.
"The ROAR Leadership Conference continues to be an excellent opportunity for students to learn about how to become successful leaders," Wilkinson said. "That emphasis made this conference the perfect platform to announce and kick off our ROAR Certified Leader program."
To learn more about the ROAR Certified Leader program, contact UHV Student Life & Services at 361-485-4411 or sls@uhv.edu.
The University of Houston-Victoria, located in the heart of the Coastal Bend region since 1973 in Victoria, Texas, offers courses leading to more than 80 academic programs in the schools of Arts & Sciences; Business Administration; and Education, Health Professions & Human Development. UHV provides face-to-face classes at its Victoria campus, as well as an instructional site in Katy, Texas, and online classes that students can take from anywhere. UHV supports the American Association of State Colleges and Universities Opportunities for All initiative to increase awareness about state colleges and universities and the important role they have in providing a high-quality and accessible education to an increasingly diverse student population, as well as contributing to regional and state economic development.