Close
Author uses comedy to focus on power of narrative
Monica Drake explored a wide range of fields from animal behavior to art history, painting, dance and theater before she started working as a writer.
"I found myself writing stories that stemmed from all these diverse experiences," she said. "My work is largely fiction, but even though my narratives often are rooted in these experiences, they are not direct reflections of specific moments in my life."
Drake, an associate professor at the Pacific Northwest College of Art in Portland, Ore., will share her work during the University of Houston-Victoria/American Book Review Fall Reading Series. The event will begin at noon Dec. 1 in the UHV University West Alcorn Auditorium, 3007 N. Ben Wilson St. It is free and open to the public.
"Monica Drake's particular mix of compelling narrative with a dark comedic twist makes her work captivating," said Jeffrey Di Leo, dean of the UHV School of Arts & Sciences and ABR editor and publisher. "Her ability to find humor in the midst of realistic, painful circumstances is inspiring. I look forward to Monica sharing her work with the community."
The importance of narrative is something Drake always has tried to convey and create, even when she spent time working as a clown. Because people tend to look away from a clown's performance, she had to find ways to keep the audience's attention. Even something as simple as using three juggling balls with one being a different color could create a narrative and dramatic tension, she said.
Also, because she never spoke as her clown character, she had to find nonverbal ways to interact. She was inspired by the work of Charlie Chaplin, who used comedy to make important political statements about everyday life, social inequality and other issues.
Those experiences were her reference for her book, "Clown Girl," which tells the story of Nita, a.k.a. Sniffles the Clown, as she tries to earn a living in Baloneytown, a seedy neighborhood full of petty crime.
"To be a successful clown, you have to be willing to stick your neck out, take risks and be foolish," Drake said. "Those things also apply to life. Every day, we have to ask ourselves how we plan to interface with the public."
One of her recent novels, "The Stud Book," focuses on a group of friends and mothers trying to navigate their way through life and parenthood. Although the book is not a direct reflection of her life, Drake said the book draws from her experiences and concerns as a parent and turns those elements into a metaphoric story arc.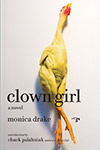 Drake is considering reading from her most recent book, "The Folly of Loving Life" when she visits Victoria. The book is a collection of linked short stories that feature characters trying to find stability in life.
Early in her writing career, Drake was invited to a writing workshop in Portland hosted by Tom Spanbauer. The Dangerous Writers workshop, which still meets weekly and includes writers such as "Fight Club" author Chuck Palahniuk, became a source of support and ongoing conversation for her.
"The first time I attended, I drove up to this condemned house that Tom was renovating, and there weren't even stairs to reach the front door," Drake said. "I thought 'Dangerous Writers' was a fitting name, because it was dangerous just getting into the house. It was through those sessions with Tom, Chuck and our fellow writers that showed me how to make my writing succeed."
Now, as she teaches her own students, Drake tries to share that inspiration. Even in the classroom, her experiences as a clown contribute to her work.
"I want my students to feel comfortable in my classroom, and sometimes that effort feels like clown work," she said. "Creative writing and expression is not locked down by academia. I want them to have freedom."
Drake is the final author to visit Victoria in the Fall Reading Series. The spring lineup of authors will be announced shortly.
ABR is published six times a year. It began in 1977, moved to UHV in 2007 and has a circulation of about 8,000. The journal specializes in reviews of works published by small presses.
For more information about the UHV/ABR Reading Series, call the ABR office at 361-570-4101 or go to www.americanbookreview.org.
The University of Houston-Victoria, located in the heart of the Coastal Bend region since 1973 in Victoria, Texas, offers courses leading to more than 80 academic programs in the schools of Arts & Sciences; Business Administration; and Education, Health Professions & Human Development. UHV provides face-to-face classes at its Victoria campus, as well as an instructional site in Katy, Texas, and online classes that students can take from anywhere. UHV supports the American Association of State Colleges and Universities Opportunities for All initiative to increase awareness about state colleges and universities and the important role they have in providing a high-quality and accessible education to an increasingly diverse student population, as well as contributing to regional and state economic development.