Close
UHV Arts & Sciences students take part in special projects for new honors track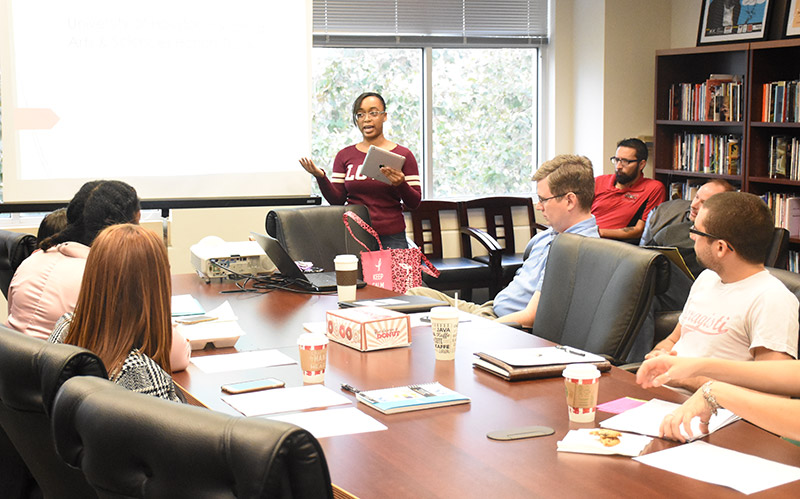 Cherish Ford, a University of Houston-Victoria senior from Wharton, presents a project Friday about the senses during the UHV School of Arts & Sciences Honors Track Colloquium. Seven honors track students presented projects in front of UHV faculty, staff and students.
On the surface, "Race, Class and Gender" appeared to be just another class Ashley Yaws was taking to obtain University of Houston-Victoria bachelor's degrees in psychology and history.
But thanks to the UHV School of Arts & Sciences' new honors track, Yaws, a senior from Edna, taught the class one day and finished the semester by presenting a special project about media discrimination.
"We're not just learning how to read books and take notes," Yaws said. "The honors track gives us a chance to dive deeper into what we are interested in doing in the future, and it gives us a chance to network to make that future possible."
A total of 18 students participated in the honors track in the fall, the first semester it was offered. Justin Bell, honors track director and an assistant professor of philosophy, said the initiative offers students a chance for increased engagement and to delve further into course subjects.
"The students supplement their normal coursework with projects that require them to expand on the themes of the course," Bell said. "It's not just a matter of doing more work. It's a chance to interact with their professors on projects that suit their individual interests."
Students involved in the honors track can choose one course each semester to perform the honors work. All disciplines within the school are available. Students in the fall took honors track courses in biology, history, humanities, psychology, English and digital gaming.
"It's important to challenge and reward our high-performing students," said Jeffrey Di Leo, dean of the UHV School of Arts & Sciences. "I'm encouraged by what I saw in the first semester of the honors track. Our students embraced the chance to work closely with professors and go deeper into course concepts. The end result was a series of thoughtful presentations."
Seven honors track students presented projects Friday at a School of Arts & Sciences colloquium. Project topics included "Aristotle's Influence on Science," "Psychiatric Hospitals for Native Americans" and "Robby the Loot-Collecting Robot." Yaws' project, "Sound of Silence: Media Ignorance and Discrimination," related today's media environment with historical aspects from the Civil Rights movement in the 1960s as well as issues occurring in the 1930s and 1940s.
"A lot of it had to with the media's coverage of the Dakota Access pipeline as well as how and why certain people are cut out of the media," Yaws said.
Folake Olayinka, a senior biology and psychology major from Houston, presented "Autism and Genetic, Environment and Brain Abnormalities."
"It was nerve wracking at first, but after a lot of research and memorization, I was confident and excited to talk about it," Olayinka said. "The colloquium was a great event. It was nice showing faculty members and fellow students what we've been working on. I learned a lot listening to the other presentations."
To participate in the honors track, students must declare an Arts & Science major and have 45 or more semester credit hours and a 3.5 grade-point average. Besides working one-on-one with professors, honors track students are invited to special events. In October, students took a field trip to the Houston Museum of African American Culture and the Houston Museum of Natural Science.
Students also are asked to put together a capstone project their senior year. The academic or creative work binds their studies together, Bell said.
Honors track graduates will receive recognition at School of Arts & Sciences events and can wear special regalia at commencement. Having the honors track on a resume also could help students when applying for jobs or graduate school.
"The idea behind the honors track was to create a venue where our students and faculty find ways to develop an intellectual relationship, in addition to regular classroom work," Bell said. "This way, professors get to know our students better and are able to write letters of recommendation. We want to help them get into graduate schools and find jobs."
Yaws said students are networking and reaching out to people who could potentially help them in the long run. Some are looking into internships. She eventually would like to work in academia.
"One of the pros of the honors course is you can use some of the materials to your advantage," Yaws said. "To have a chance to go more in-depth and work one-on-one with a professor gives me a little more footing. I work better when I can talk with someone and throw ideas out and about. Feedback is big for me."
For more information about joining the honors track, contact Bell at bellj1@uhv.edu or 361-570-4312.
The University of Houston-Victoria, located in the heart of the Coastal Bend region since 1973 in Victoria, Texas, offers courses leading to more than 80 academic programs in the schools of Arts & Sciences; Business Administration; and Education, Health Professions & Human Development. UHV provides face-to-face classes at its Victoria campus, as well as an instructional site in Katy, Texas, and online classes that students can take from anywhere. UHV supports the American Association of State Colleges and Universities Opportunities for All initiative to increase awareness about state colleges and universities and the important role they have in providing a high-quality and accessible education to an increasingly diverse student population, as well as contributing to regional and state economic development.