Close
UHV sees growth in fundraising from all areas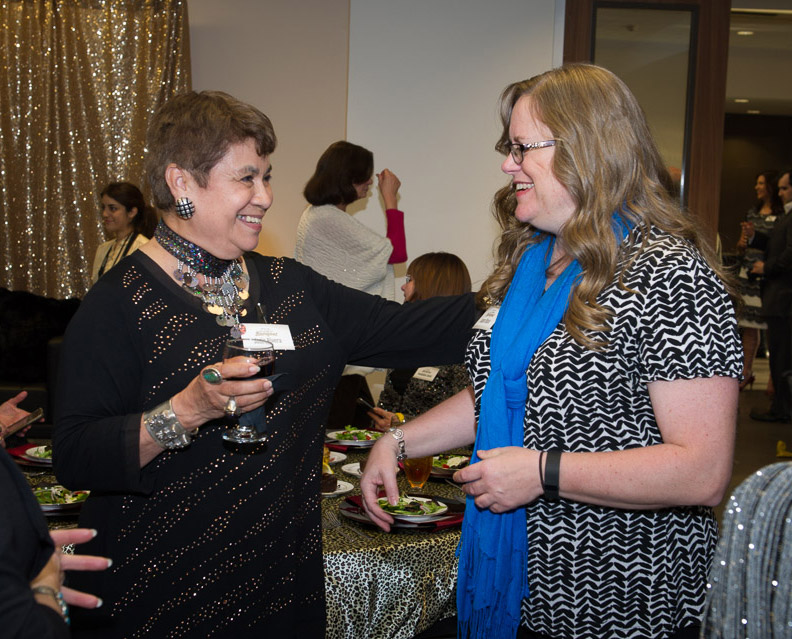 UHV alumna Josie Rivera, left, and Joann Olson, a UHV assistant professor of adult and higher education, catch up during the April 1 UHV Alumni Banquet, part of the university's Homecoming celebration. During Fiscal Year 2016, UHV received a record number of alumni donations.
More donors than ever before gave money to the University of Houston-Victoria during the 2016 fiscal year.
The donor count of 734 represents a 61 percent increase from the previous year.
The increase was not the only historic part of the university's fundraising efforts, said Jesse Pisors, UHV vice president for advancement and external relations. UHV saw increases in donations from every target area including alumni, students, employees, corporations and community members. UHV's financial donations totaled $817,770, with the combination of monetary and non-cash gifts reaching more than $1 million.
"It's very exciting to see so many active donors," Pisors said. "The surest sign of a bright future for UHV's community support is a broad base of active contributors. This wide distribution of donors speaks volumes about how much our alumni and community value UHV, and we are deeply grateful for their support."
In all, the university received 1,641 gifts and pledges, a 32 percent increase from the previous year, Pisors said. The gifts were spread over a wide variety of areas, covering nearly all UHV departments.
UHV received donations from 441 alumni, which also is an all-time record and a 34 percent increase from the 2015 fiscal year. The increase in alumni giving says something special about the university, Pisors said.
"Alumni are a key group of future, major contributors to UHV, and we have to make an effort now to engage with them and develop meaningful relationships," Pisors said. "They already know the university well, so we're not selling them anything new. They know what UHV is about, and the fact that they are choosing to support their alma mater is a clear endorsement."
University employees also took part in giving back to the university. Many were involved in the UHV All for One – One for All campaign, which allows employees to donate to specific areas of the university. All employee gifts are matched by UHV. During FY 2016, employees donated $62,174 to the university, a 40 percent increase from the previous year.
Students also showed their support to the university through donations. Programs such as Jags Give Back, which allows graduating students to receive a Jaguar Spirit Cord for a small donation, encourage students to start thinking about philanthropy as they begin their careers, Pisors said.
"We want to inspire them by showing the good that charitable giving can do," Pisors said. "These students soon will become part of our alumni base, and we want them to consider giving back to the university that is helping them make their mark."
Some of the university's largest donations came from corporations and foundations. The university saw a 37 percent increase in the number of corporations, foundations and other organizations that gave compared with the previous year. This included a $500,000 grant from the M.G. & Lillie A. Johnson Foundation to purchase and install a Nuclear Magnetic Resonance spectrometer.
During the past year, the university offered many new and established events and opportunities to reach alumni, corporations, foundations and community members to encourage donations. Events such as the UHV Claud Jacobs Collegiate Invitational and A Night for the Jaguars encouraged support for university athletics, while trips to Houston sporting events, giving campaigns, social media outreach, direct mail, calling campaigns, personal visits and grant proposals helped energize the community and raise awareness of the university's needs.
The 2017 fiscal year fundraising efforts also have a strong start. For the first time, UHV participated in Giving Tuesday, a national effort encouraging people to contribute to their favorite causes or organizations on the Tuesday following Thanksgiving. UHV Giving Tuesday was well received and brought in donations totaling $16,470 from 144 alumni, students, employees and community members during the one-day effort.
"UHV is fortunate to be part of a community that knows the value of education," UHV President Vic Morgan said. "Every donation is an important contribution toward the future of our students, this community and our nation. I can't thank our supporters enough."
To learn how to donate to UHV, contact University Advancement at 361-570-4812 or makeagift@uhv.edu.
The University of Houston-Victoria, located in the heart of the Coastal Bend region since 1973 in Victoria, Texas, offers courses leading to more than 80 academic programs in the schools of Arts & Sciences; Business Administration; and Education, Health Professions & Human Development. UHV provides face-to-face classes at its Victoria campus, as well as an instructional site in Katy, Texas, and online classes that students can take from anywhere. UHV supports the American Association of State Colleges and Universities Opportunities for All initiative to increase awareness about state colleges and universities and the important role they have in providing a high-quality and accessible education to an increasingly diverse student population, as well as contributing to regional and state economic development.