Close
New UHV residence hall to be named in honor of provost emeritus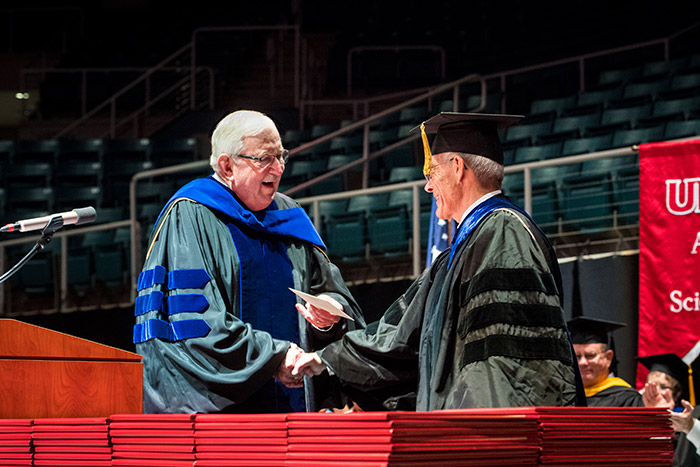 UHV President Vic Morgan, left, presents UHV Provost Emeritus Don Smith with a card Saturday after Smith's speech at UHV Fall Commencement. The card stated that UHV's new residence hall will be named for Smith when the building opens in 2018.
When a new University of Houston-Victoria residence hall's doors open in 2018, the building will bear the name of one of UHV's most impactful leaders.
It was announced Saturday that the new sophomore residence hall will be named after Don Smith, UHV provost emeritus and the university's interim president on four different occasions.
Smith was the keynote speaker at the UHV Fall Commencement ceremony at the Leonard E. Merrell Center in Katy. After Smith's speech, UHV President Vic Morgan announced the residence hall would be named for him.
"Don Smith is one of UHV's most loved and respected leaders," Morgan said. "I can't think of anyone more deserving of this recognition. His service to higher education throughout his career is exemplary."
In consultation with Smith, a specific name for the residence hall will be chosen.
The UHV Executive Committee came up with the naming idea to develop a tradition of pride and legacy in UHV's campus buildings and culture. The UH System Board of Regents approved the naming at its December meeting.
Smith said the announcement came as a complete surprise.
"It's an honor that was unexpected but is greatly appreciated," Smith said. "As I mentioned at the start of my speech on Saturday, I really value all the support I've had at UHV from the faculty, staff and administrators. UHV has been a good place to work. I consider it an honor in itself to have worked with so many caring people in the university and in the UH System."
Smith was interim president when Jaguar Hall, UHV's first residence hall, opened, and he signed the first contract to lease what is now Jaguar Court. He was interim provost when plans were finalized to build Jaguar Suites.
Plans are underway for a fourth residence hall. It will be located on a vacant 2-acre lot on the east side of Ben Wilson Street next to the building housing UHV Athletics and Petroleum College International. The 380-bed facility will be the university's largest residence hall.
Construction is scheduled to start in June. The building is expected to be completed in summer 2018 with students moving in before the fall semester. The 110,000-square-foot facility is projected to cost $22.8 million.
Smith came to Victoria in 1987 when UHV had 22 faculty members and a little more than 1,000 students. He was hired as dean for academic affairs and remained in that post until 1993, when he became vice president for academic affairs and dean of faculties at the State University of West Georgia. He returned to UHV in 1995 and served as provost and vice president for academic affairs until his retirement in 2006.
As provost, he was involved in the planning for UHV's addition of freshmen and sophomores, and helped plan off-campus and online course offerings. He worked on developing partnerships with several community colleges and strengthened UHV's relationship with the UH System.
Smith was called out of retirement several times to serve in interim leadership capacities, including filling in from May 1 to Aug. 26 as interim provost and vice president for academic affairs until David Cockrum stepped into the position. He was interim president in 2010-2011, the year UHV first offered classes for freshmen and sophomores.
"With the beginning of the four-year mission in Victoria, it was a complete change," Smith said. "It was a radical departure for the staff, faculty and administrators, who were not accustomed to having a residential campus. It's been different for the Victoria community, too. A welcoming community is appealing to students who are looking for a residential experience."
The University of Houston-Victoria, located in the heart of the Coastal Bend region since 1973 in Victoria, Texas, offers courses leading to more than 80 academic programs in the schools of Arts & Sciences; Business Administration; and Education, Health Professions & Human Development. UHV provides face-to-face classes at its Victoria campus, as well as an instructional site in Katy, Texas, and online classes that students can take from anywhere. UHV supports the American Association of State Colleges and Universities Opportunities for All initiative to increase awareness about state colleges and universities and the important role they have in providing a high-quality and accessible education to an increasingly diverse student population, as well as contributing to regional and state economic development.