Close
UHV grad earns high marks in family, school
Graduate student prevails over adoption struggle, earns master's degree
Graduating with a Master of Education in Counseling this fall was something Shawn Daniel had planned at the beginning of the year. But the University of Houston-Victoria graduate didn't anticipate having at commencement a vibrant five-year-old girl in the audience who now affectionately calls her "mommy."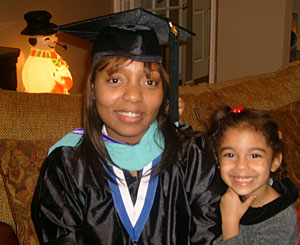 Daniel, who resides in Houston, managed to adopt her niece Amey in May of this year, but she'll quickly affirm that her journey through the adoption process-while maintaining a fulltime job and a graduate course load-was a bumpy up-hill road. However, Daniel didn't weather this battle alone: in addition to her family's support, one of her UHV professors offered her sound advice.
"I've had a number of good professors at UHV, but Dr. Mayorga was more than an excellent instructor," Daniel said. "During this difficult time, she was also a mentor."
In February, after she discovered her then-niece was in foster care, Daniel called the agency that cared for the young girl in an attempt to gain custody of her younger relative.
The response Daniel received by the organization added another layer of bleakness to her and Amey's plight.
"I was told my chances of adopting my niece weren't very good," Daniel said. "But I didn't give up there. I still made all my classes at UHV, and I knew who I needed to confide in."
"I couldn't wait to go to my family therapy class, because Dr. Mayorga was my professor. After we talked, I felt better about the situation, and I knew what I wanted to do," Shawn added.
In conjunction to maintaining all of her graduate courses, the Chi Sigma Iota honor student, using all the resources she could muster, retained an attorney for the upcoming hearing.
While the legal proceedings ensued, Daniel was slowly granted very limited visitation rights. The UHV graduate can recollect making the 600-mile round trip on the second and fourth Thursdays of each month to Waco for the precious one-hour visit with her future daughter.
On May 23, Daniel finally brought Amey home.
Daniel said the combination of always working a fulltime job, taking a full course load and learning from the guidance of her professors at UHV prepared her well for her new role as a single parent.
"Going to work and taking care of my course work definitely made me a stronger person," Daniel said. "My professors, especially Dr. Mayorga, always knew when to give that extra advice, that extra encouragement. Now I know that if I really put my mind to doing something, it's as good as done."
Mary Mayorga, UHV assistant education professor, commented on a number of admirable qualities her student exhibited during this past year.
"Shawn is a person who has worked hard to improve the quality of her life by pursuing higher education," Mayorga said. "Regardless of life's unforeseen circumstances, she did not hesitate to step up to the plate. It was clear that her love of family and sense of responsibility plays a big part in her life. I truly admired her for not hesitating to do what she believed was the right thing to do."
Daniel's compassion for underprivileged children and ever-willingness to lend a helping hand is nothing new.
"Before I adopted my daughter, I would volunteer at the Houston Area Women's Center in between classes and work. I also volunteered at the Reliant Center everyday during Hurricane Katrina," Daniel recalls. "The experience makes you just want to take every child home with you."
Today, Daniel and her daughter—who were almost strangers only 10 months ago—are now inseparable.
Daniel said she feels the master's degree she earned at UHV not only will provide a comfortable life for herself and her new daughter, but it will also set a good example for Amey and others who face difficult challenges.
"Hearing how our students overcome the adversity life can sometimes deliver, in addition to completely a demanding graduate program, is truly remarkable," UHV President Tim Hudson said. "Ms. Daniel's scholastic ability, resolute determination, and compassion for others make her a person to emulate at UHV. We are very proud of her accomplishments and of the caring professionalism of Dr. Mayorga."
And young Amey might get a chance to see her mother study once again in the future: the challenges she has overcome throughout the year have made the dream of pursuing her doctorate not so inconceivable.
The University of Houston-Victoria, located in the heart of the Coastal Bend region since 1973 in Victoria, Texas, offers courses leading to more than 80 academic programs in the schools of Arts & Sciences; Business Administration; and Education, Health Professions & Human Development. UHV provides face-to-face classes at its Victoria campus, as well as an instructional site in Katy, Texas, and online classes that students can take from anywhere. UHV supports the American Association of State Colleges and Universities Opportunities for All initiative to increase awareness about state colleges and universities and the important role they have in providing a high-quality and accessible education to an increasingly diverse student population, as well as contributing to regional and state economic development.