Close
Winning UHV MBA, BBA teams show off product knowledge, analysis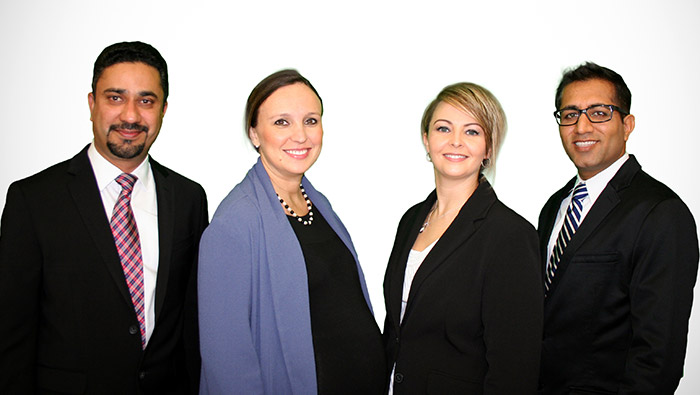 Ehtisham Mansur, left, Jade Garcia Darlington, Nadine Cote and Nileshpuri Goswami pose for a team photo during the Dec. 3 University of Houston-Victoria Master of Business Administration Case Competition at the UHV Katy Campus. Competition judges awarded the team first place.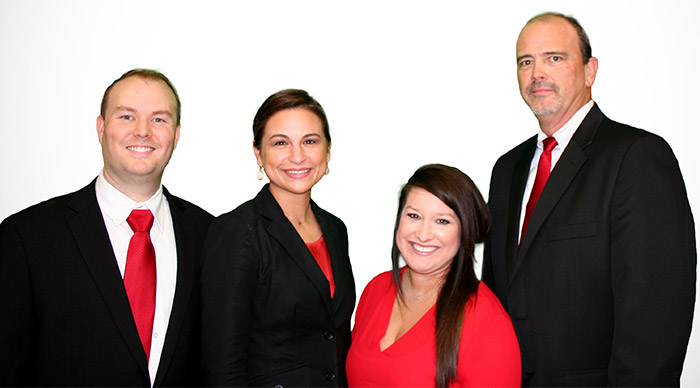 Justin Jones, left, Myra Alderete, Cecily Zamarripa and Robert Kanouff convene for a photo during the UHV Bachelor of Business Administration Case Competition. They won first place out of 27 teams who presented cases Dec. 3 at the UHV Katy Campus.
What was in the big box piqued the interest of the five judges evaluating a University of Houston-Victoria Master of Business Administration Case Conference team Dec. 3 at the UHV Katy Campus.
Nadine Cote of Katy, Jade Garcia Darlington of Rosenberg, Nileshpuri Goswami of Richmond and Ehtisham Mansur of Sugar Land were making their case that Snapple beverage company should introduce a new product.
"About halfway through, we opened the big box to show off the new Snapple Your Way product," Goswami said. "Throughout the presentation, each of us maintained eye contact, and we had confidence in our recommendations. The judges had very detailed questions, but we prepared ahead of time for what types of questions we expected."
The preparation and detailed presentation helped Cote, Darlington, Goswami and Mansur win first place in the MBA competition. The Bachelor of Business Administration Case Conference+winners were Myra Alderete of Houston, and Justin Jones, Robert Kanouff and Cecily Zamarripa, all of Katy. They earned the fourth perfect score in the history of the BBA competition.
"Our students did an outstanding job researching the companies and coming up with smart recommendations that took into account many of the principles our professors emphasized in their courses," said Farhang Niroomand, dean of the UHV School of Business Administration.
Since 2003, the MBA conference has been the culmination of the UHV School of Business Administration's Strategic MBA program. A total of 45 students on 13 teams competed as part of the MBA capstone course "Seminar in Strategic Management." The teams each presented an analysis about Snapple to a panel of judges.
Goswami said one early task was going to the store to view Snapple's offerings. While the company does use natural products, the team noticed the peach iced tea had 39 grams of sugar. Instead of using sugar, the team suggested honey, agave nectar or no sweetener. In fact, they decided to let users choose.
"We tried to focus on millennials by giving them the drink they want," Goswami said. "The consumers would use an app or website to choose what option they want and then the Snapple Your Way product gets delivered to their door."
Goswami said the team was more focused on a solid recommendation rather than winning.
"We all knew that if we had a good recommendation, winning the competition would be a byproduct," he said.
Other teams placing in the MBA competition were:
Second Place – Gus Forward of Houston, Miranda Hutchins of Pearland, Jose Medina of McKinney and Petar Radulovic of Katy
Third Place – Amanda Carrola Saenz of Leander, Duncan Cooper of Houston, William Owen and Chad Slaydon, both of Sugar Land
Students completing BBA degrees have participated in the case conference every semester since 2007. The BBA competition featured 109 students on 27 teams who presented case analyses about Celanese Corp. The company is a producer of acetyl products, which are intermediate chemicals for major industries.
Jones said his team initially wasn't familiar with Celanese. They researched the company online and learned about the leadership, products and distributors. It also helped that each of the team members had a different concentration in the BBA program. Jones studied supply chain management. Alderete specialized in accounting. Zamarripa focused on human resources, while Kanouff studied general business.
"It was really great to have someone familiar with finance and someone who understands the human components of a company as well as someone who understands the supply chain and how the organization functioned in general," Jones said.
The team took the project seriously and started early with team meetings, research and outlines. They gave themselves deadlines and weren't afraid to lean on their instructor for advice. Jones said Kaveh Moghaddam, a UHV assistant professor of management, provided insight and guidance that were vital to the team's success.
"We practiced together numerous times before the BBA Conference to increase our confidence in presenting a relaxed and professional strategic analysis to the panel," Jones said. "We were hoping to place, but we just wanted to do our best and see if we could impress the judges with the knowledge we've accumulated."
Other teams placing in the BBA competition were:
Second Place – Jennifer Bankhead, Katherine Ferguson, Veronica Davidson, Katelyn Hoyt and Spenser Strnadel, all of Victoria
Third Place – Matthew Damborsky of Edna, Vanessa Green of Bay City, and Kirstie Bis, Lindsey Hernandez and Rebekah Smith, all of Victoria
Jones and Goswami said the competition will help them and their teammates succeed in their careers. Goswami, a lead application engineer, said he will use the concepts gained from the capstone class to come up with recommendations at work.
"I'm really glad we had this class," he said. "This is exactly what we've been learning through the other 16 business classes. This class puts together all the pieces from the other classes. Everything about how businesses operate makes sense now."
The University of Houston-Victoria, located in the heart of the Coastal Bend region since 1973 in Victoria, Texas, offers courses leading to more than 80 academic programs in the schools of Arts & Sciences; Business Administration; and Education, Health Professions & Human Development. UHV provides face-to-face classes at its Victoria campus, as well as an instructional site in Katy, Texas, and online classes that students can take from anywhere. UHV supports the American Association of State Colleges and Universities Opportunities for All initiative to increase awareness about state colleges and universities and the important role they have in providing a high-quality and accessible education to an increasingly diverse student population, as well as contributing to regional and state economic development.